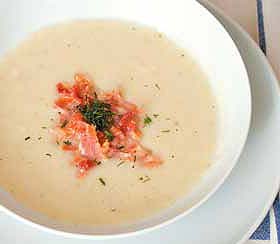 2 heads of cauliflower, roughly chopped
1 small onion, chopped
2 green onions, chopped
4 garlic cloves (large), chopped
1 cup grated Parmesan cheese
2 quarts chicken stock
2 tablespoons flat-leaf parsley, chopped
5 slices bacon, cooked and crumbled
Salt & pepper
Olive oil
Dill
Dig out your "soup pot" and heat a good size drizzle of oil; add onions. Cook onions until softened. Add garlic and cook for 1 minute. Add stock and cauliflower and bring to a boil. Reduce to simmer and cook until cauliflower is soft (around 20 minutes). Remove from heat and puree soup with immersion blender (fun & quick) or let soup cool and transfer small batches to blender. Return soup to low heat; stir in Parmesan and parsley until smooth. Salt and pepper to taste. Garnish with crispy crumbled bacon and a bit of dill.
LAUREN MCCLURE loves food, as evidenced by her ever-expanding palate and waistline. In between meals, she has the great pleasure of being a freelance photographer and writer. She takes pictures of everything from blissful brides to Texas ghost towns, and blogs about her adventures at laurenmcclure.blogspot.com. In her leisure time she enjoys cooking brunch for dinner, perusing her vintage issues of Gourmet magazine and eating peanut butter by the spoonful.