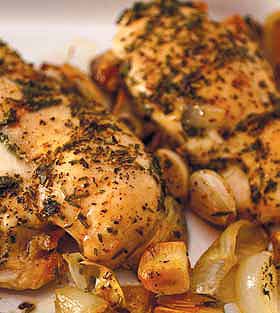 1 whole chicken, cut into 8 pieces (bone-in)
2 heads garlic, broken into cloves
4 heads shallot, broken into cloves
1 bunch herbs (we used rosemary and lemon thyme), coarsely chopped
2/3 cup olive oil
½ cup dry white wine
1½ tablespoons whole-grain mustard
Salt & pepper
Preheat oven to 425°F.
Wash and pat dry chicken, arrange pieces in roasting pan. Distribute garlic and shallots around the chicken. Drizzle olive oil over everything, and liberally sprinkle with salt, pepper and half of the thyme. Make sure chicken is well coated. Cook for 40 minutes. In the meantime, mix mustard, remaining thyme and wine in small bowl. After 40 minutes of cooking, baste chicken with mustard-wine mixture and cook for another 25 minutes.
Test for doneness by cutting into the thickest breast to ensure the juices run clear.
LAUREN MCCLURE loves food, as evidenced by her ever-expanding palate and waistline. In between meals, she has the great pleasure of being a freelance photographer and writer. She takes pictures of everything from blissful brides to Texas ghost towns, and blogs about her adventures at laurenmcclure.blogspot.com. In her leisure time she enjoys cooking brunch for dinner, perusing her vintage issues of Gourmet magazine and eating peanut butter by the spoonful.