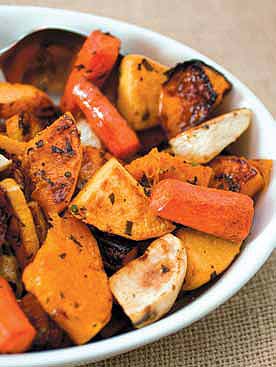 4 carrots, peeled
1 small or medium size butternut squash, peeled
1 medium rutabaga, peeled
1 turnip (we used Purple-Top), peeled
2 red potatoes, peeled (optional)
Small bundle flat-leaf parsley, rough chopped
Olive oil
Salt & pepper
Preheat oven to 425°F.
Cut vegetables into roughly 2-inch chunks.
Place all vegetables on rimmed baking sheet or shallow roasting pan, distributing in one layer. Drizzle liberally with olive oil, salt and pepper. Shake pan to ensure an even coating of vegetables. Bake for 50 minutes, turning vegetables halfway through cooking.
LAUREN MCCLURE loves food, as evidenced by her ever-expanding palate and waistline. In between meals, she has the great pleasure of being a freelance photographer and writer. She takes pictures of everything from blissful brides to Texas ghost towns, and blogs about her adventures at laurenmcclure.blogspot.com. In her leisure time she enjoys cooking brunch for dinner, perusing her vintage issues of Gourmet magazine and eating peanut butter by the spoonful.