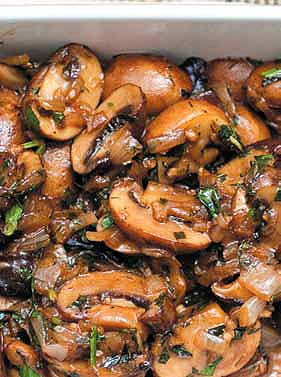 5 cups mushrooms (two or three varieties like cremini, shitake and portobello)
2 shallot cloves, chopped
3 garlic cloves, minced or crushed
¼ cup flat-leaf parsley, chopped
2 rosemary sprigs, chopped
2 tablespoons balsamic vinegar
2 tablespoons butter
Olive oil
Salt & pepper
Loaf of artisan bread
Remove and discard stems, then chop mushrooms in large chunks (they will significantly reduce in size during cooking). Drizzle olive oil in large pan and heat over low-medium heat, add shallots and cook for 3 minutes.
Raise heat to medium, add butter, mushrooms and rosemary, and season with salt and pepper. After cooking 8–10 minutes, add balsamic vinegar and garlic to pan and cook for another minute or two (make sure not to burn the garlic). Remove from heat and stir in parsley. Serve atop slices of your favorite artisan bread.
LAUREN MCCLURE loves food, as evidenced by her ever-expanding palate and waistline. In between meals, she has the great pleasure of being a freelance photographer and writer. She takes pictures of everything from blissful brides to Texas ghost towns, and blogs about her adventures at laurenmcclure.blogspot.com. In her leisure time she enjoys cooking brunch for dinner, perusing her vintage issues of Gourmet magazine and eating peanut butter by the spoonful.