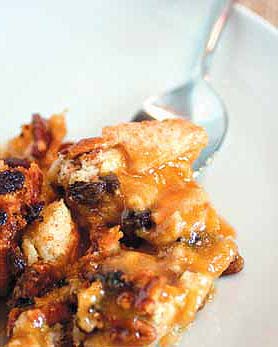 4 cups stale French bread, cut into 1-inch cubes
2 cups milk
1 cup heavy cream
2 eggs
½ cup sugar
1/3 cup raisins
½ cup chopped pecans
4 tablespoons butter, melted
1 tablespoon vanilla extract
½ teaspoon cinnamon
¼ teaspoon nutmeg
Confectioner's sugar for sprinkling (optional)
Bourbon Sauce
2 egg yolks
7 tablespoons unsalted butter
¾ cup brown sugar
¼ cup bourbon (or to taste)
Preheat oven to 350°F.
In bowl, pour milk and cream over cubed bread. Use your hands to evenly coat and soak bread cubes. In a separate bowl (large), beat eggs and sugar until it becomes a thick, even mixture. Add vanilla, cinnamon, nutmeg and melted butter to the egg mixture and beat for 1 minute. Stir in raisins and pecans. Add the soaked bread to the egg mixture and stir well. Let stand for at least 20 minutes.
Transfer to baking dish. Bake until firm in center, about 45 minutes.
Near the end of baking, make the bourbon sauce. Beat egg yolks until thick. In a small saucepan, melt butter with sugar, stir well and cook until sugar looses its grain. Remove from heat, pour the butter-sugar mixture over egg yolks and beat until well thickened. Stir in bourbon.
Serve sauce warm with bread pudding.
LAUREN MCCLURE loves food, as evidenced by her ever-expanding palate and waistline. In between meals, she has the great pleasure of being a freelance photographer and writer. She takes pictures of everything from blissful brides to Texas ghost towns, and blogs about her adventures at laurenmcclure.blogspot.com. In her leisure time she enjoys cooking brunch for dinner, perusing her vintage issues of Gourmet magazine and eating peanut butter by the spoonful.