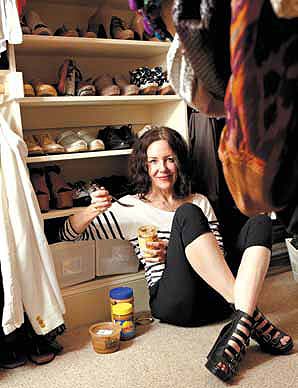 Photo by Steve Visneau
Food and fashion usually don't make the most compatible of bedfellows, but Tracy Achor Hayes is not your typical fashionista. Like all interesting people, she defies stereotypes. For over two decades, the Dallas native shared her soulful take on fashion as a journalist for the Dallas Morning News. She then went on to launch the paper's hugely popular, monthly style glossy, F/D Luxe, where she currently serves as editor-in-chief. But a vast knowledge and love of all things sartorial is just one aspect of this hometown girl. She also possesses a deep devotion to yoga, a passion for horses, and yes—an appreciation of good food. In our experience, that compelling combination makes for good mealtime conversation.
So we sat down with Achor Hayes to a lunch of hummus and tabouli at her Lakewood favorite, Ali Baba, and talked Dallas restaurants, breakfast habits, squid ink risotto and pretty much everything in between.
ALMOND BUTTER AND ASHTANGA
TAH: An ideal day would always start with the same breakfast— Tazo Om tea, a toasted whole wheat English muffin smeared with crunchy almond butter bought in bulk at Whole Foods, and whatever fruit is in season. Lunch would be at Oishii, after a class at Dallas Yoga Center. Dinner would probably be the Green Room Mussels at Toulouse. But for me, food would only be one component of a truly perfect day, which would involve friends, yoga, riding my horse and an embarrassing amount of time spent clothes shopping.
CREATURE OF HABIT
TAH: At least once a week, my husband Van makes my very favorite meal: salmon, soba and spinach. And at least a couple times each week, I'm at the deli counter of Whole Foods on Lomo Alto, scooping up raw kale and basil pesto tofu or tuna with cranberries.
THE FARMERS MARKET IS US
TAH: I'm a farmers market person, but for me, the food isn't the only draw. Most precious is that it represents true, not canned, diversity, with people of all ages, star chefs and farmers milling alongside each other. Another place like this is Kalachandji's vegetarian restaurant at the Hare Krishna Temple.
ENTERTAINING AND EGGS
TAH: For entertaining, we love hosting Sunday brunch. People know it's casual, so there's no worrying about what to bring or what to wear. Van generally makes a frittata, and I always gorge on smoked salmon tartare and fruit salad.
EAT LIKE AN ITALIAN
TAH: Just after Tom Ford joined Gucci, he and partner Richard Buckley invited me to a small dinner at their Milan apartment. I don't remember much about what we ate, but the image of Tom in the kitchen, barefoot, cooking pasta is quite a nice memory. In terms of food, dinner with Van and a group of runway photographer friends during Milan Fashion Week back in the early '90s stands out. I had a risotto al nero di seppia (black squid ink) that I still dream about, and at the end of the meal, the little Italian grandmother emerged from the kitchen with a sheet of just-baked almond cookies.
HAVE PIE WILL TRAVEL
TAH: The Cowboy Café near our cottage in Wyoming makes the best pie I've ever had. I picture little ladies baking pies all night and delivering them in the morning, but it's probably something less picturesque than that. My husband brought back five of their strawberry rhubarb pies after his last trip— I was eating pie for breakfast for days.
FORBIDDEN FOOD
TAH: Veal, foie gras, anything involving extreme cruelty to animals. And I never drink coffee or alcohol, not so much on principle, but as a simple matter of taste.
(ALWAYS) IN HER FRIDGE
TAH: Organic milk, plain yogurt, whole wheat English muffins, San Pellegrino, bulk almond and peanut butters, fresh fruit (preferably blueberries and kiwi), hot sauce and eggs.
PERKS AND PERILS OF THE TRADE
TAH: Two decades of traveling twice a year to Milan, London, Paris and New York have definitely broadened my food experience.
On the flip side, it's easy to fall prey to that fashion-related obsession with thinness. It's all a matter of balance.
When JOSLYN TAYLOR's not doing her day job as the online marketing director for a large technology company, she writes and curates two blogs, "Simple Lovely, "www.simplelovely.blogspot.com, a lifestyle/design blog, and "Raising Foodies," www.raisingfoodies.blogspot.com, which chronicles her attempts to get her two young daughters to consume something other than chicken nuggets and Annie's Mac and Cheese. She is a contributing editor at the social media site, "Kirtsy," www.kirtsy.com, and has written for Dallas Child Magazine, "Dallas Arts Blog" and Renegade Bus. She lives in Dallas with her daughters Audrey and Amelia (Millie) and her husband Bryan.