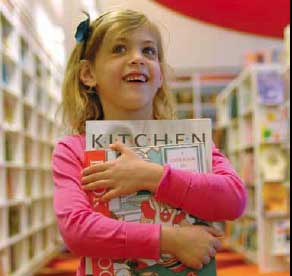 Photograph by Richard Adams
Fearing an eternity doomed to cooking only chicken nuggets and macaroni and cheese, I spent the better part of 2009 attempting to expand the palettes of my two young daughters. Without fail, the tactic that proved most successful (and trust me, I tried a lot) was getting them into the kitchen with me. Cracking eggs, stirring vegetables and flipping pancakes became thrilling acts for my six year-old, imparting to her a sense of control over her food and resulting in slightly more adventurous eating habits.
Eager to take advantage of my opening, I quickly set out to find cookbooks she and I could use together. Fanny at Chez Panisse by Alice Waters, with its enchanting drawings and captivating story, became our go-to book, and we quickly put its excellent cornbread recipe into heavy rotation. Recently, we perused the shelves of Legacy Books in Plano to hone in on a few more tomes of foodie inspiration for 2010. Here are a few of our favorites.
The Toddler Café
by Jennifer and Matthew Carden
With a focus on making food fun for the picky eater, The Toddler Café is full of creative recipes sporting such hip names as "bada bang bada bean dip" and "monster mash." Carden encourages taking a playful approach to food while building on tastes your children have already acquired (i.e. a lemony noodle dish for the child that regularly filches the lemon from your beverage glass.)
Kitchen Playdates
by Lauren Band Deen
With a heavy emphasis on entertaining and menus organized by events such as sleepovers and birthday parties, Deen's mission is getting your kids integrated into your life in the kitchen. The recipes are straightforward and kid friendly while still being highly appealing to a more sophisticated palette (think seared wrapped scallops and parmesan shortbread.) Especially helpful are the "getting started" sections, covering kitchen safety, essential tools and key ingredients.
Omnivore's Dilemma for Young Readers
by Michael Pollan
Pollan has retooled his bestselling book detailing the journeys of three meals with a young reader in mind. While not actually a cookbook, the lessons, facts and discoveries in this book will get any socially minded youngster thinking outside the box about their food before they step into the kitchen. Pollan is also a huge advocate for getting kids involved in preparing meals, as he notes, "As soon as you start cooking, you begin to learn about ingredients, to care about their quality, and to develop your sense of taste."
Look and Cook
by Tina Davis
Davis' book is a nod to the Betty Crocker cookbooks of my youth with its vintageinspired art and 50 classic recipes including chicken noodle soup, spaghetti and meatballs and scalloped potatoes. While the least culinarily adventurous of the cookbooks we explored, this one fully captured my daughter's attention. The conversational text, easy to follow tips and whimsical instructional illustrations all promised to get her in the kitchen and keep her coming back, which, after all, is really the whole point.
When JOSLYN TAYLOR's not doing her day job as the online marketing director for a large technology company, she writes and curates two blogs, "Simple Lovely, "www.simplelovely.blogspot.com, a lifestyle/design blog, and "Raising Foodies," www.raisingfoodies.blogspot.com, which chronicles her attempts to get her two young daughters to consume something other than chicken nuggets and Annie's Mac and Cheese. She is a contributing editor at the social media site, "Kirtsy," www.kirtsy.com, and has written for Dallas Child Magazine, "Dallas Arts Blog" and Renegade Bus. She lives in Dallas with her daughters Audrey and Amelia (Millie) and her husband Bryan.