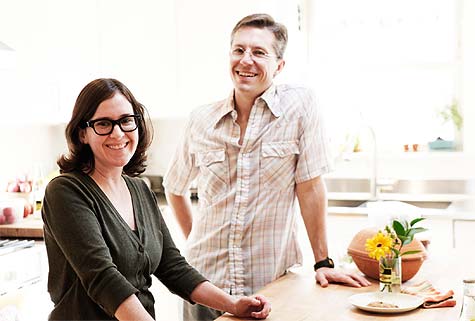 Photography by Steve Visneau
Jeff and Nicole Whittington are people who take their food seriously. But their reverence for good eats is void of even a trace of sanctimony; rather, the couple approaches culinary endeavors with enthusiasm, curiosity and a pinch of humor. In their hands, a humble fried egg sandwich—made with an egg from one of their backyard chickens—becomes a gastronomical work of art.
The Metroplex natives, who met nearly two decades ago at the University of North Texas, share not only a love of good food, but a complementary approach to preparing and consuming it. The curiosity, flexibility and breadth required in Jeff's professional life (as host of "Anything You Ever Wanted to Know" on KERA 90.1 and the senior producer of KERA's "Think") carries over into his more carefree approach in the kitchen and his willingness to eat anything at least once.
On the other hand Nicole, a paralegal with a bakery/pastry degree from El Centro College, is a slightly more selective eater with a reverence for recipes and the comforts inherent in the rules of baking.
After spending a couple of hours talking all things food around the big butcher block island in Jeff and Nicole's sunny East Dallas kitchen (and eating some of their exceptionally good chocolate chip cookies), I couldn't help but leave thinking one thing—How can I get invited back for dinner?
RULES RULE
Jeff: I like to have crazy rules about food. On my birthday this year, I swore off all deep-fried food but, through the wise council of Nicole, decided tortilla chips were okay. We are in Texas after all. We were also both strict vegetarians for almost two years, and then I was asked to judge the fried food contest at the State Fair and was faced with a hot dog, stuffed with cheese, wrapped in a tortilla and fried. That's when I stopped being a vegetarian. Now I'm trying to limit myself to eating meat just once a week. The idea is to make sure the meat has been sustainably managed, so I can feel good about it.
SMALL STEPS
Jeff: We had our family holiday dinner this year at Bolsa in Oak Cliff. It's really nice to eat something and think—hey, this is coming from somewhere that I could ostensibly walk to. We're always thinking about minimizing our carbon footprint. I try to do at least one thing with each meal that feels more sustainable. If I make that small decision 1,000 times this year, it could really add up.
ON CHEESE STEAK AND
CREATING A FOOD HISTORY
Nicole: My primary motivation when it comes to cooking is to create a sort of food legacy. I'm honored when a friend asks me to cook something because I made it before and they loved it. Jeff and I own the documentary "Pennsylvania Diners and Other Roadside Restaurants" and have watched it a ton of times. It's especially meaningful to me because my aunt and uncle owned a cheese steak and hoagie shop, and it reminds me of all the time I spent there growing up. I have always wanted to have a little place that is as special as that place was to me. My uncle passed away many years ago, and the restaurant sold, but the memories of that food are still so vivid.
JUST CAN IT
Jeff: Nicole and her friends have also been really into canning. A couple of years ago we had a great little crop of grape tomatoes that was perfect for canning, and this year we bought a bunch of bulk stuff. She made some amazing spicy pickled green beans that we used the last of in Bloody Marys on New Year's Day. She's gotten really good. She won a blue ribbon for her canning at the State Fair.
COURT AND COOKIES
Nicole: I didn't know what to do after college, but knew I liked to bake. I took a job making cookies at Great Harvest Bread Company. Despite having to wake up every morning at 4:00 am, I fell in love with it. After a while I needed to earn more money, so I took a job at a law firm. Eventually I pursued baking more seriously, getting my degree at El Centro, and then helped open Central Market on Lovers. At some point, I returned to the law firm. Lawyers and chefs are a lot alike—brilliant, fast-paced, a little crazy (in a good way) and able to thrive on stress.
COOKING OUTSIDE THE BOX
Jeff: We finally took the plunge in December and joined the Urban Acres CSA, and it's really forced us out of our food comfort zone. We love to go out, but we decided to do this because we wanted to eat more local foods, use our kitchen, eat at home and eat healthier. And financially it's a pretty good deal… you just have to actually eat it. Another thing we did this fall that has completely changed my approach to food is finally get a Vitamix. I make a smoothie almost every morning using things like beets (I love beets), apples, ginger, carrots, cabbage.
THE BITTEN WORD
Nicole: Jeff's favorite food book is Michael Pollan's The Omnivore's Dilemma. I'm a big fan of anything by Ruth Reichl (the former Editor in Chief of Gourmet Magazine), but my favorite food book is Jacques Pépin's memoir, The Apprentice: My Life in the Kitchen. He seems to have so much fun in the kitchen that he makes things look easy.
THE HAUNTS
Jeff: I have been a lifelong patron of La Calle Doce in Oak Cliff. I took dates there in high school, and Nicole and I had our rehearsal dinner there in 1997. It's just the best. I've also been going to S&D Oyster Company since I was a kid. If I got straight A's in high school my dad would take me there as a reward, so it's always felt like a celebratory place. We also like Nonna for special occasions. On Fridays when I get off the air, I often head straight to Mia's on Lemmon for their brisket tacos.
ALWAYS ON HAND
Jeff: We always have the ingredients for chocolate chip cookies, Rice Krispie treats and stuff for Nicole to bake a pie crust, which she does very well. We always stock almond milk, a wide selection of beer and Topo Chico mineral water.
We've had our chickens for 13 months, so of course we always have eggs too. We'd always kind of wanted chickens, and our friend Misty Keasler got a batch of 27 chicks in the mail, so we came and picked out our five. We lost one, but the other four are trucking along.
POPCORN AND A MOVIE
Jeff: Our dirty food secret is every once in a while we eat popcorn for dinner…our dogs love it too. We don't have cable or Netflix, but we watch five movies a week. We always rent from Premier Video and pop popcorn in our Dutch oven on the stove. It's the best.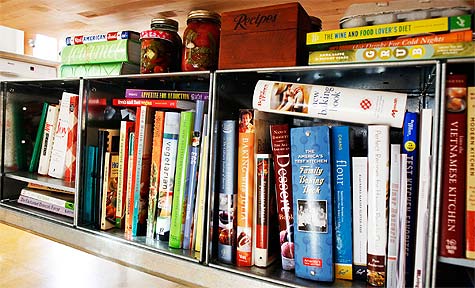 When JOSLYN TAYLOR's not doing her day job as the online marketing director for a large technology company, she writes and curates two blogs, "Simple Lovely, "www.simplelovely.blogspot.com, a lifestyle/design blog, and "Raising Foodies," www.raisingfoodies.blogspot.com, which chronicles her attempts to get her two young daughters to consume something other than chicken nuggets and Annie's Mac and Cheese. She is a contributing editor at the social media site, "Kirtsy," www.kirtsy.com, and has written for Dallas Child Magazine, "Dallas Arts Blog" and Renegade Bus. She lives in Dallas with her daughters Audrey and Amelia (Millie) and her husband Bryan.