So Much Better Than It Sounds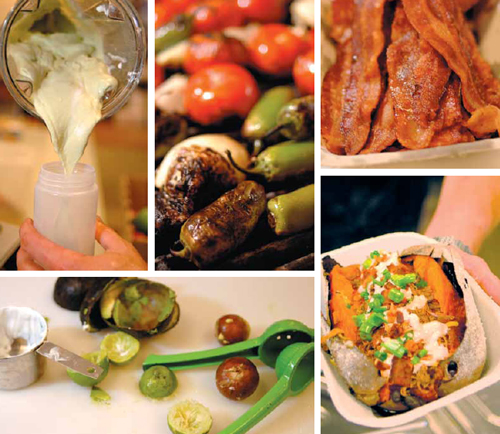 Photographs by Richard Adams
The Hot Mess is the brainchild of Pecan Lodge proprietors Justin and Diane Fourton. The rather large baked sweet potato, dusted with kosher salt, heaped with brisket, sprinkled with a bit of green onion and bacon and finally topped with a drizzle of creamy sauce manages to be sweet and savory and spicy all at once. It is the type of thing you eat and then think about for the rest of the day. In fact, it's altogether possible you might even obsess about it a little.
Justin and Diane had a hunch The Hot Mess might be addictive when, just over a year ago, the economic downturn and the birth of their son Henry drove the passionate home cooks to embark on a major life change.
After over a decade spent at the management-consulting firm Accenture, the Fourtons decided to abandon life in corporate America in lieu of culinary adventure. Specifically, they wanted to whip up The Hot Mess, along with other "authentic Texas cuisine and Southern home cooking" like brisket tacos, barbecue sandwiches and homemade macaroni and cheese, and serve it to the masses via a little food truck they planned to park at car lots on Saturdays. The food did its job. Catering gigs ensued, and soon the couple was renting space in various commercial kitchens across the metroplex. Pecan Lodge Catering was born. The lack of a permanent home base was oddly appropriate given the roots of many of Pecan Lodge's signature dishes. The duo hails from North Texas; Justin is a Dallas native and Diane grew up in Mesquite.
During and after college, they spent a decade living outside of Texas and amassing culinary influences and inspiration by seeking out restaurants off the beaten path and the most authentic versions of regional specialties. Stints in North Carolina, New Mexico, Colorado and Cali fornia informed many of their recipes (those that aren't passed down from their respective families), including low-country shrimp and grits, brisket, organic yogurt parfaits and their inspired sauces, salsas and pico de gallo. Worthy of special mention are their signature "tumbleweed cookies", a creation in the style of famed New York eatery Momofuku's "compost cookie" but seemingly less haphazard. The mix of chocolate and peanut butter chips, coconut, pretzels, and a slew of other secret ingredients delivers a big pay off in an exceptionally good cookie.
While the mobile approach to their business was successful, after several grueling months of hauling equipment, food and supplies from location to location, the Fourtons knew they needed a permanent space for their burgeoning catering outfit. They looked at multiple spots, but nothing clicked until a moment during a routine visit to the Dallas Farmers' Market, that Justin likens to finding the right house after months of hunting. "We just walked into Shed #2 at the market and knew we had found the space. It was "the one", he explains.  The idea of having plentiful local produce vendors mere steps away from their kitchen was a primary draw, as was the prospect of a manageable retail component (something they hadn't considered before) that would allow DFM visitors (and potential catering customers) to sit down to some of the Fourton's specialties, forging a connection to the public and harkening back to their food truck days.
Since opening the Pecan Lodge space at the DFM in early March, Justin and Diane have developed relationships and a sense of community with other market vendors and specialty food producers. If you happen to be at the market on a typical Wednesday morning, you might run into Justin weaving through the stalls with his 20 month old son Henry in tow, offering samples of some of his dishes to early morning shoppers or procuring the freshest possible tomatoes for the pico de gallo he plans to turn out later that afternoon. Justin's commitment to the farmers' market community is evident in his desire for customers to be able to taste the end-product he creates and then buy the raw ingredients just steps away. Pecan Lodge sources 100% of their produce from the DFM, aiming to buy as much as possible from the local farmers, and it's that relationship to the market that makes Pecan Lodge special. Their insistence on fresh, flavorful food necessitates buying seasonal, not always something you can do if you have to rely solely on a weekly restaurant delivery service. If a tomato or a clutch of berries isn't up to par, Justin or Diane can literally dash across the street for a fresher specimen and reinforce a connection to the producer or farmer in the process. But their passion for local ingredients goes beyond the fruits and vegetables. The preserves they serve at breakfast come from fellow Shed 2 proprietor, Lucido Produce Company, and they plan to add a dish to their menu featuring shrimp from neighboring Trico Shrimp Co.
The Fourtons are also passionate about patronizing local farmers outside of the Dallas Farmers' Market. They're currently collaborating with a farm in Central Texas to source local meat for an upcoming charity event in Dallas, and that evening they expect to turn out 500+ brisket sliders in a huge display of getting locally produced meat to the masses in a single event.
Justin and Diane envision Pecan Lodge as being part of a bigger evolution of the Dallas Farmers' Market, something akin to Seattle's Pike Place or The Grove in Los Angeles—a true local food culture imbibed with a sense of community. "Having a space down here allows for a certain kind of full-circle experience", Justin remarks, "A typical day might involve us getting a cup of coffee from the folks at Mawker's and then doing an early morning walk through the local shed. We head back to Shed 2 with our finds and prepare food in the Pecan Lodge kitchen for an evening event being held in front of our space. Ruibal's brings over plants and flowers to dress up the tables, and the next day we bring them a slew of barbeque sandwiches and tumbleweed cookies in thanks.  We're all doing our part to make this work. It's a truly local experience."
When JOSLYN TAYLOR's not doing her day job as the online marketing director for a large technology company, she writes and curates two blogs, "Simple Lovely, "www.simplelovely.blogspot.com, a lifestyle/design blog, and "Raising Foodies," www.raisingfoodies.blogspot.com, which chronicles her attempts to get her two young daughters to consume something other than chicken nuggets and Annie's Mac and Cheese. She is a contributing editor at the social media site, "Kirtsy," www.kirtsy.com, and has written for Dallas Child Magazine, "Dallas Arts Blog" and Renegade Bus. She lives in Dallas with her daughters Audrey and Amelia (Millie) and her husband Bryan.