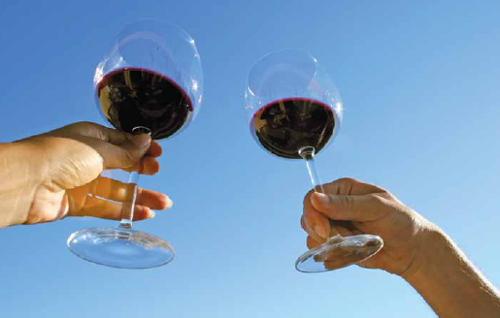 When pondering the future, it can be of great benefit to examine the past. Texas winemaking has a long and rich heritage from which to draw. The lands that now comprise the state of Texas are among the oldest wine-producing regions in the United States, but the newest to establish an industry of winemaking. In fact, wine grapes were planted in Texas more than a hundred years before they were planted in California.
Historians agree that Franciscan priests planted the earliest vineyards in the late 1650s along the Rio Grande River near present day El Paso. Early European settlers in Texas also planted (generally unsuccessfully) European Vitis vinifera grape varietals in an effort to maintain the wine culture they had enjoyed in their homelands. The German immigrants who settled in New Braunfels and Fredericksburg had great success producing wines from the native mustang grapes, although those wines would most likely not be palatable today.
Val Verde Winery in Del Rio is the longest operating winery in the state. Founded in 1883 by Frank Qualia, a Northern Italian immigrant with an agricultural background, the winery is still operated by the Qualia family today. Of the at least 20 wineries in Texas before prohibition, only Val Verde survived by selling tables grapes and making wines for church sacramental purposes.
It wasn't until the 1970s that the renewed interest in Texas winemaking began with the establishment of Sandy Land Grape Growers and Llano Estacado Winery. By the mid 1980s, vineyards had been planted all over Texas, many eventually becoming wineries. Today, Texas has over 3,700 acres of family-owned vineyard land. It is the nation's fifth largest grape and wine producer with over 170 wineries and counting, contributing more than $1.35 billion annually to the state's economy and creating over 8,000 associated jobs.
But the road to this level of success hasn't been an easy one. According to Fall Creek Vineyards' Ed Auler, from the beginning, the mission of early Texas wine industry pioneers has been, "to produce premier wines from the very best grapes we can grow." And since the very best wine-producing grapes were Vitis vinifera, that's what they planted. This decision was greeted with a mixture of positive enthusiasm and general skepticism from the experts, and many were dubious that Vitis vinifera grapes would grow in Texas. Luckily the grapes proved to be successful.
In the beginning, the Texas wine industry emulated the wines that had been successful in France including Bordeaux varietals, cabernet sauvignon and chardonnay. Texas winemakers proved they could grow the noble European varietals and make wines that could compete in the global marketplace, as well as in global competition. Now many Texas wineries have moved the focus to varietals other than European, and they are doing very well. Texas winemakers are finally figuring out what grapes grow best in their climate and soil and are building their lists around those. Jim Johnson of Alamosa Wine Cellars in Bend grows only Mediterranean and Rhône varietals, viognier, tempranillo, sangiovese, syrah and Muscat. Johnson believes these grapes will give Texas its best shot at "getting its own chapter in wine atlases." Texas winemakers need to find grapes that work best for Texas, according to Johnson. Many other Texas winemakers agree. Caris Turpin, Winemaker/ Owner of LightCatcher Winery in Fort Worth, believes that cabernet sauvignon and merlot grapes that are grown in the High Plains region exhibit the best qualities of those noble varietals. "Texas is now working to establish a reputation for Texas terroir using grapes we've been growing for a long time, but that were originally planted in the wrong soil and climate conditions."
Becker Vineyards, located between Stonewall and Fredericksburg, has been wildly successful with the release of the first malbec grown and produced in Texas. Texas Hills Vineyard relies heavily on the Mediterranean varietals sangiovese, pinot grigio and syrah. Kim McPherson, owner of McPherson Cellars and son of Llano Estacado founder "Doc" McPherson, has long believed that the Mediterranean varietals will be the focus for the future of the Texas wine industry. Danny Hernandez, winemaker at Sister Creek Vineyards in Sisterdale, who had adhered to producing only Bordeaux-style red blends, has now slipped some sangiovese into his newest red blend. Don Pullum, at Sandston Cellars Winery, says the growing number of boutique wineries in Texas will encourage the development of niche-market products made from many grape varieties not well known to the U.S. consumer. Producing a torrontes, an astonishingly flavorful Argentine white varietal that's a perfect match for many of our bold, Texas-style seafood dishes, is the plan of Ed and Susan Auler at Fall Creek Vineyards. Llano Estacado winemaker, Greg Bruni, uses the red Carignan varietal to produce his proprietary Rhône-style blend, Passionelle.
To foster visibility, the Texas wine industry has developed the "Wine Trail", a progressive tasting and moveable feast, where visitors follow a cluster of events from winery to winery. The industry also sponsors at least 14 regional wine festivals and both efforts bring prodigious numbers of consumers into personal contact with the wineries and provide invaluable exposure. In addition, The Texas Department of Agriculture has recently developed a "Go Texan" partnership with restaurants in the state, encouraging them to serve Texas agricultural products, including Texas wines.
Scott Spencer, owner of the Houston Wine Merchant, believes that one of the best ways to build consumer awareness of the Texas wine industry is to boost restaurant wine list placement. "To do this, the wines need to compete with whatever else is on the list," Spencer says. "Most diners would support a Texas-grown product."
Turpin of Lightcatcher who is also chef at her winery restaurant, Bisto, believes that winemakers in Texas should team with restaurant chefs to develop wines that work together with Texas regional foods, "showing that products that come from the same soil often pair naturally." She further notes that there is a terrific marketing potential in strengthening the partnership of Texas wines with Texas foods.
Dr. Russell Kane, noted wine writer, founder of many Texas wine competitions and creator of the Vintage Texas wine blog (www.vintagetexas.com) suggests winemakers ask themselves Why? Why did this wine get made? Why does it have this style? Why will the consumer want to buy it? Kane feels these are important questions because the consumer has a lot of options when buying wine and needs compelling reasons to request and buy Texas wines.
"In Texas," Kane says, "we also need to focus on quality across the board, in the vineyard and in the winery. We have a lot of new faces opening wineries. Some have experience and some do not. Some can afford to fly in consultants, others can't or won't. The good news is that the Texas Department of Agriculture now supports regional viticulturists around the state, and has a state enologist [a specialist in winemaking] to help those wineries to improve quality on both fronts."
Ed Auler, of Fall Creek Vineyard, believes the Texas Department of Agriculture must continue to aggressively encourage Texas farmers to add grapes, a lucrative crop, to their farms and it must support existing grape growers in the expansion of their acreage. Both of these measures would help to address the critical issue of grape shortages while supporting the growth of the Texas wine industry.
The key factor in wine production is the dirt. Wine terminology uses the term terroir, to describe the soil, geography and climate in which the grapes are grown. A cabernet sauvignon from grapes grown in the Napa Valley will have a completely different taste from one grown in the Texas High Plains, as will a Rhône Valley syrah and a syrah produced from grapes grown in the Texas Hill Country. "Most Texas wineries take pride in sourcing grapes from Texas vineyards," says Johnson of Alamosa Wine Cellars. "Grapes grown in Texas soil have a special taste that comes only from a sense of place."
Dan Gatlin, Winemaker/Owner of Inwood Estates in Dallas, has a lot invested in achieving quality and authenticity. He spent 25 years in 5 vineyards working with 30 varietals before releasing a single wine. "Every reputable wine region anywhere in the world relies on two things that are all-important, quality and authenticity", says Dan. "One of these cannot survive without the other."
Aside from weather and disease disasters, Ed and Susan Auler, Fall Creek Vineyard believe it's important to recognize the simple truth, there just aren't enough grapes to go around.
"Let's say a winery wants to create a benchmark taste in a new wine," Ed Auler proposes. "They draw upon grapes from their own vineyards, from other Texas vineyards, yet they're still 2,000 gallons short of reaching their creative goal. So, what does the winery do? They have two choices: lose the vintage year and the market shelf space, which they probably won't get back because they don't have a wine to go in their slot, or purchase enough grapes from out of state to finish that wine." Auler concludes that many of the top six Texas wineries would have gone out of business if not for the availability of grapes from out of state. As far as wineries that have no vineyards but purchase from out of state he believes, "Let the public decide".
There are several Texas wineries currently producing good wines from native grapes. Angela Moench at Stone House Vineyard crafts an outstanding award-winning wine called "Claros" from the Norton grape. Raymond Haak of Haak Vineyards and Winery in Santa Fe, Texas had smashing success, making wines from the blanc du bois grape. Paul Bonarrigo at Messina Hof Winery in Bryan, along with Val Verde winery in Del Rio, make award-winning ports from the native Lenoir Grape. Finally, Paula Williamson, owner of Chisholm Trail Winery in Fredericksburg, uses Lenoir to create many of her wines, including the outstanding new port, Almagres.
So what lies ahead for the Texas wine industry? "Growth!" is the enthusiastic reply of Sandstone Cellars' Pullum. "The industry grew from $997 million industry in 2005 to a $1.35 billion one in 2007," he says. "I believe it's related to the general growth in consumption of wine by U.S. consumers, the increasing interest in agritourism in Texas, the strong support of the Texas Department of Agriculture, and the aging of the Baby Boom generation."
"The good news," notes Dr. Kane, "is that since 2000, we've addressed many of the major structural issues that were barriers to the development of the Texas wine industry, shipping, wet/dry county issues and technical support. We're now working on increasing wine-grape production, the same path used in Washington State to build, promote and support their explosion into the forefront of the American wine industry".
To expand exposure beyond state borders, the industry must continue to participate in national and international wine competitions, gaining credibility one medal at a time. Winemakers must train more openminded sommeliers and continue to establish personal relationships with restaurant owners and wine consumers. Dr. Kane also suggests the modern twist option of fostering high interest, media-rich competitions requiring the paring of iconic Texas foods with Texas wines.
Ed Auler thinks we're finally starting to head in the right direction. "I like to make an analogy of the Texas wine industry with the Texas oil industry," says Auler. "When the oil industry is trying to find a solution to a problem or a way to expand, they don't go out and start 'wildcatting' with dozens of new wells. They go back to old wells and study what went wrong and what was successful. They expand on existing knowledge. We need to do the same thing in the wine industry. We need to learn to minimize the effects of climate, conquer Pierce's disease, and grow hardier vines through better rootstock selection and practice proper pruning techniques to deal with diseases. Texas wineries need to be creative, to develop wines that are unique to Texas, not copies of wines form somewhere else, to make the best wine and let it stand on its own."
TERRY THOMPSON-ANDERSON is a professional chef, cookbook author, culinary instructor and restaurant consultant. She has written five cookbooks and numerous articles for various publications. She is a member of the International Association of Culinary Professionals, The Southern Foodways Alliance and Les Dames d'Escoffier, International.