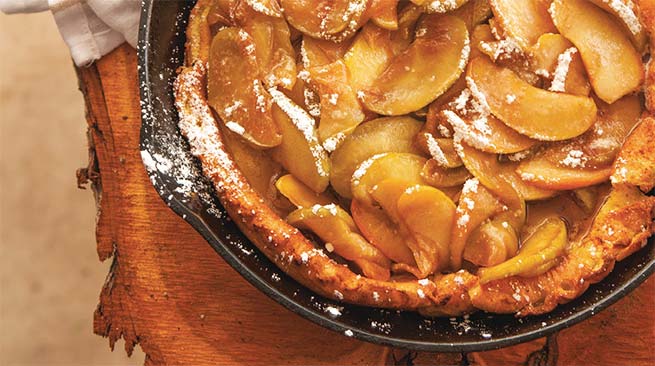 Photos by Sandy Wilson
These puffy and delicious pancakes, sometimes called "Dutch babies," have long been a cool weather favorite in German households. Serve with German-style pan or link sausage.
Makes 4 to 6 servings
Apple Filling
½ stick (4 tablespoons) unsalted butter
5 Granny Smith apples, peeled, cored and sliced into thin wedges
½ teaspoon ground cinnamon
¼ cup Texas honey
Pancake
6 eggs, room temperature
1 cup whole milk
1 teaspoon vanilla extract
1 teaspoon grated lemon zest
½ teaspoon kosher salt
1 cup sifted all-purpose fl our
4 tablespoons unsalted butter
Powdered sugar
Preheat oven to 450 °F and place oven rack in middle position.
Make the apple filling. Melt butter in a heavy-bottomed 12-inch skillet over medium-high heat. When the buttery foam subsides, add the apples and cinnamon. Cook, stirring, until the apples are quite tender—about 15 minutes. Stir in the honey to blend, and cook an additional 5 minutes; set aside to keep warm while preparing the pancake.
Place a 10- to 12-inch cast-iron skillet on oven rack. In bowl of stand mixer, combine eggs, milk, vanilla extract, lemon zest and salt. Beat for 5 minutes, or until the mixture is light lemon-yellow, thickened, and very smooth. Add the fl our in thirds, stopping to scrape down side of bowl aft er each addition; beat for additional 5 minutes. Carefully remove the hot skillet from the oven and add the 4 tablespoons of butter. Return pan to oven.
When the butter has melted and is sizzling, pour the prepared batter into the pan all at once. Quickly return pan to oven and bake for 15 minutes. Reduce heat to 350 °F and bake an additional 8 to 10 minutes, or until the pancake is puffed and golden brown.
Remove from oven and pour the apple filling over the pancake. Dust with powdered sugar and cut into wedges. Serve at once.
From Breakfast in Texas: Recipes for Elegant Brunches, Down- Home Classics, and Local Favorites by Terry Thompson-Anderson, published by the University of Texas Press. Photos by Sandy Wilson.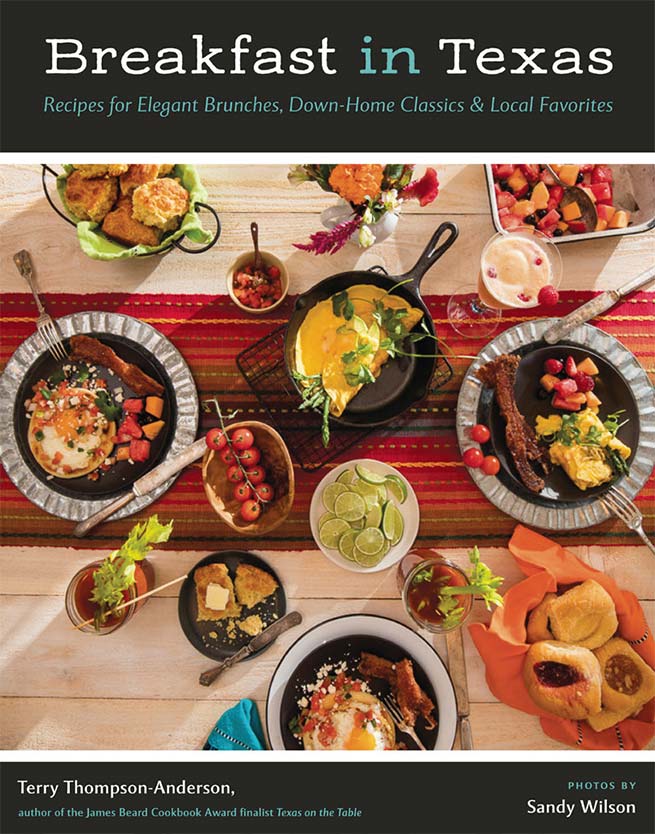 TERRY THOMPSON-ANDERSON is a professional chef, cookbook author, culinary instructor and restaurant consultant. She has written five cookbooks and numerous articles for various publications. She is a member of the International Association of Culinary Professionals, The Southern Foodways Alliance and Les Dames d'Escoffier, International.