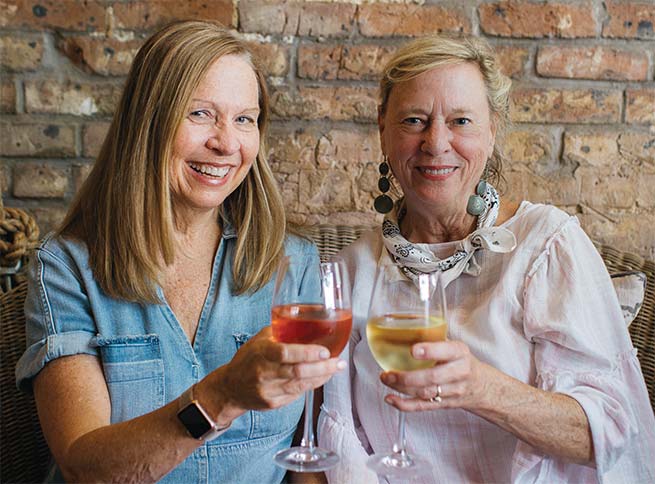 A decade of Edible Dallas & Fort Worth? As I look at the 40 beautiful magazines fanned out before me—I realize it must be so. It seems like only yesterday that the vision of Edible DFW began to take shape. Since that day in 2008, it's been a roller coaster ride with mostly the thrill of going up.
What a privilege it's been to tell the stories of our food community, season by season. Stories of growers, who face nature's challenges each day with grit and grace. And of food artisans and restaurateurs, who embrace the harvest of the Texas terroir. Blessed are the activists who bring fresh food and hope to neighbors in need. ese folks warm our hearts and call us to action.
As a community, we've been inspired to volunteer, raise backyard chickens, plant gardens and revamp our kitchens with clean food and healthy recipes. We greet our farmers by name, follow them on Instagram and covet their seasonal offerings at farmers markets.
Our dynamic North Texas community has changed for the better during this past decade. Food has been a catalyst for strengthening community ties. There's a stronger allegiance among consumers these days for products with local origins—and there are plenty. The goal is healthy food for all, though much work is still necessary to eliminate food deserts.
We've come a long way at the magazine—you might have noticed this issue's freshened look—and we're eager to step boldly into the next decade. What would you like to see on these pages? More tips on eco-minded gardening and cooking? Recipes that are simpler, more budget conscious? Write us at [email protected], and tell us what matters to you. And consider subscribing to our newsletter at EdibleDFW.com for upcoming events and special offers. You can also get daily updates by following us on Facebook and Instagram.
I'd like to acknowledge our phenomenal advertisers and creative team members who give so much to this publication. It takes a village of like-minded souls to make things happen. We could not do without our devoted community of supporters, including readers, like you.
There are so many people I could thank, but the ones who were there from the beginning and are still here making each issue special are Terri Taylor, Kim Pierce, Greg Jacob, Sergio Salvador, Julie Beall and Mary Ogle, Vivian Jones and Matthew Rainwater. And I want to give a shout-out to Maria Whitworth, the newest member of our team, who is helping kick off 2019 with a bang. Thanks to all of you and my family for your continuing encouragement.
Here's to more exciting times to come.
Nanci
NANCI TAYLOR is a third generation Texan whose family came to the state in the 1800's to pursue cattle ranching and Texas has remained her home. She was born in San Antonio, but ended up in North Texas where she nurtured her Texas roots while attending college and raising two sons in Dallas. Proudly following in her parent's footsteps, Nanci plants and harvests the bounty of her own backyard garden in Old East Dallas. She keeps a busy calendar attending local food and ecology events, and on weekends she spends her time visiting with growers and food artisans at farms, shops and farmers markets around North Texas.