PHOTOGRAPHY KELSEY FOSTER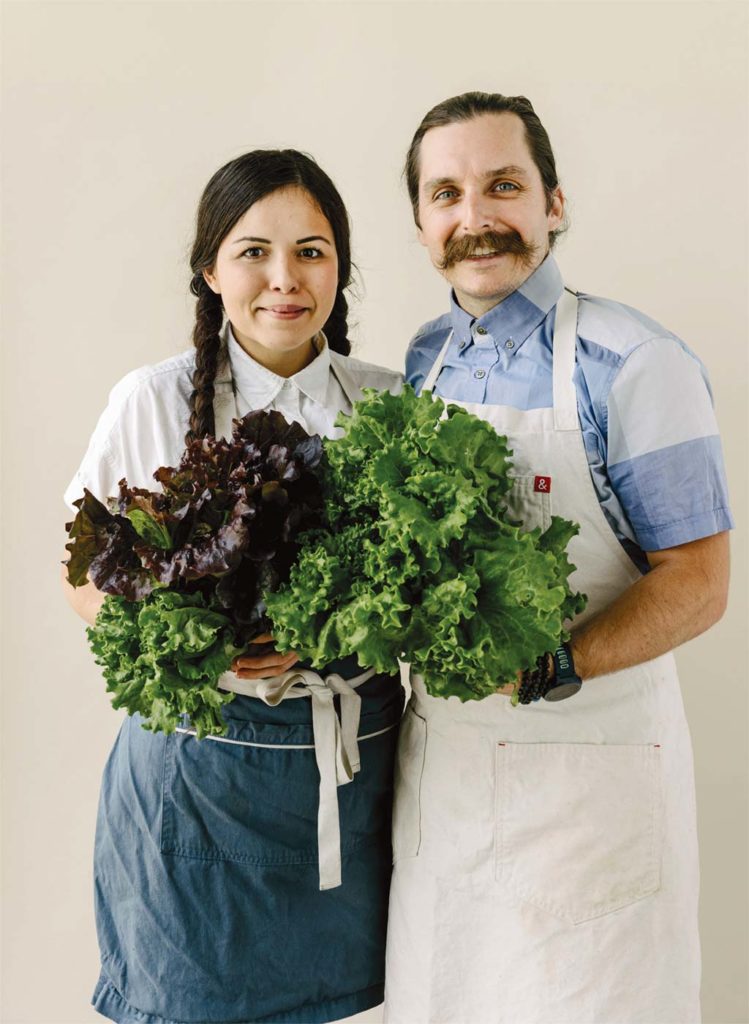 For Olivia Lopez of Molino Olōyō what's old is new — and endlessly fascinating
In her commercial kitchen in Dallas's Design District, Olivia Lopez is arranging a dish of prawns on a speckled plate with a gold rim. I watch as she adds a dab of her salsa macha, a deep, ruddy red chile condiment and garnishes with nasturtium leaves. We eat them with snowy-white tortillas fashioned from freshly ground corn that have puffed on a griddle a few feet away.
She hails from Colima, the fertile, lime- and banana-producing region that hugs the western coast of Mexico, where guava, mango, tamarind, and pineapple abound and the ocean offers seafood and salt production dips into the riches of the sea. That's why we're plating prawns, a dish that reminds her of home. But her work in Dallas has made her an exemplar of a new guard of chefs bringing corn and its traditions to the fore, a dazzling example of a local angle on ancient principles.
A week in her life might involve a brewery pop-up; a private plated dinner for 50 that includes braised lamb huaraches with homemade crema fresca, corn ice cream or a deconstructed strawberry tamal; the Saturday pick-up of her rainbow-hued heirloom corn tamales and salsas; a stint at the garden plot she runs with her business and life partner Jonathan Percival; and the butchering of a whole hog from local Blackland Prairie ranch for pork belly and carnitas.
All of these efforts fall under the scrappy business, Molino Olōyō, their conduit for championing a cause. Molino is the mill (in Spanish) and olōyō is the corn cob (in native Nahuatl). Through it she announces what she aims to do: To become a proponent for the appreciation of heirloom corn.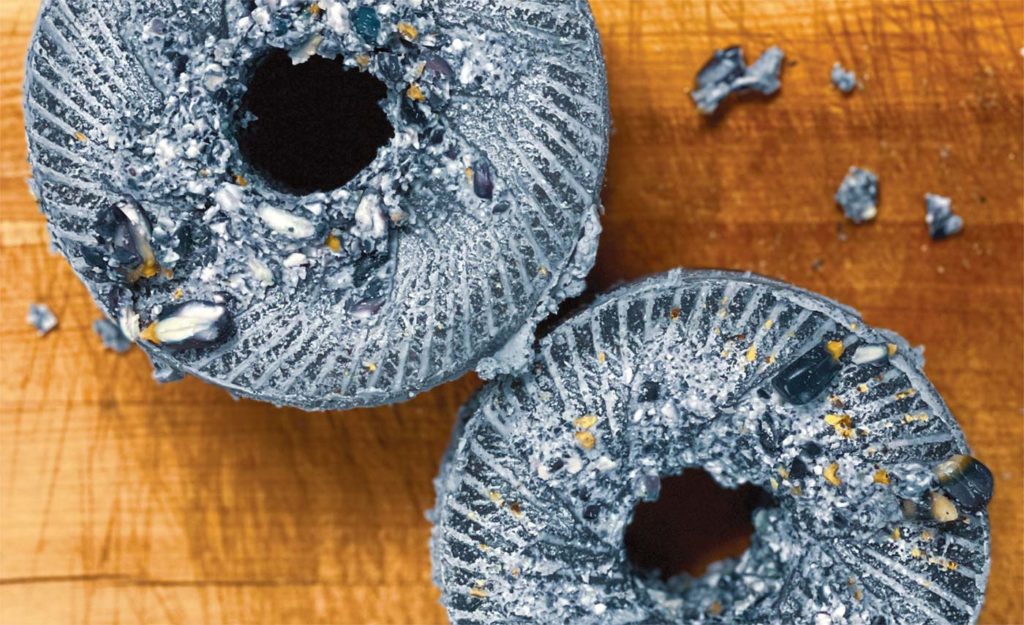 And after only a year—Lopez and Percival launched the business last August—this chef who held positions as chef de cuisine and sous chef at Billy Can Can and the now-closed Mirador is making multi-hued tortillas for Expo Park mezcaleria Las Almas Rotas and midnight-black, squid-ink tinted ones for the Commons Club at the Virgin hotel. The monthly scatterings of popups and private dinners capitalize on her creativity and plating skills. And the couple is looking for commercial space to open, in the future, a restaurant and casual, counter-order spot that would combine unfussy, masa-centric bites, chic dinners and the farm. This is how she gets her message across, making us aware of the beauty of corn.
In the commercial kitchen, where heirloom kernels arrive in hefty 55-pound bags, a whiteboard bears the statement "Sin maíz, no hay país" ("Without corn, there is no country"), the slogan for a Mexican national campaign centered on seed bank programs and the preservation of native maíz. Multi-hued kernels are the canvas upon which Molino Olōyō paints, figuratively and concretely.
Lopez and Percival grind masa (corn dough) from heirloom varieties from the Yucatán, Oaxaca, Tlaxcala and elsewhere, their flavors and aromas as diverse as the origins. Part of her mission is to source corn from different states of Mexico, supporting a sustainable network of small-crop agriculture. The kernels are cooked in a solution of calcium hydroxide (culinary lime) to soften the hull and release nutrients in a process called nixtamalization. First using a handmill and now an electric molino, a machine outfitted with adjustable grooved stones that mimic the ancient metate (a grinding stone and trough), the couple processes the corn that arrives in multicolored waves.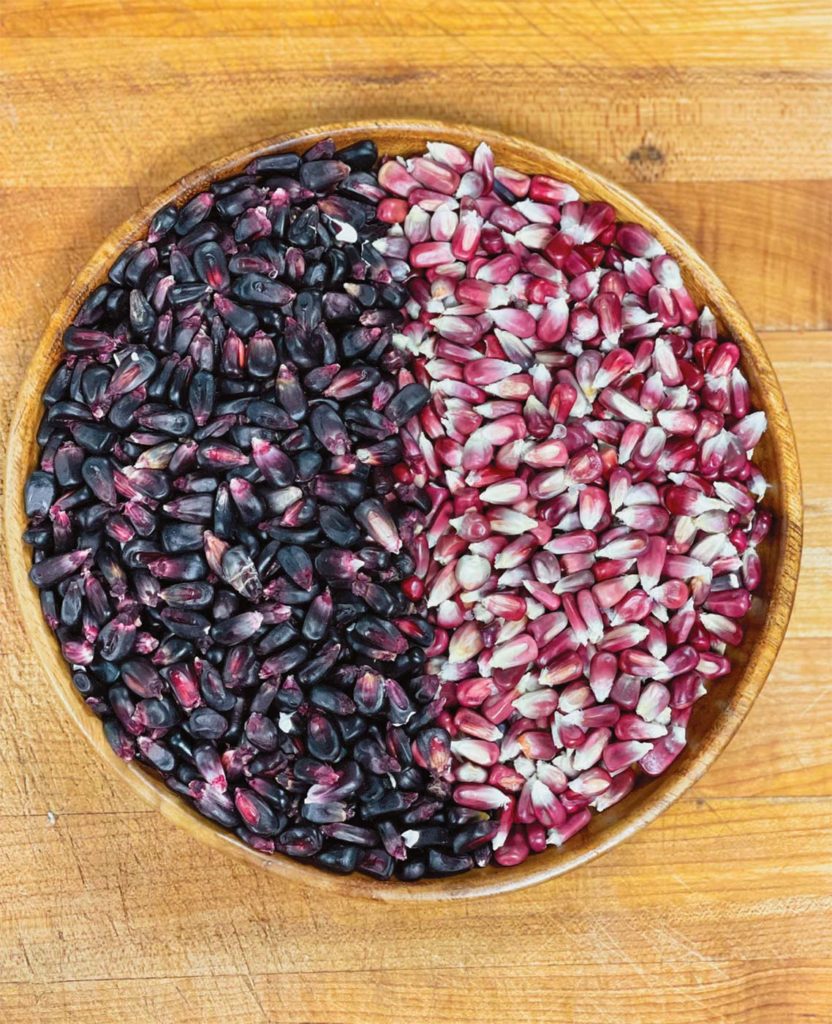 You can always find white, yellow and blue of one variety or another, Lopez says. Harder to source consistently are the pinks, reds and purples she loves: They vanish in winter. A new season means new varieties, their textures, once ground, coarse or soft. She handles them deftly, getting used to their moisture absorption levels and figuring out the grinding regimen for each, relearning old gestures.
"I was very little when I used to see these things," she says, recalling her grandmother in Colima, who employed the metate.
"When I got back to my roots, I thought, 'I need to do everything from scratch.'"
She believes in the corn as much as the moles she also makes, ones rich with almonds, pine nuts and sesame or deep-dark prune-black, spicy and chocolatey, or bright red with fleshy guajillo chiles. They are extraordinary. They can easily grace a delicately plated dish or a casual tostada or stack of chilaquiles. She has started using single- origin Mexican cacao, homing in on a depth of sourcing.
The connectedness and feeling in her hands when she works matter the most. "The process is what gives the soul to the food," she says. "It brings a lot of joy for me to serve things this way. All my memories from my childhood, that's what I want to keep serving to people. I don't want to lose the essence of what I'm trying to transmit." There is art and craft, but then, "I don't want to forget about integrity." She has a way of stepping out of the limelight to let the traditional technique shine.
"I've done this, I've used this process," she says of her highly technical days in fine-dining that might include foams and extruded pastas. "But at the end of the day, salsa macha and a tortilla is everything. As long as we respect the corn, how we cook it and grind it . . ." the rest, she seems to suggest, is just layers.
It's about "respecting the corn and the season—and staying as close to the source as possible," Percival adds, bringing it all full circle. Her childhood home, his outdoor love entwine.
They're after a universal feeling. And so they'll keep talking about how the kernels represent biodiversity and why we all need to slow down. Meanwhile, after a dinner or pop-up, they disappear into the night, having fed you something locally and seasonally grounded, exquisite, and both old and new.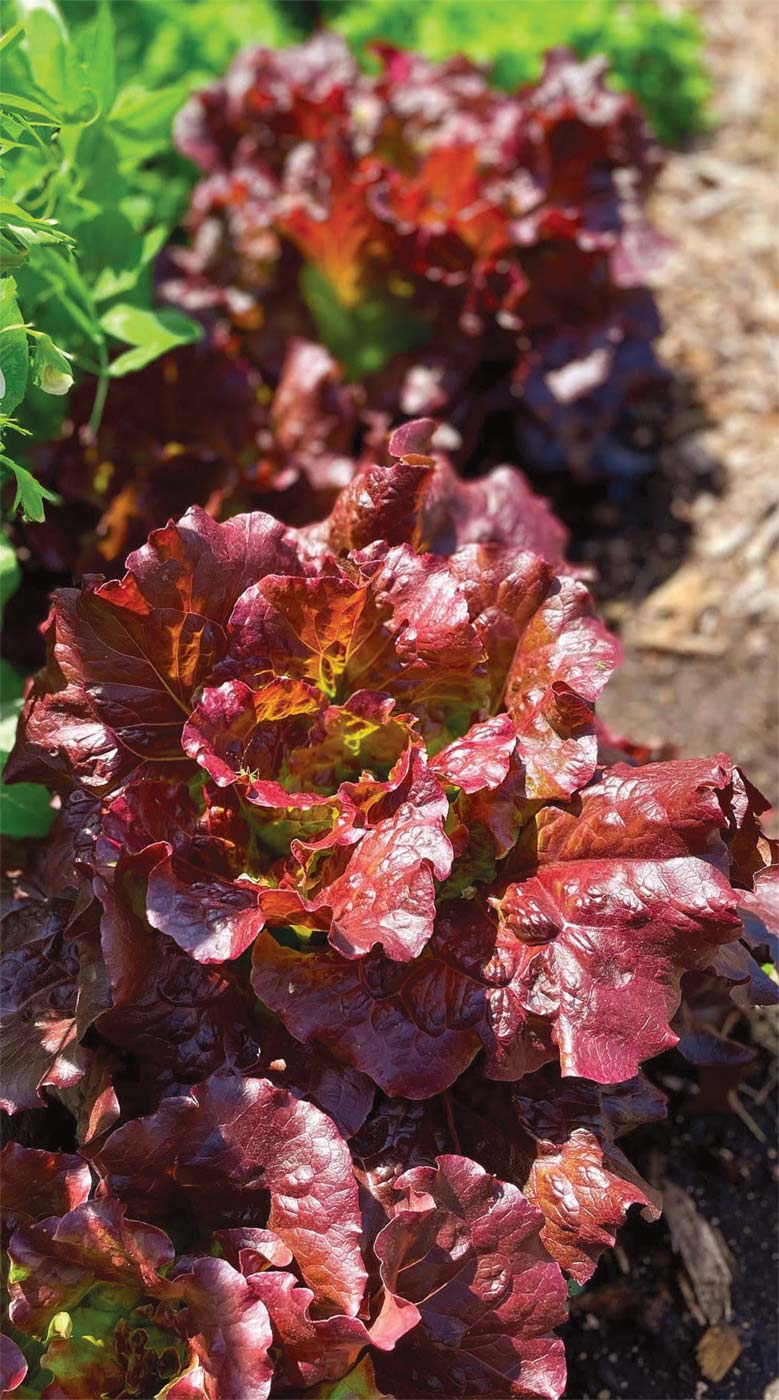 ON THE FARM
Like so many modern chefs who reach for depth, Lopez and Percival have made sure to yoke their endeavors to a very local plot of land. Specifically, they tend Pequeño Farms, a tiny sister project run primarily by Percival. An endurance athlete who followed a plant-based diet for years before he met Lopez, he was drawn to triathlons and 100-mile bike rides on gravel roads. Gardening filled a desire to be outdoors in a meaningful way and connect with the seasons.
He built his first garden in a friend's backyard, and the couple's first date involved a bike ride to Lopez's community garden plot in Lake Highlands. Nine months ago, in April 2021, he set out to cultivate another friend's scraggly patch of land near UNT Dallas, without access to water or electricity, initially as an all-in, off-grid experiment. "I wanted the off-grid challenges without living off-grid," he says.
Hand tools and rainwater collection were his ken and preferred methods, and using mulch, organic compost and his own soil amendments, he turned limestone rock and impenetrable black clay into a half-acre of black, rich soil, with sheep, llamas and chickens at one point (though the chickens, which the couple had picked up on his birthday in August succumbed to predators).
Shade cloth reduced evaporation in the scorching summer and buckets of water, driven in and hand-carried, occasionally supplemented rainwater. The first year, Pequeño Farms yielded hosts of peppers, lettuces, cauliflower, tomatoes, squash, watermelons and blackberries, cucumbers and more. These, along with eggs, filled the tiny CSA boxes that were also the first vehicle for Lopez's heirloom purple and yellow corn tamales, which nestled a filling of sweet potatoes from the first crop and let us know there was something extraordinary at work.
Now growing on a more ambitious scale after a full cycle of seasons cultivating off-grid, the couple has varieties of peppers, tomatoes, and tomatillos growing.
They've planted sweet corn and strawberry field corn, a small-kernel variety they may be able to pop. They hope to inoculate their sweet corn with huitlacoche fungus (with the help of mushroom savants Texas Fungus) to have a local source for that traditional Mexican ingredient, too. All of these may be incorporated into seasonal menus where you might find tacos and tamales featuring favas in spring and leeks in winter.
Hand tools and tradition matter to them. This is a couple, after all, that recalls and retells the story of the best meal Lopez ever cooked for Percival not as a fine-dining tasting menu but an unpretentious supper cooked off the grid in New Mexico, for which Lopez mashed the refried beans using a cup, as her grandmother would do. "Nothing pretentious, just simple," Percival told me.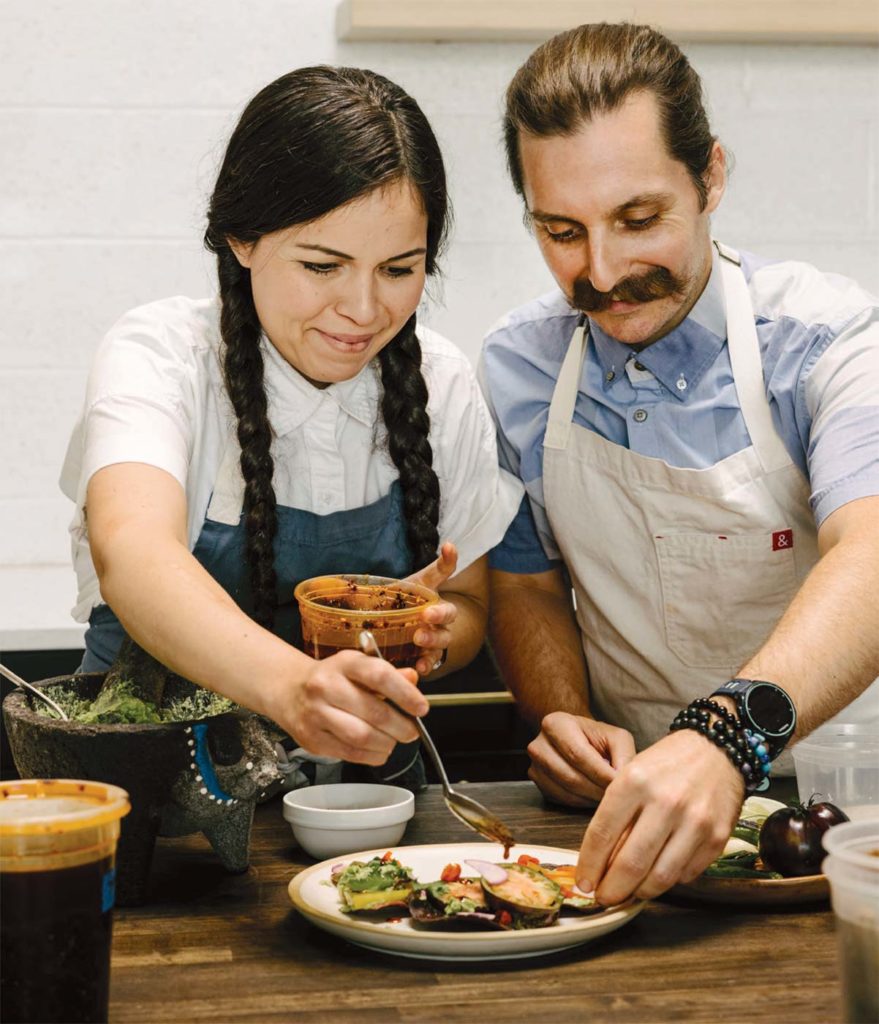 MOLINO OLŌYŌ SUMMER RECIPES
Olivia Lopez invites you to a feast that includes summer's ripest tomatoes arranged on homemade tostadas. Then comes a variation on a traditional seafood dish from Colima (for a Sunday hangover cure, "You drive to the beach and have that," she tells me, the classic usually served with rice, slaw, and two pieces of orange). Drizzle with her salsa macha. End with a silky chocolate-coconut plant-based ice cream that reflects the coconut production in her state.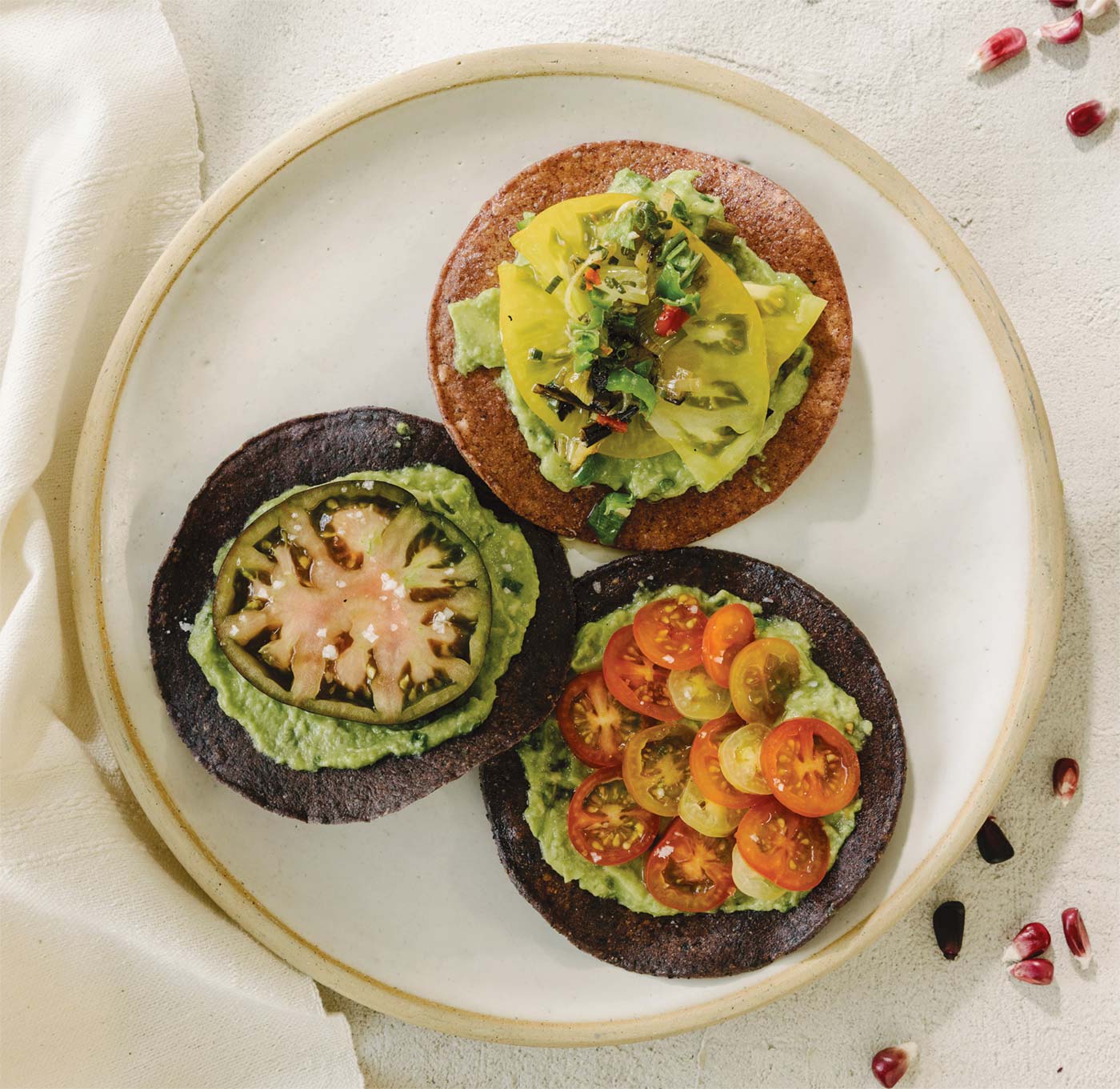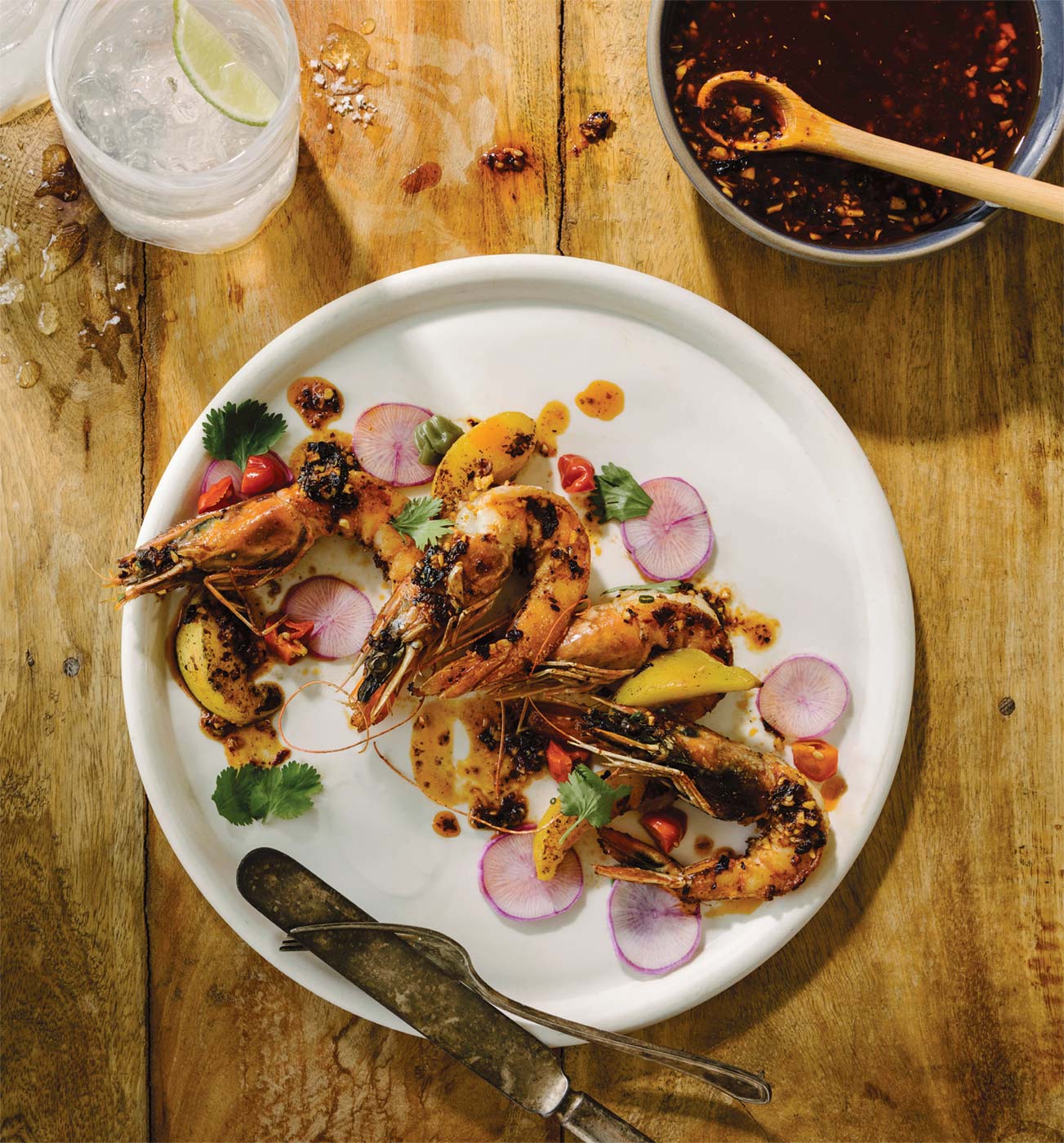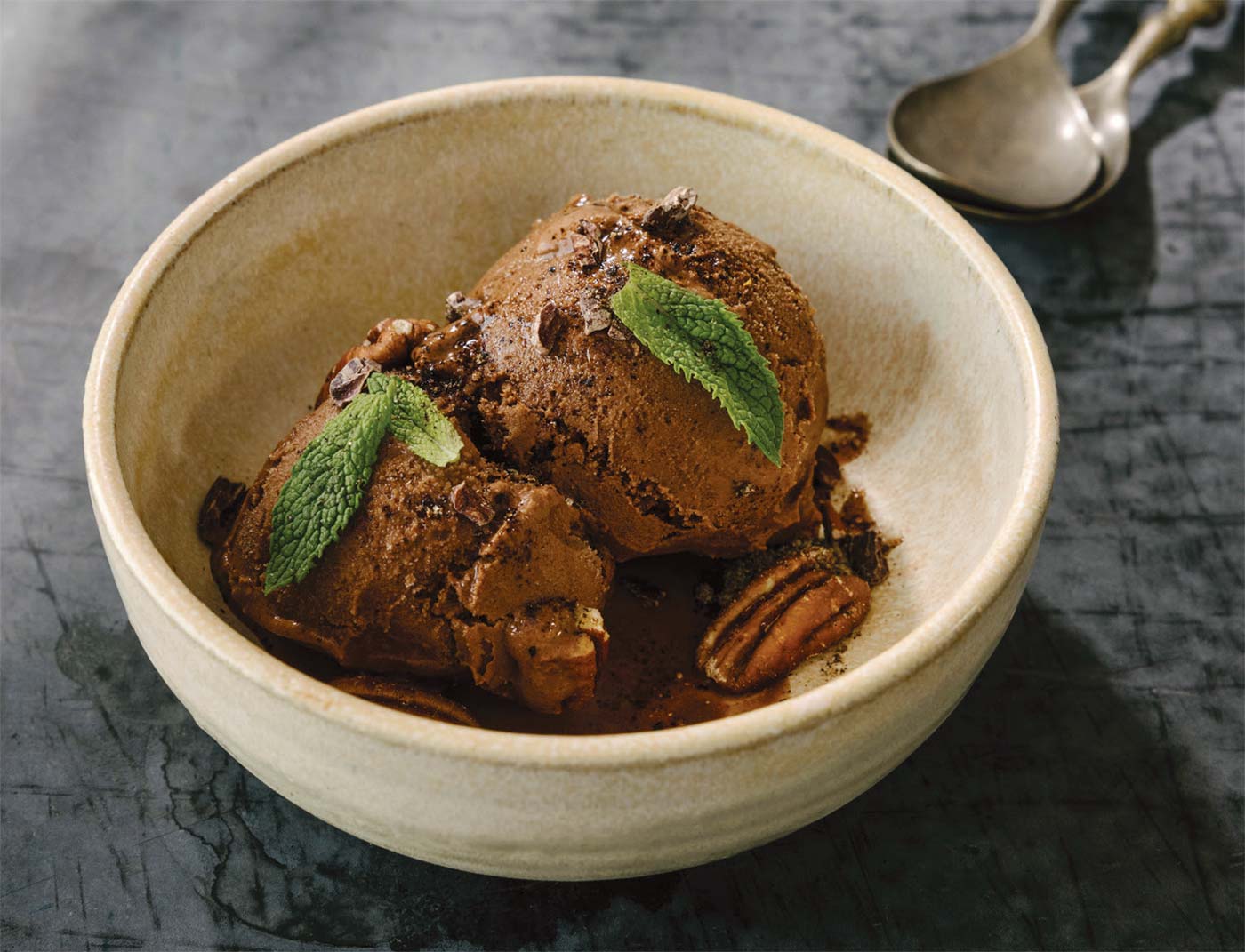 EVE HILL-AGNUS teaches English and journalism and is a freelance writer based in Dallas. She earned degrees in English and Education from Stanford University. Her work has appeared in the Dallas Morning News, D Magazine, and the journal Food, Culture & Society. She remains a contributing Food & Wine columnist for the Los Altos Town Crier, the Bay-Area newspaper where she stumbled into journalism by writing food articles during grad school. Her French-American background and childhood spent in France fuel her enduring love for French food and its history. She is also obsessed with goats and cheese.