Photography Melinda Ortley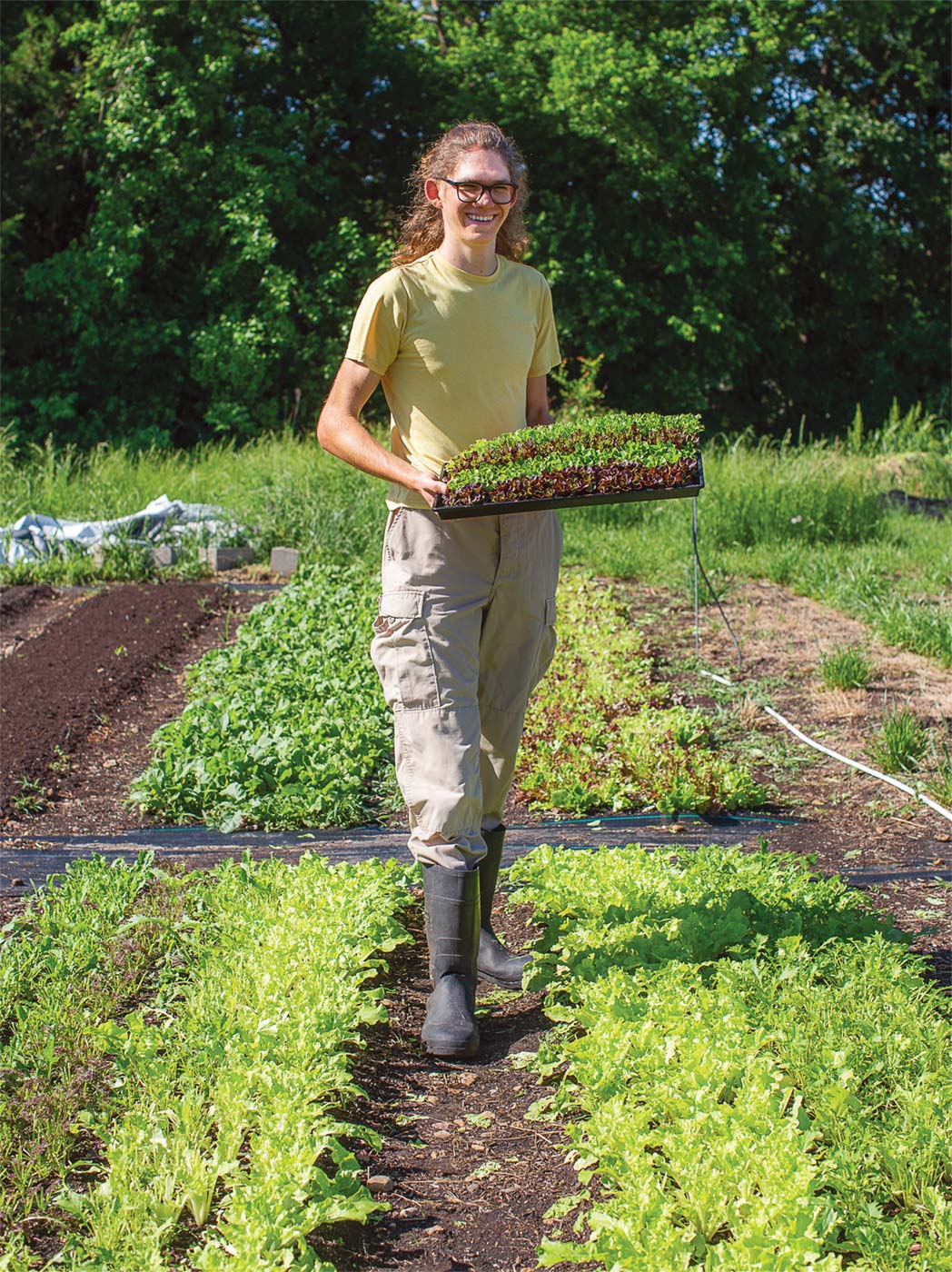 Going to farmers markets has always been a great way to meet interesting people to introduce to our readers. At Good Local Markets one morning a few weeks ago, a farmer who was there caught me off guard. "I know you. . . . You guys did an article about me about three years ago," he said. "I'm Dawson Mehalko from Jubilant Farms."
Well, three years ago, Dawson was 15 and 5'4". Dawson is now 18 and 6'2". Nope, I didn't recognize him.
We originally wrote about Dawson in our Fall 2019 issue. We had met him at a Profound Foods event in the Summer of 2019. On his plot in the tiny town of Trenton, then called Jubilant Fields Farms, he was specializing in baby vegetables like perfect French radishes, lettuces, microgreens, tomatoes and other crops. Chefs in Dallas and McKinney were buying his wares, farmed using no-till, regenerative farming methods. I thought it would be interesting to see what he was up to now—so I asked him a few questions.
EDFW: In 2019 you were farming a fifth of an acre and one greenhouse. Has that space grown in three years?
DAWSON: I'm at my goal that I mentioned in the last article—a quarter acre—and we have also added two caterpillar tunnels. Those are unheated greenhouses that are much shorter and kind of look like a caterpillar from the outside. They cover around 2,700 square feet between the two of them.
EDFW: In the prior article, you called yourself a "farmer-gardener." What would you describe yourself as today?
DAWSON: I guess it would be market-gardener because I'm selling my produce to farmers markets, but I have been expanding to restaurants, more farmers markets, and places like Profound Foods.
EDFW: How have you seen the changes in your farm over the last three years?
DAWSON: I have seen the improvement of soil texture and increased crop health, and I have become more knowledgeable about soil health, soil fertility, crop-management practices and pest management . . . really just the natural progression of getting better at a skill.
EDFW: Are you still using the no-till method of farming, and can you tell me what exactly that means?
DAWSON: It's a self-explanatory title, but there is a lot more complexity to it. Basically, the principles are not to disturb the soil any more than is necessary so that you're not disrupting the homes of everything that makes the soil their [abode]. All those critters in the soil help to grow good, healthy, nutritious vegetables.
EDFW: We will ask you this question again, just as we did in the last article: Is farming something you want to pursue the rest of your life?
DAWSON: I still have a long-term interest in farming. And I just want to see how far I can bring Jubilant Farms and see how many salads I can grow and how many people I can feed.
As I turned to leave, I asked Dawson how he could grow so tall in three years. He said with a grin, "Well, I must be growing some great vegetables!"
You can follow Dawson on Instagram at @Jubilantfarms
NANCI TAYLOR is a third generation Texan whose family came to the state in the 1800's to pursue cattle ranching and Texas has remained her home. She was born in San Antonio, but ended up in North Texas where she nurtured her Texas roots while attending college and raising two sons in Dallas. Proudly following in her parent's footsteps, Nanci plants and harvests the bounty of her own backyard garden in Old East Dallas. She keeps a busy calendar attending local food and ecology events, and on weekends she spends her time visiting with growers and food artisans at farms, shops and farmers markets around North Texas.