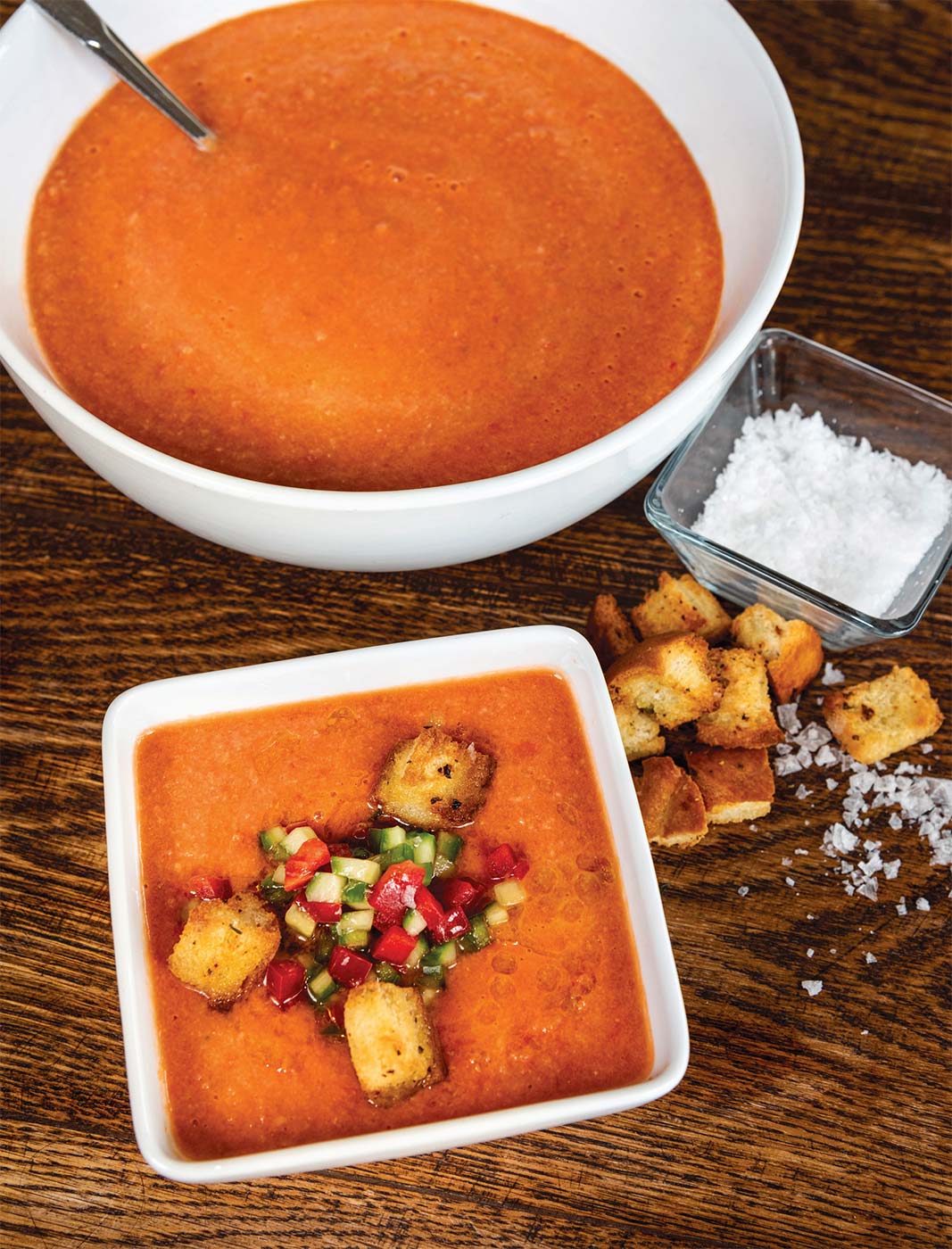 Makes 6 Servings
2 pounds ripe heirloom tomatoes (or other red, ripe tomatoes)
8-9-inch English cucumber, peeled
½ red bell pepper
½ green bell pepper
1 clove garlic
¼ red onion, chopped
1 cup ½-inch cubed day-old bread, crust removed
1 cup ice water
1 tablespoon red wine vinegar, more to taste
²⁄³ cup extra virgin olive oil, more to taste and for garnish
1 tablespoon sea salt, more to taste
FOR CROUTONS:
4 cups ½-inch cubed bread, day-old or slightly stale
2 garlic cloves, finely minced
½ cup Italian flat-leaf parsley leaves, chopped
¼ cup extra virgin olive oil
1 teaspoon Maldon salt, more to taste
Freshly ground black pepper, to taste
Preheat oven to 425 degrees.
Deseed and chop tomatoes, cucumbers and peppers; reserve 3 tablespoons of vegetables and finely dice to use as garnish and textural contrast. Place the rest of the chopped vegetables and remaining ingredients in a blender and blend until smooth. Chill for at least one hour to allow flavors to meld.
While soup is chilling, make the croutons. In a large bowl toss all ingredients and mix well. Spread croutons in an even layer on a silicone mat or parchment paper-lined baking sheet. Bake until golden brown, about 7-10 minutes. Once cooled, store in an airtight container.
Garnish gazpacho with reserved diced vegetables, garlic croutons and olive oil. Serve in chilled bowls.
The Cookery offers hands-on, approachable cooking classes for chefs of all levels. Classes focus on international, regional, and seasonal cuisine, with a priority to source local and organic ingredients whenever possible. Owner and Chef Kelly Huddleston brings years of culinary experience together with a passion for cooking, entertaining and teaching.
TheCookeryDallas.com
TheCookeryFortWorth.com
TheCookeryHouston.com - Opening late June 2021