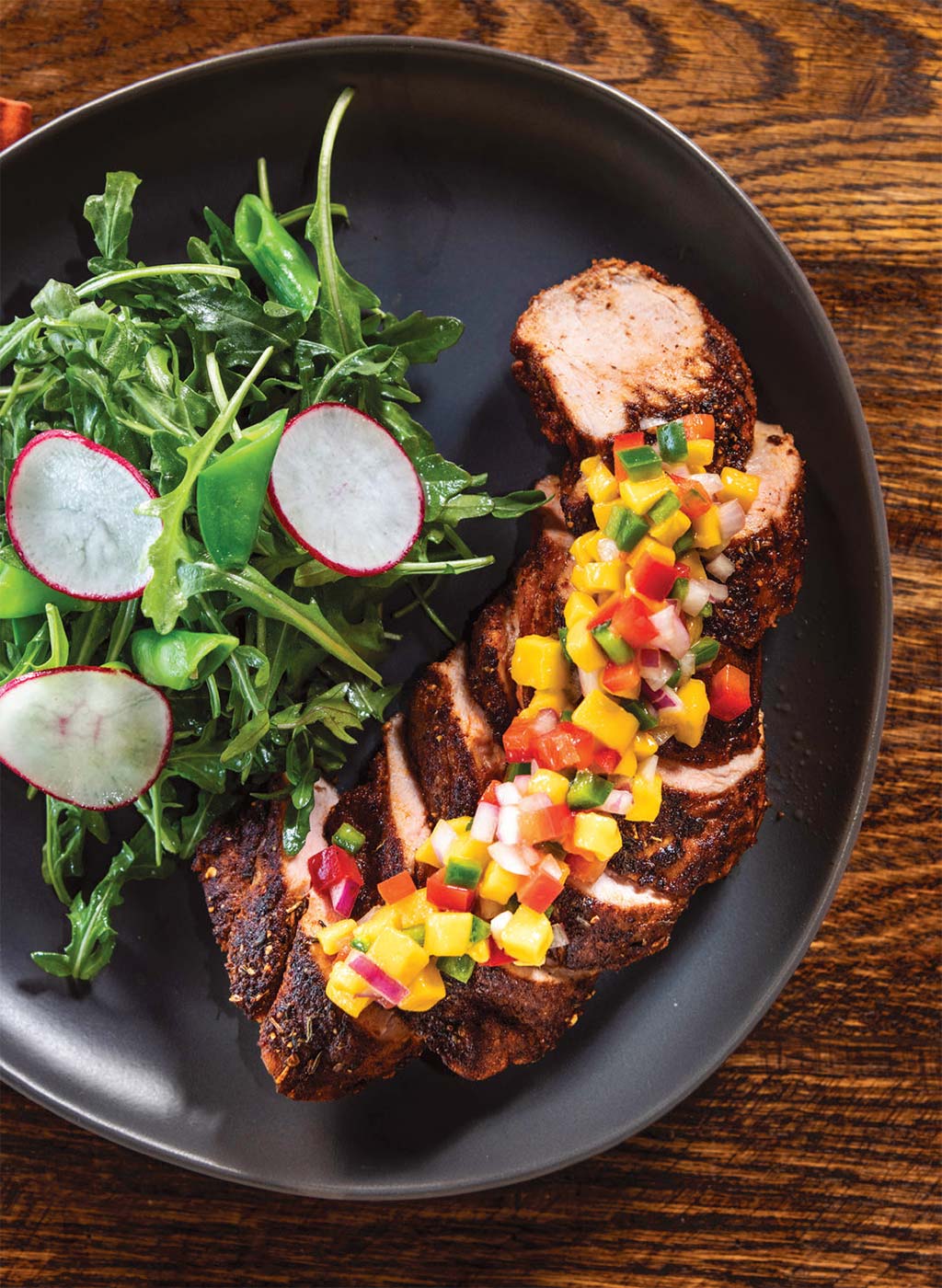 Makes 6 Servings
2 pork tenderloins, 2 pounds each with silver skin and excess fat removed
1 teaspoon whole cumin
1 teaspoon whole coriander
1 teaspoon fennel seeds
½ tablespoon chipotle powder
2 tablespoons smoked paprika
1 tablespoon dark brown sugar
½ tablespoon celery salt
1 tablespoon sea salt
3 tablespoons grapeseed oil
Preheat oven to 400 degrees. In a small frying pan over medium heat, toast the cumin, coriander, and fennel seeds until aromatic. Remove the spices from the heat and grind to a fine powder using a mortar and pestle or clean coffee grinder. Optionally, you can substitute store-bought ground spices. Mix the ground spices with chipotle powder, smoked paprika, sugar and salts.
Rub the pork tenderloins with a generous amount of the spice blend. Heat the grapeseed oil in a large skillet over medium-high heat until hot, but not smoking. Sear the tenderloins on all sides, then transfer to a roasting pan or baking sheet. Finish cooking in the oven for another 13-14 minutes. Let the tenderloins rest tented under foil for at least 10 minutes before slicing and serving. You can easily make this dish outside on your grill. Also try this dry rub on chicken, steaks, ribs or kabobs!
The Cookery offers hands-on, approachable cooking classes for chefs of all levels. Classes focus on international, regional, and seasonal cuisine, with a priority to source local and organic ingredients whenever possible. Owner and Chef Kelly Huddleston brings years of culinary experience together with a passion for cooking, entertaining and teaching.
TheCookeryDallas.com
TheCookeryFortWorth.com
TheCookeryHouston.com - Opening late June 2021