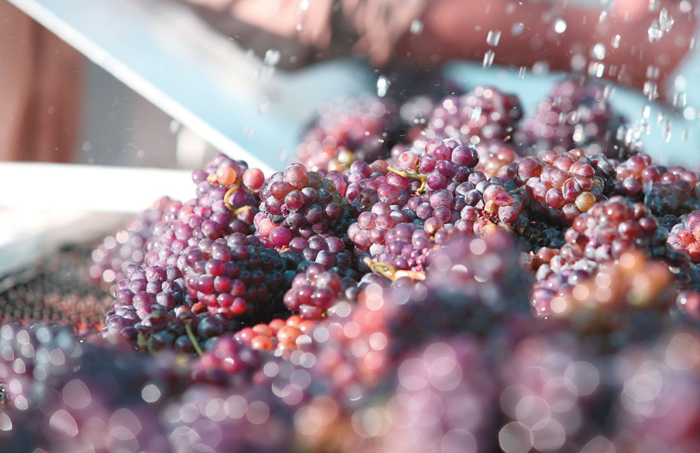 Edible DFW is proud to present its North Texas Wine Trail Guide! We can all appreciate the many great wineries all over Texas—from the Hill Country to the High Plains and certainly here in North Texas. We are pleased to share with you some of the great wineries we have right here in our own backyard. Off-trail gems and award-winning wines are waiting to be discovered.
As I look back over the years at my adventures traveling throughout the great wine trails of North Texas, they go all the way back to 2009. The picture above is from one of my recent experiences this past spring on a trip to Greer Farm with my son and family. We stopped at Los Pinos Ranch Vineyards on the Piney Woods Wine Trail. The joy I saw in my granddaughter as she enjoyed exploring the vineyard grounds was memorable, just like the wine and food.
The journey of the North Texas Wine Trail Guide started with an exchange I had with Richard De Los Santos with the Texas Department of Agriculture back in late 2016. His encouragement and support helped this guide get started. Linda Ryan, Texas Wine Coordinator with the TDA, continued the amazing support developing this wine trail guide.
This extensive guide was no simple task to pull together. With her expertise and eye for detail, Edible DFW Editor Terri Taylor guided a team of illustrators and writers that included Kim Pierce, Gae Benson, Mary Erickson, Russell Kane and Alfonso Cevola. Once you open the guide, you will see what an amazing job they have done.
And finally, I'd like to make a special toast to a generous and big proponent of fellow winemakers, Pierre de Wet, founder of Kiepersol Winery, who we lost recently. Anyone who met him was touched in a unique way. I certainly was. Pierre traveled here in 1984 from South Africa with his two young daughters in tow. Many adventures later in 1994, he found the land, naming it Kiepersol after his father's South African farm, that would become one of Texas' great wineries. His two daughters, Marnelle and Valmay, have stepped into Pierre's shoes to keep the vision that he dreamed about.
The wine guide is about discovery. I'm sure like all of us, you will have a unique experience and meet some special new friends and winemakers whichever trail you follow. Enjoy, be safe, and get to know, or revisit, some of the great wineries in North Texas.
Cheers, Nanci Taylor, Publisher

NANCI TAYLOR is a third generation Texan whose family came to the state in the 1800's to pursue cattle ranching and Texas has remained her home. She was born in San Antonio, but ended up in North Texas where she nurtured her Texas roots while attending college and raising two sons in Dallas. Proudly following in her parent's footsteps, Nanci plants and harvests the bounty of her own backyard garden in Old East Dallas. She keeps a busy calendar attending local food and ecology events, and on weekends she spends her time visiting with growers and food artisans at farms, shops and farmers markets around North Texas.