A summery frittata tucked into a ciabatta makes the perfect brunch picnic.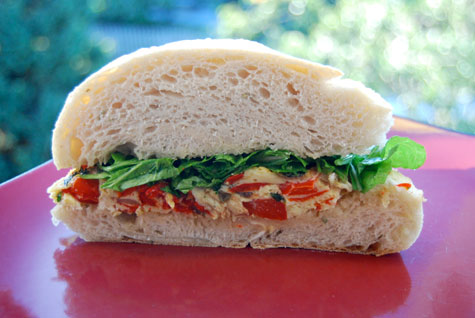 from Bambi and Sienna Edlund
2 teaspoons olive oil
¼ cup onions
¼ cup mushrooms
¼ cup assorted colored peppers
1 bunch fresh herbs (parsley, basil, thyme), finely chopped
6 large eggs
¼ cup crumbled goat cheese
coarse salt and ground pepper
1 large loaf ciabatta
½ cup arugula
Preheat oven to 350 F.
Heat oil in a skillet over medium-high. Add onions, peppers, and mushrooms (skillet will be full). Cover and cook, stirring occasionally until tender, about 6 minutes.
In a large bowl, whisk together eggs, cheese, 1 teaspoon salt, and 1/4 teaspoon pepper. Distribute veggies into a 9-inch ovenproof pan, and add egg mixture, tilting pan to coat veggies with egg.
Transfer to oven and bake until center is set, 25 to 30 minutes. Run a wooden or rubber spatula around edges to loosen frittata. Slice loaf of bread horizontally, and slide entire frittata onto bottom of loaf.
Top with fresh arugula and remaining piece (lid) of ciabatta.
Cut into 3-inch pieces.
BAMBI EDLUND is an illustrator, graphic designer and hand-letterer, who pretty much always has India ink under her fingernails. Her illustrations are regularly featured in multiple Edible magazines across North America. bambiedlund.com