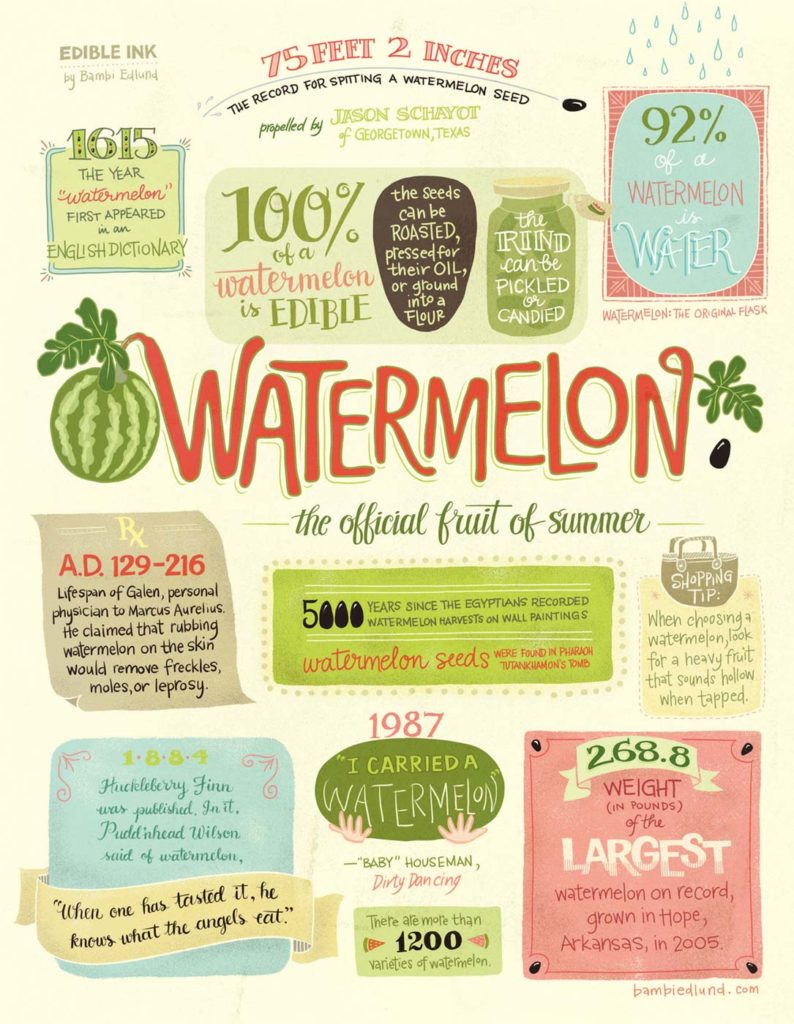 75 FEET 2 INCHES
The record for spitting a watermelon seed
propelled by Jason Schayot of Georgetown, Texas
1615
The year "watermelon" first appeared in an english dictionary
100% OF A WATERMELON IS EDIBLE
The seeds can be roasted, pressed for their oil, or ground into a flour
The rind can be pickled or candied
92% OF A WATERMELON IS WATER
Watermelon: the original flask
A.D. 129-216
Lifespan of Galen, person physician to Marcus Aurelius. He claimed that rubbing watermelon on the skin would remove freckles, moles, or leprosy.
5000
Years since the Egyptians recorded watermelon harvests on wall paintings – watermelon seeds were found in pharaoh tutankhamon's tomb
SHOPPING TIP:
When choosing a watermelon, look for a heavy fruit that sounds hollow when tapped.
1987
"I carried a watermelon" – "Baby" Houseman, Dirty Dancing
1884
Huckleberry Finn was published. In it, Pudd'nhead Wilson said of watermelon, "When one has tasted it, he knows what the angels eat."
There are more than 1200 varieties of watermelon.
268.8
Weight (in pounds) of the largest watermelon on record, grown in Hope, Arkansas, in 2005.
BAMBI EDLUND is an illustrator, graphic designer and hand-letterer, who pretty much always has India ink under her fingernails. Her illustrations are regularly featured in multiple Edible magazines across North America. bambiedlund.com