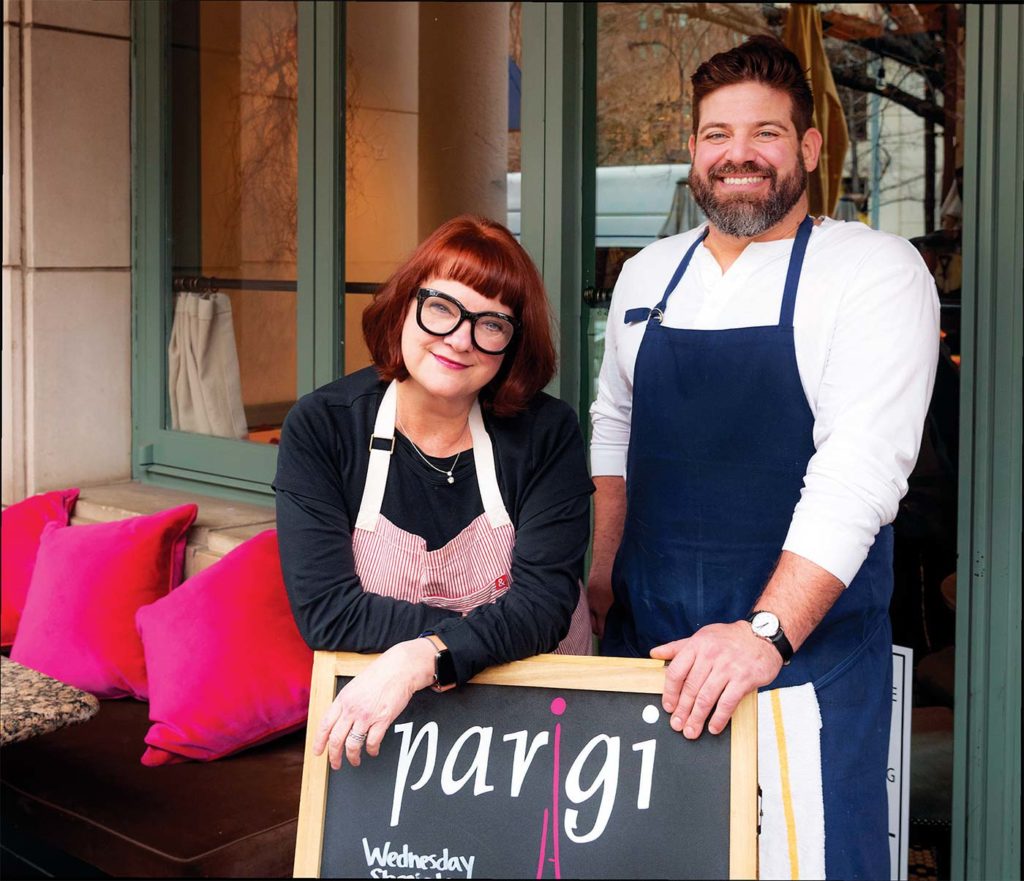 MEET THE CHEF BRINGING A SEASONAL NO-WASTE ETHOS TO JANICE PROVOST'S BELOVED FRENCH BISTRO.
PHOTOGRAPHY TERESA RAFIDI
When she opened her restaurant Parigi on Oak Lawn 38 years ago, owner, chef and francophile Janice Provost, a frequent flâneuse in Paris, modeled it on the French bistro of her dreams. She's helmed the ship with a steady hand and devoted team since.
Inside, the floor is black-and-white penny metro tile, while outside patrons luxuriate on the awning-shaded patio with an order of moules frites. But since last fall, the accomplished Joel Orsini has brought the genius of a no-waste ethos and the techniques and aesthetics of fermentation and preservation, as well as a mindfully sustainable focus, to his role as executive chef. The duo is bent on bringing the bistro into a new, four-seasons, with-the-times phase.
Provost has gained a gem in Orsini. He was the creative mind behind the restaurant in Deep Ellum first known as Izkina and then Booty's, where he oversaw a rooftop-to-table fiefdom and a fiercely local focus.
At Booty's, ferments rice batter enrobed Korean fried chicken drizzled in honey and speckled with flowers, both harvested from the rooftop, where hives and grow bags resided. (The honey bees themselves came from a small farm near San Antonio.) Orsini left in 2019 to host and cater farm dinners out of the flatbed of his Chevy C10 under his business named Allevare. Then he took a position as farm manager and event chef at Profound Microfarms in Lucas. There, he cultivated the purple and green rows of leafy greens and worked magic with herbs and edible flowers.
He learned hydroponic techniques and the rapid pace of microgreen gardening. But he had been cooking for more than 20 years professionally before that and wouldn't stay away forever.
"I missed doing what I was trained to do, what I fell in love with as a child," he says. So in September, he and Profound's owner Jeff Bednar parted on the most amicable terms and Orsini took the helm at Parigi.
The chef was born in Houston and trained at the Culinary Institute of America in the Hudson Valley. His father's side of the family hails from a town outside of Pittsburgh, near the source of the Ohio River Valley, where land is so fertile, "you would throw a seed in the ground and it would pop up. You don't even have to think about it," Orsini recalls. His grandmother made meatballs and braciole and had a large table in the basement where she rolled pasta. In Houston, Orsini's father grew mint, basil, and tomatoes in their yard, and holidays meant his mother's traditional orange ricotta ravioli and Sunday gravy. This was where he fell in love with cooking.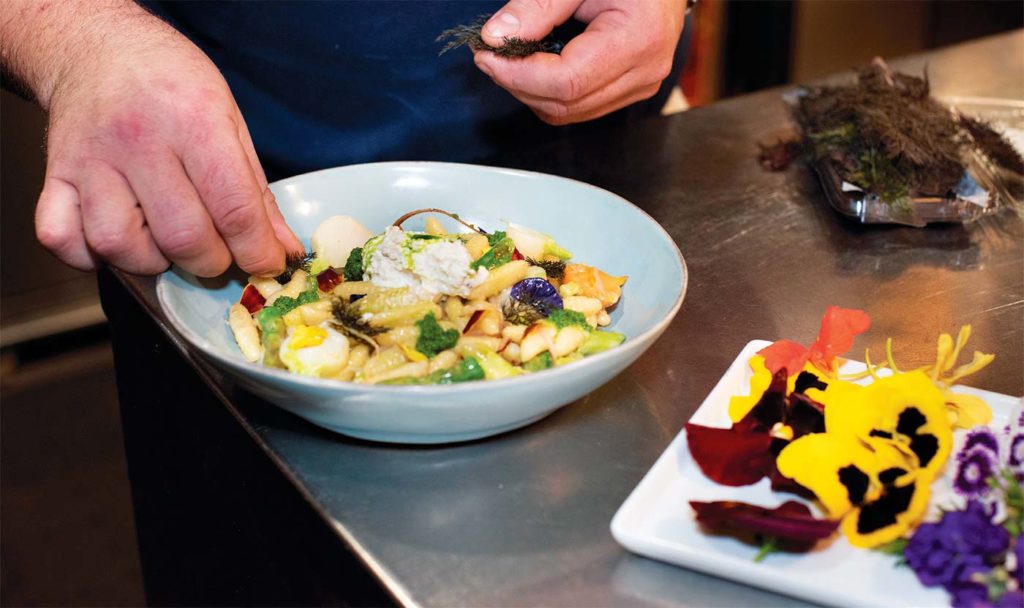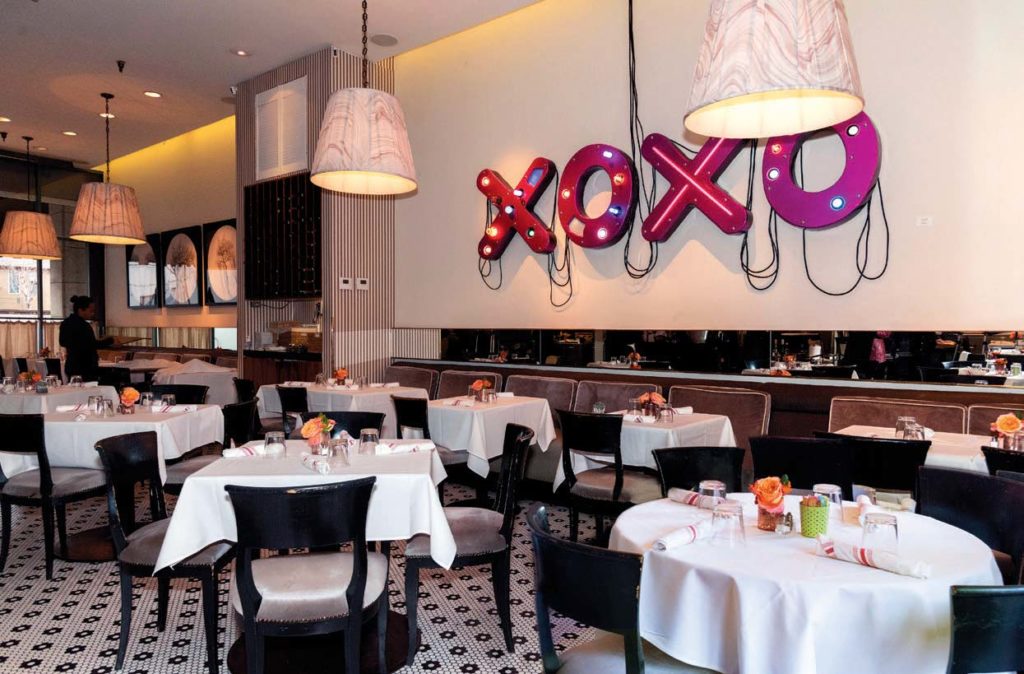 While in the Hudson Valley as a young culinary student and then chef, Orsini was near Dan Barber's Blue Hill at Stone Barns, the iconic restaurant flanked by a Rockefeller-founded nonprofit farm and educational center of which it is a part. Orsini lauds Blue Hill's early and long championing of education around sustainability, zero-waste kitchens, and regenerative farming. "[It's] what we all should do," Orsini says.
At Parigi, he appreciates the cuisine and what he describes as a "never- ending stream of regulars." He adds his own touches. For instance, his first step was to faciliate a more robust seasonality, rekindling the local sourcing circuit that the pandemic left in shambles.
Orsini introduced a host of ferments, as in the persimmons he turned into persimmon vinegar that the kitchen gave out to regulars during the holiday season. About the same time, garlic was "working magic" with honey in a jar in a corner of the kitchen, Provost wrote to me in a message peppered with delighted emojis. The dried, toasted seeds from squash—red kuri or delicata—mixed with currants in a fall granola that festooned a burrata salad, and the oven-dried skins of the handmade French fries' Russet potatoes have gone into gnocchi, bringing a smoky flavor.
All of these tricks are passed on to the team, most of whom have been at Parigi for more than 10 years. The kitchen crew now makes fumet from its fish trim; rather than being tossed out, salmon bellies are cured or smoked. Boeuf bourguignon may have the traditional pearl onions and mirepoix, but it is made with Texas grass-fed beef from A Bar N Ranch and might have pumpkin snuck in. Housemade cavatelli bolsters the wild boar bolognese.
In some ways, Orsini has gone back to his roots of Old World French and Italian, yielding simplicity on the plate, but layers of texture and flavor: "something sneaky where you don't know what it is," but that's the magic.
In one emblematic restaurant in his culinary career, there was a wood-fired rotisserie and wood-burning grill and oven. "Everything was structured around open fire," he says.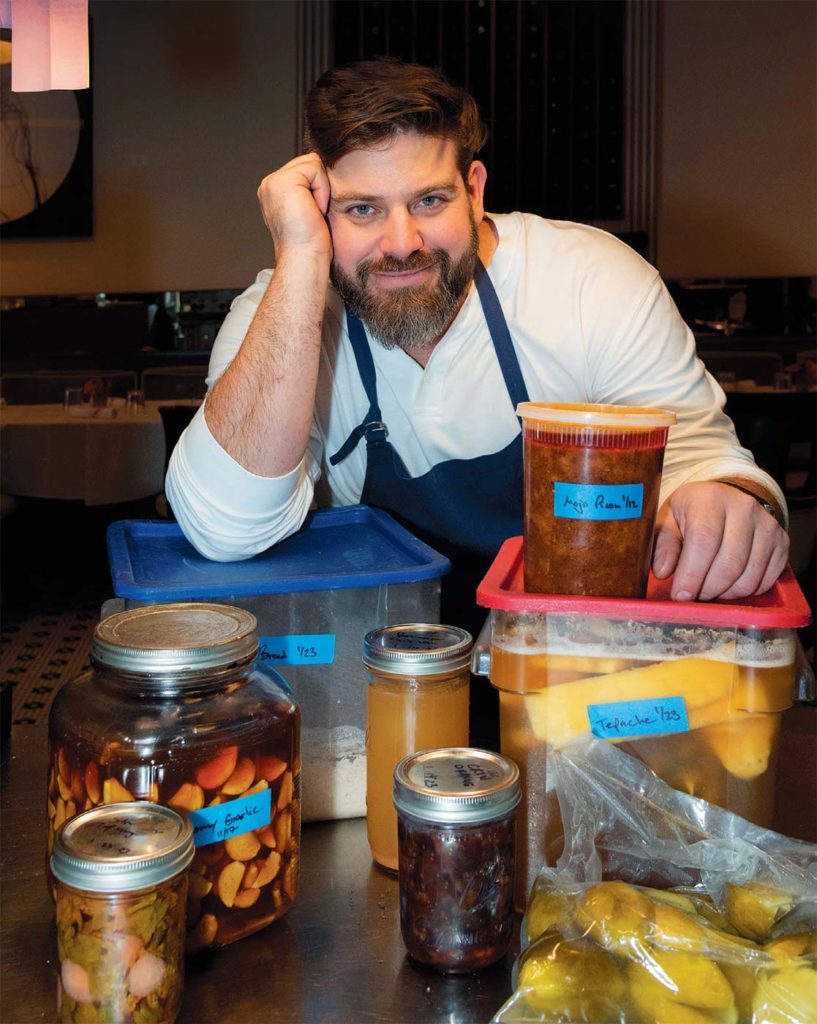 Also, "being a kid growing up in Texas, you're constantly surrounded by smoke and fire," and as a boy, he recalls grilling sessions in the endless summer evenings. "It can take a lifetime to master how fire works best. Here, the subtle thing is smoking," he adds, as the Parigi kitchen is too small for a full wood-fired hearth. He's showing the team how much complexity a simple cold smoke can bring to dishes.
At times, the team goes down rabbit holes during service.
"They ask me a lot of questions," Orsini says. Take the nuances of salmon: "I explain to them that as humans, we have pretty much wiped out wild salmon. Copper River salmon is becoming more challenging to find. The local wildlife is having a hard time being sustained. Bears and eagles—that whole Northwestern ecosystem. Stuff like that is troubling."
The team discusses this and other sustainability topics.
Sourcing carefully helps them play a proactive, progressive role. Their purveyor Regalis "[works] with small fishing boats for bigeye rather than blue fin [tuna]." Also, "We use amberjacks, bonitos, skipjacks, yellowfins, what can be considered 'trash tuna,' and we'll highlight how beautiful it is," Orsini says. The menu offers black sea bass when it's in its run. "And I'm showing them how to break down whole fish," Orsini says, rather than merely trimming and skinning filets.
That questing is about looking for the next thing to transform into something else. "I was always a whimsical kid," Orsini says. "I was always curious: What happens if I do this? …"
One goal is "getting the clientele to understand what seasonality is," even in bistro food and that cassoulet will be on the menu late January and February, while the okra salad will come in summer. The team is "pulling back on the amount [of meat] on plates and pushing more on vegetables." It's a deliberate, slow integration of a more plant-based take. Ultimately, Orsini describes his dream. "I'm not a fan of bouncing around," he says. He hopes this restaurant is a "forever home," with a five-year mark and 10-year mark and an ambiance mutually built.
"That's what I keep envisioning" he says: he's pulling up with a truck bed full of produce to a scene of twinkling lights on the patio and the hustle and bustle of service at dusk. His dream-vision is "bubbles being poured, mussels on tables, escargots everywhere, baguettes being cracked, dogs on the patio," the team bustling in the back, and a "never-ending flow," a continuous flood of people, action, and warmth. It's the intersection of French bistro and farm—and to him, it feels like home.
Spring Garlic Cavatelli with Dukkah Spiced Ricotta, Verjus Beurre Blanc,
and Petite Spring Vegetables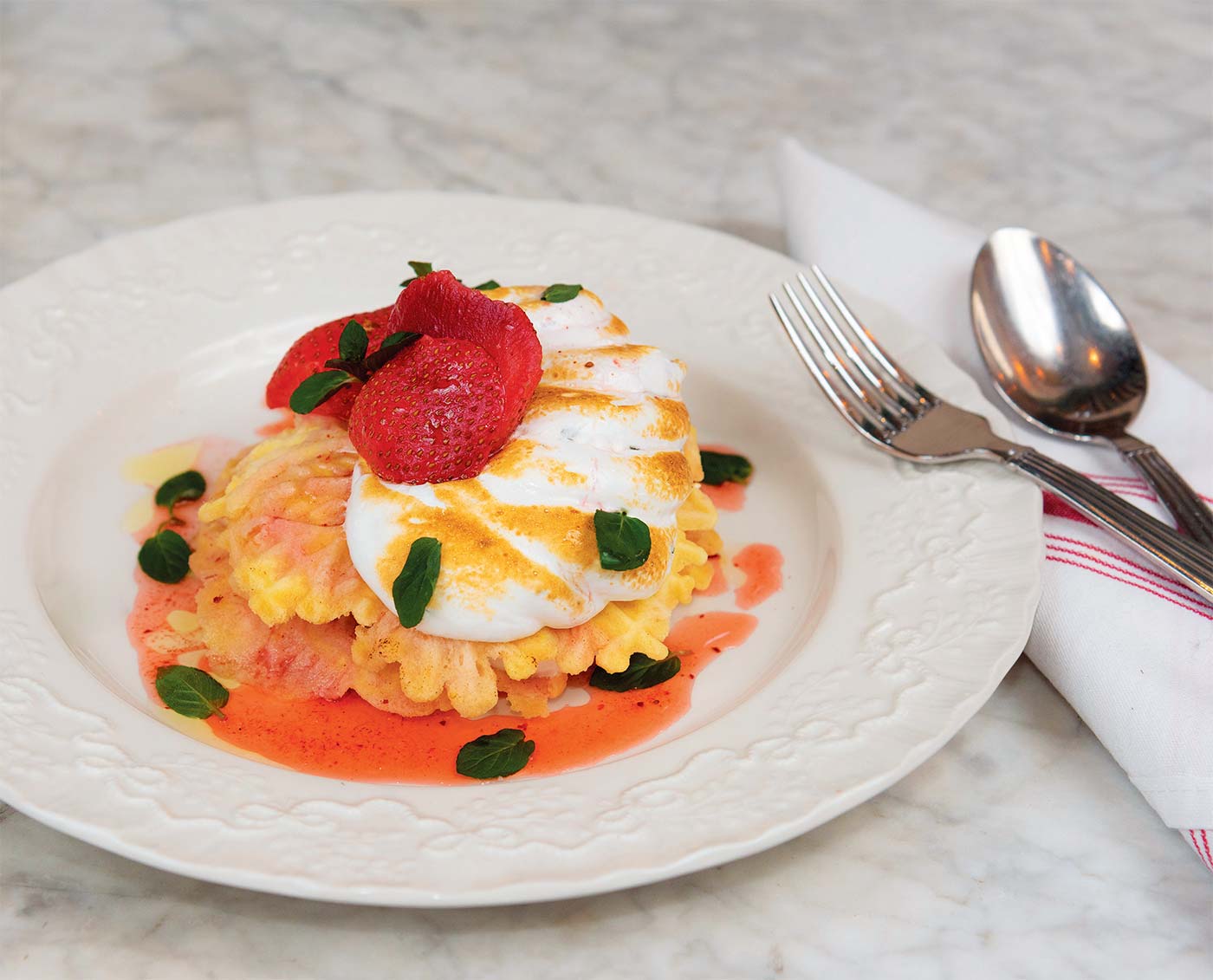 Grandma's Lemon Pizzelle, Mint Meringue, Strawberry Top Vinegar, Compressed Strawberry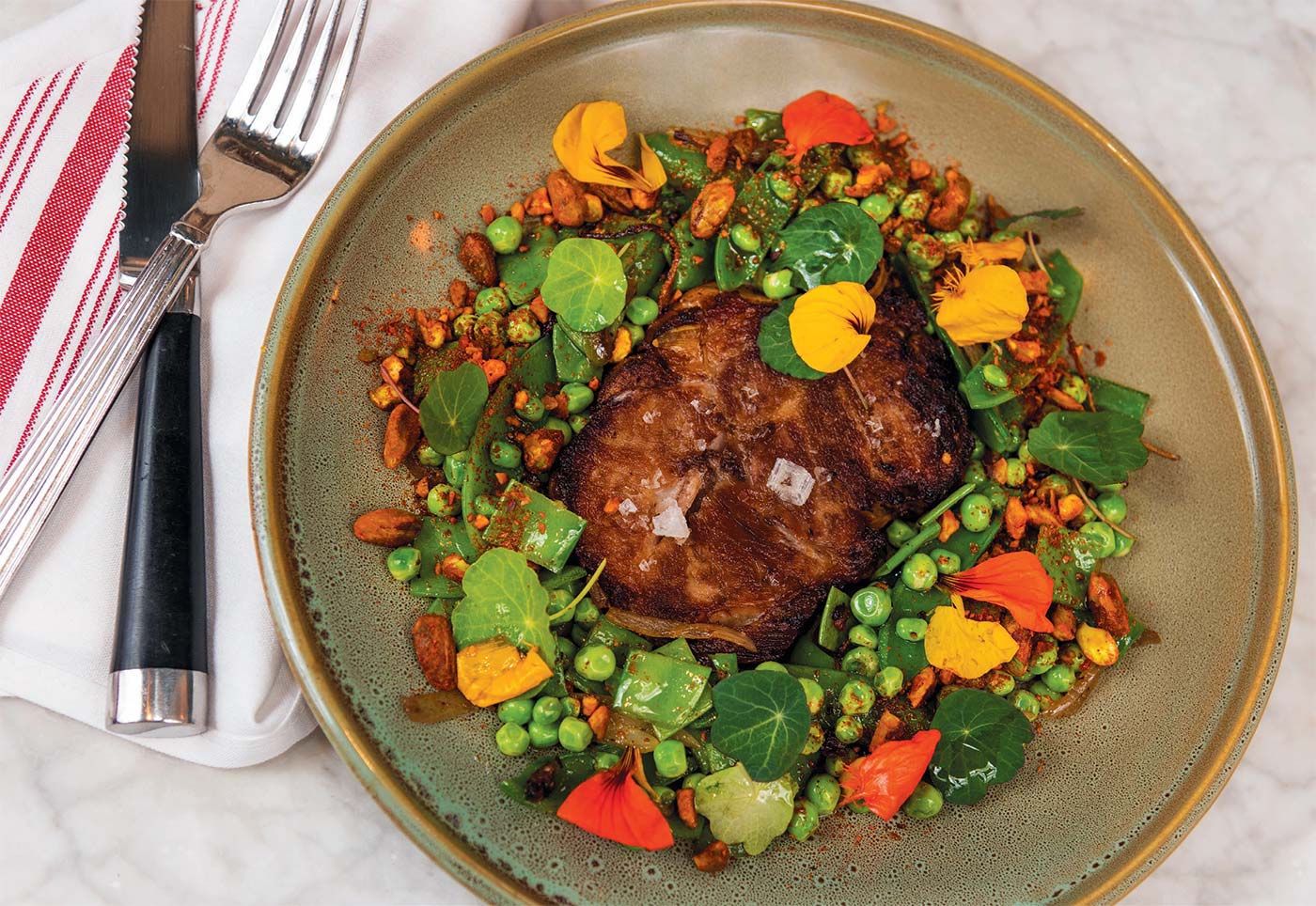 Milk Braised Pork Collar, Smoked Pistachio, Array of Peas, Nasturtium
EVE HILL-AGNUS teaches English and journalism and is a freelance writer based in Dallas. She earned degrees in English and Education from Stanford University. Her work has appeared in the Dallas Morning News, D Magazine, and the journal Food, Culture & Society. She remains a contributing Food & Wine columnist for the Los Altos Town Crier, the Bay-Area newspaper where she stumbled into journalism by writing food articles during grad school. Her French-American background and childhood spent in France fuel her enduring love for French food and its history. She is also obsessed with goats and cheese.