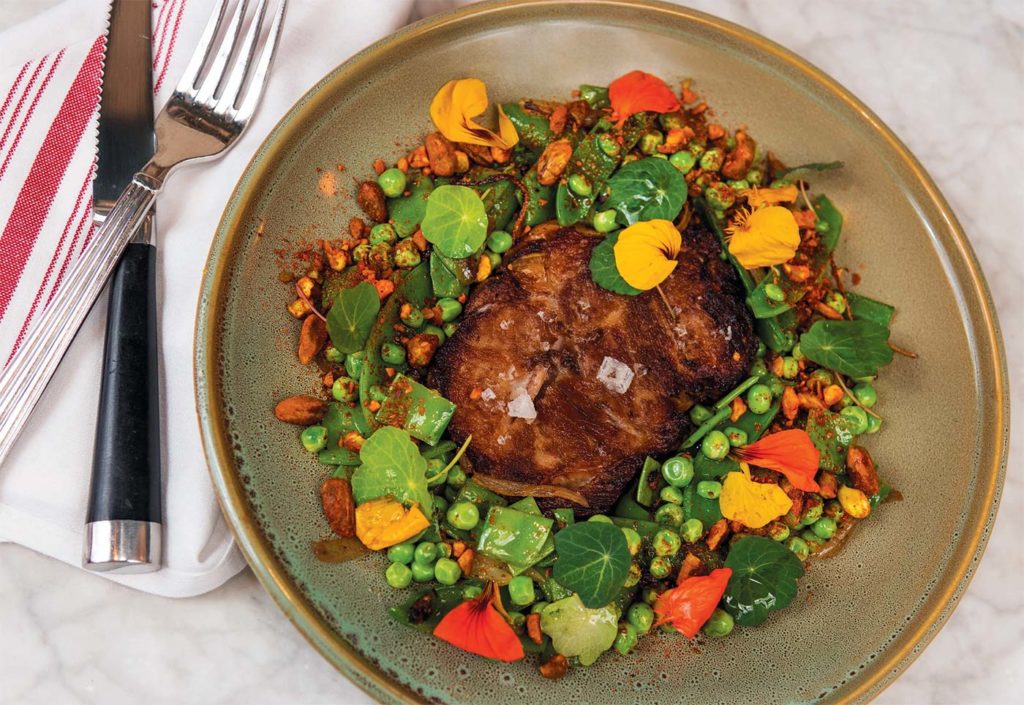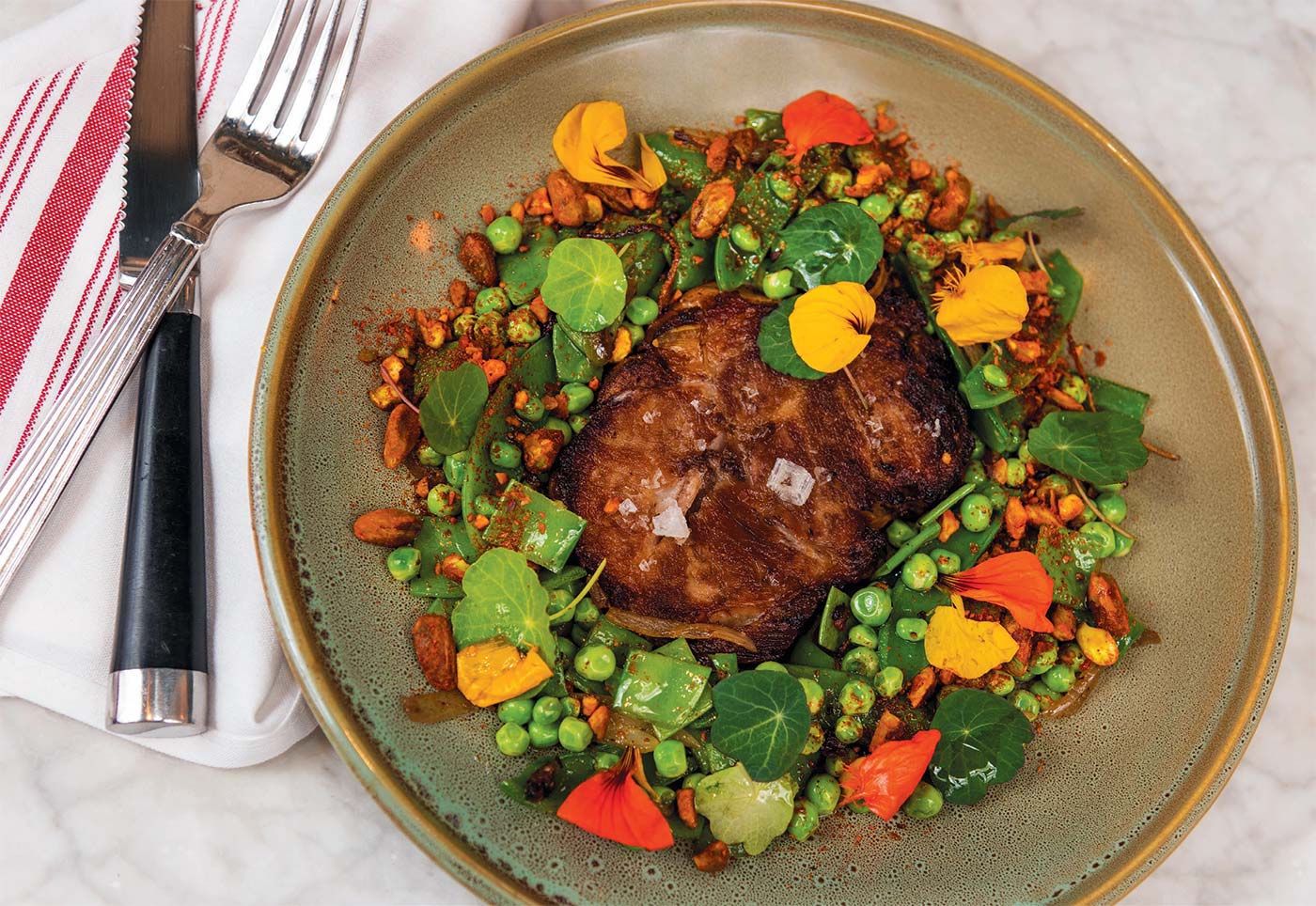 Serves 6 to 8
5 pound pork collar, trimmed and tied
2-3 large cloves garlic, smashed
1 cup onion (large dice)
½ gallon (2 quarts) whole milk
½ gallon (2 quarts) chicken stock
2 tablespoons liquid aminos or soy sauce
3 teaspoons red chili flakes
4-5 thyme sprigs
1 lime leaf (optional)
¼ pound each of sugar snap, snow, and English peas
1 ounce each of garlic and shallot, minced
Smoked pistachios* (6 ounces shelled pistachios smoked with wood chips of choice, preferably hickory, and mixed with 1 teaspoon smoked paprika)
Nasturtium leaves
Method: Preheat oven to 300°F. Coat the bottom of a large pot or dutch oven with oil. Sear the pork collar to a golden brown over medium heat (about 4 minutes each side). Remove from pot and add garlic and onion. Cook until translucent and aromatic (about 5 minutes). Return pork to pot and add all remaining ingredients. Bring to a boil and cover. Turn heat off and place vessel into preheated oven. Bake for 2.5 hours or until the pork is tender enough that a small knife can cut through easily. Cool in liquid.
To serve: Heat a small amount of oil in a large sauté pan on medium. Add a large slice of pork collar (thickness of choice) and sauté for 3 minutes on one side. Flip and begin to sauté on opposite side. Add garlic and shallot around edges and sauté 1 minute until aromatic. Add peas and sauté together about 5 minutes until peas begin to soften. Transfer to a platter and garnish with pistachios and nasturtium leaves.
*Smoked pistachios: In a deep metal container (like a Dutch oven with lid) place shelled pistachios. Make a small foil cup in one corner. Place about 10 wood chips in a sauté pan and turn on high heat. The chips will smolder, then catch fire once hot enough. Let them burn for 1 minute, then transfer to foil cup in Dutch oven. Immediately cover with lid and smoke for 15 minutes. Remove lid and soak chips to stop any more burning. Remove pistachios and toss in a bowl with smoked paprika.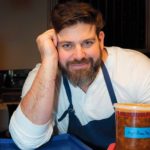 Chef Joel Orsini was born in Houston and trained at the Culinary Institute of America in the Hudson Valley. He was the creative mind behind the restaurant in Deep Ellum first known as Izkina and then Booty's; and now brings a seasonal no-waste ethos to Parigi in Dallas.