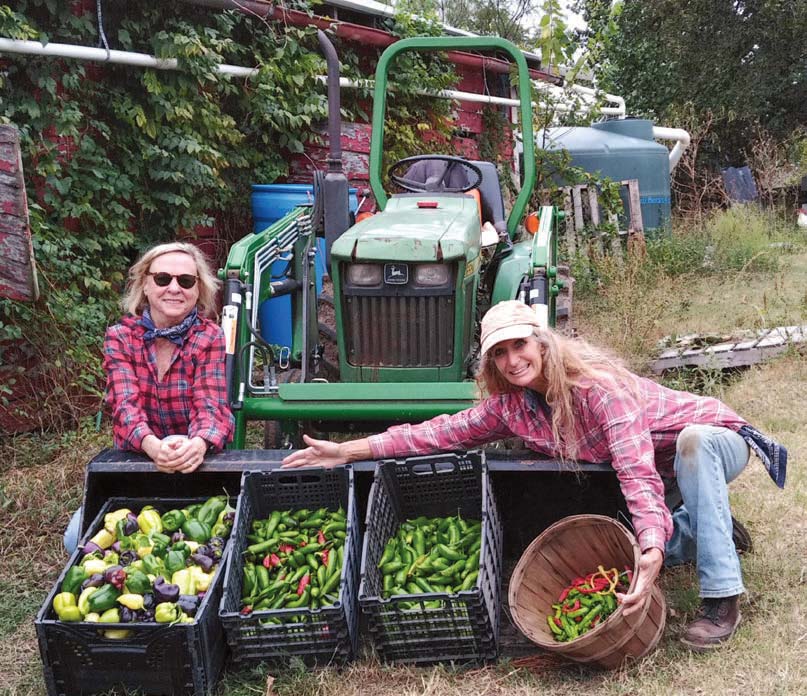 It was November 2020 during pandemic concerns, and I'd been home-bound for weeks. Feeling I needed not only a change in scenery but some time in the dirt, I asked my friend and local farmer Marie Tedei if I could come out to her farm. My request turned out to be perfect timing, as she needed help harvesting peppers before a freeze might wipe them out! We took this photo on a timer at her farm, and it truly represents the abundance I felt being reconnected. It was a glorious time harvesting and breathing in that wonderful fresh air while staying mindful of COVID-19 guidelines. Truly a day I'll never forget…good times with good people. I know we're all eagerly awaiting getting back to these simpler times.
Marie and her farm are one of the features in this issue, highlighted also on our cover. Dalila Brent dug into the story with Marie about her endeavors and challenges over the years. Teresa Rafidi beautifully captured the spirit of Marie and her unique farm, operating within the sprawling and ever-encroaching urban growth.
Daniel Cunningham gives us a peek at local educator Kim Aman's newest school garden network project in "Growing to Learn by Learning to Grow." Photographs from Russ Aman illuminate the story in a beautiful way, showing how children are an instrumental component in creating a sustainable future in our local food supply.
Our special seasonal recipe section is one of my favorites. Alumni and current students of Dallas College's Culinary, Pastry and Hospitality Program contributed to this article with a few of their favorite recipes. Many thanks to Steve DeShazo for coordinating all components and talent for this piece, especially during a pandemic. And grateful for Terri Taylor, with her magical way of pulling the pieces together in words. Talented chefs, plus stunning photography by Cesar Garcia and Greg Pajo.
We've certainly had tough times recently, and wish we could erase the effects of 2020 and the start of 2021 with those crazy winter storms. Sadly, every one of us has been affected. This is what I know…our growers and producers, and all our independent restaurant owners and their employees, have the grit and determination to come back – but they need all the support we can give. Our Closing Time back page tells how we as a community can help.
I say we continue to look forward while moving forward. Edible Dallas & Fort Worth (again, with the support of our community) plans to stay around. Just like everyone, we are weathering these stormy times in the best ways we can, and our heartfelt appreciation extends to all of you in our North Texas community. Stay strong and stay connected.
Nanci Taylor, Publisher
NANCI TAYLOR is a third generation Texan whose family came to the state in the 1800's to pursue cattle ranching and Texas has remained her home. She was born in San Antonio, but ended up in North Texas where she nurtured her Texas roots while attending college and raising two sons in Dallas. Proudly following in her parent's footsteps, Nanci plants and harvests the bounty of her own backyard garden in Old East Dallas. She keeps a busy calendar attending local food and ecology events, and on weekends she spends her time visiting with growers and food artisans at farms, shops and farmers markets around North Texas.