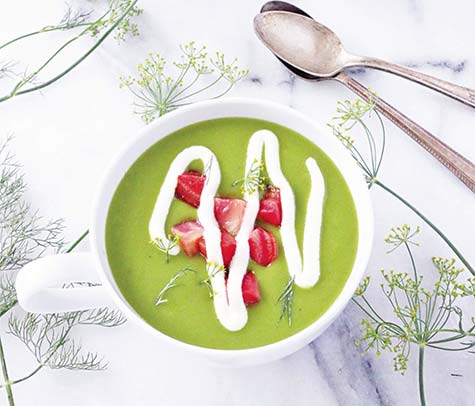 Recipe and Photography by Meredith Steele
Watercress soup is springtime in a bowl— luxuriously smooth and delightfully indulgent. A scoop of roasted beets adds texture and color, and a garnish of dill pulls it all together.
Serves 8
2 medium-sized beets
1 tablespoon extra virgin olive oil
1 cup chopped yellow onion
6 cups chicken or vegetable stock, homemade preferred
¾ pound russet potatoes, peeled and cubed
2 bunches watercress (about 1 pound), chopped
1 teaspoon lemon juice
Kosher salt and black pepper
4 ounces fresh goat cheese
⅓ cup heavy cream
Optional garnish: dill and dill flowers
Preheat oven to 425°F. Wrap beets in foil and roast for 45 minutes or until tender. Remove foil. When cool, remove the skin with your hands and cut into small cubes. Set aside until needed.
In a large stockpot over medium heat, add oil. Add onion and cook until softened, about 5 minutes. Add broth and potatoes and bring to a boil. Reduce heat and simmer, stirring occasionally, until potatoes are tender, about 20 minutes. Remove from heat. Add watercress and stir until leaves start to wilt.
Working in batches, puree soup in a blender until very smooth. Return soup to the pot and add lemon juice. Additional chicken stock can be added to create desired consistency. Season with salt and pepper.
Soup can be made a day in advance and served either hot or cool. When ready to serve, whisk together goat cheese and cream until smooth and slightly liquefied.
Put a spoonful of roasted cubed beets in each bowl before pouring in soup. Top with a dollop of goat cheese cream and a pinch of fresh dill and dill flowers, if available.
MEREDITH STEELE is a recipe developer, food writer, food photographer and author of InSockMonkeySlippers.com, an award winning family food blog celebrating creative and fresh foods. Her recipe development and photography company, MBS Recipe Development specializes in multimedia recipe development for commercial and small business who's clients include everyone from Ziploc® to small wineries. Meredith's work has been published online, in various print media, and has been nominated for the SAVEUR awards. She can also be found across the pond writing a monthly column for JamieOliver.com. When Meredith is not in the kitchen, she's roaming Dallas, Texas with her husband, curly-headed pixie of a daughter, and big floppy-eared dog.