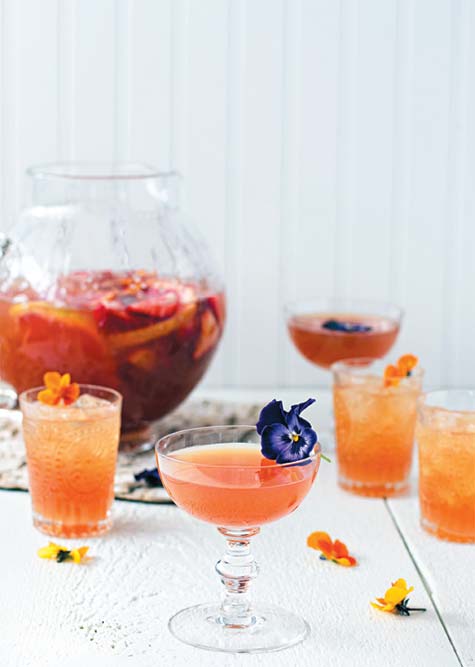 Recipe and Photography by Meredith Steele
The Rio Grande Valley is home to one of the world's tastiest fruits— the Texas red grapefruit. Sweet jewels like the Rio Star disappear in May so enjoy them while you can. Texas grapefruit juice is making quite an appearance on cocktail menus lately. Serve this festive punch in a pitcher or bowl garnished with organic flowers and fruit for a gorgeous presentation.
Serves 8 to 10
4 cups fresh grapefruit juice
2 ½ cups Herman Marshall Texas Rye Whiskey
⅔ cup sweet vermouth
1 cup club soda
Garnish: strawberries, grapefruit wheels, organic edible flowers Pour grapefruit juice, whiskey, vermouth and club soda in punch bowl or pitcher. Stir to combine. Serve in lowball glasses full of ice. Garnish with a grapefruit wheel, strawberries or edible flowers.
Note: Use only organically grown edible flowers such as pansies, violets, violas, nasturtiums, marigold petals or herb blooms.
MEREDITH STEELE is a recipe developer, food writer, food photographer and author of InSockMonkeySlippers.com, an award winning family food blog celebrating creative and fresh foods. Her recipe development and photography company, MBS Recipe Development specializes in multimedia recipe development for commercial and small business who's clients include everyone from Ziploc® to small wineries. Meredith's work has been published online, in various print media, and has been nominated for the SAVEUR awards. She can also be found across the pond writing a monthly column for JamieOliver.com. When Meredith is not in the kitchen, she's roaming Dallas, Texas with her husband, curly-headed pixie of a daughter, and big floppy-eared dog.