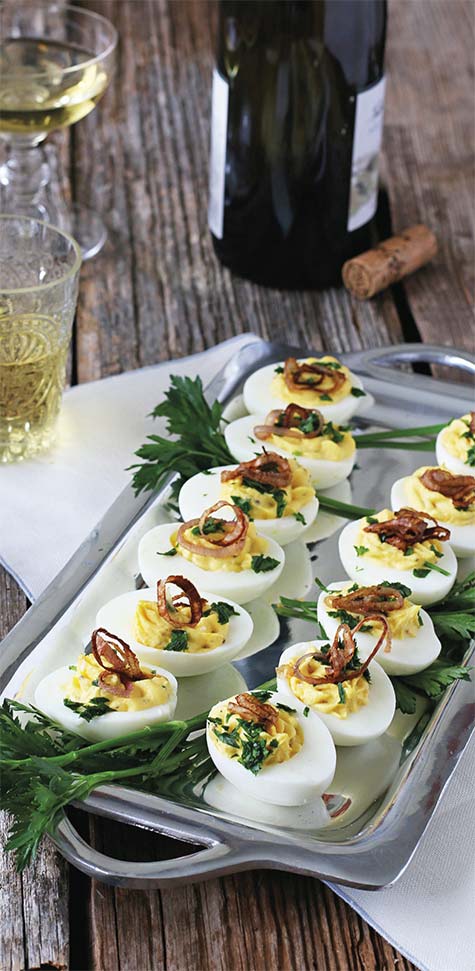 Recipe and Photography by Meredith Steele
Creamy and complex, these classic deviled eggs are elevated with touch of Dijon mustard, Champagne vinegar and a topping of crispy shallots.
Serves 8
6 large pasture eggs
2 tablespoons of quality or homemade mayonnaise
2 tablespoons plain Greek yogurt
1 tablespoon Champagne vinegar
1 teaspoon Dijon mustard
Pinch sea salt
¼ cup expeller-pressed canola or grapeseed oil
2 shallots, peeled and sliced into thin rings
Flaked sea salt such as Maldon
1 tablespoon fresh parsley, chopped
Fill a medium pot halfway with water and bring to a boil. Using a slotted spoon, carefully drop eggs into the boiling water. Reduce heat to a simmer and cook for 10 minutes. Remove the eggs and transfer to a bowl of ice water until completely cool.
Lightly crack the eggs by tapping on a hard surface. Remove and discard the shell. Slice the eggs in half lengthwise. With a spoon, remove the cooked yolks and place in a food processor or a large bowl. Place the sliced egg whites on a plate, cover with plastic wrap and place in the refrigerator.
To the yolks, add mayonnaise, yogurt, vinegar, mustard and a pinch of salt. Process until smooth and creamy, about 1 minute. If not using a food processor, mash the egg yolks with a fork and whisk everything together until smooth. Place the mixture into a piping bag if you have one or a bowl if you don't and refrigerate for 30 minutes. This can be done up to a day in advance.
In a heavy-bottom pot or sauté pan, heat oil over medium high heat. Working in small batches, drop shallot rings into the oil and fry until they begin to turn golden. Using a slotted spoon or tongs, remove the shallots and place on a paper towel lined plate—they will continue to brown and crisp as they cool. These can be made a few hours in advance.
When ready to serve, place the egg whites on a serving platter. Pipe or spoon an equal amount of the egg yolk mixture into the egg whites. Lightly sprinkle with flaked sea salt. Top each egg with a few crispy shallots and garnish with chopped parsley. Serve immediately.
MEREDITH STEELE is a recipe developer, food writer, food photographer and author of InSockMonkeySlippers.com, an award winning family food blog celebrating creative and fresh foods. Her recipe development and photography company, MBS Recipe Development specializes in multimedia recipe development for commercial and small business who's clients include everyone from Ziploc® to small wineries. Meredith's work has been published online, in various print media, and has been nominated for the SAVEUR awards. She can also be found across the pond writing a monthly column for JamieOliver.com. When Meredith is not in the kitchen, she's roaming Dallas, Texas with her husband, curly-headed pixie of a daughter, and big floppy-eared dog.