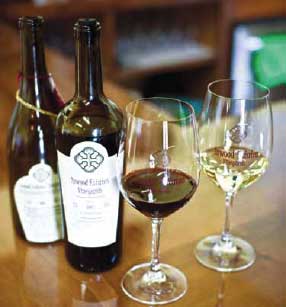 Photographs by Dustin Meyer
Dan Gatlin and his wife, Rose Mary, built the Inwood Estates Vineyards winery and tasting room in Dallas in 2005. When their first two wines were released on August 1, 2006, they were immediately embraced by wine enthusiasts around the state, and soon points beyond.Restaurants were quick to add Inwood's wines to their lists, and today, over 200 Texas restaurants feature them. Wine writers continued to spread the news of the exceptional wines produced by this new winery—"new" being somewhat of a misnomer.
Growing up, Dan Gatlin's family owned a large chain of convenience, and wine and spirits stores. Working in the retail beverage trade built his skills as a buyer, and he eventually became vice president of the company. He traveled the world, observing first hand the operations at European wineries, and had close contact with the developing California wine industry in the '70s—witnessing its coming-of-age. When the family business was sold, Gatlin began a 29-year odyssey of researching whether Texas held any possibilities for fine wine production.
The research spanned some 460 miles of Texas and 30 grape varietals. In 1981 he established one of the state's first vineyards in Denton County, Texas, planting 22 Vitis vinifera varietals. The hunt for other varietals continued, and after planting five vineyards, Gatlin put in tempranillo grapes at Newsom Vineyards in Yoakum County, near the New Mexico border in the Texas High Plains.
At an elevation of 3,700 feet, Newsom Vineyards, owned by Neal and Janice Newsom, harvests their grapes during the cold desert night,then field crushes them within minutes of being taken from the vines, capturing 100 percent of the flavors. To prevent fermentation and to preserve flavor, the must is then refrigerated and taken to the winery.
These early experiments revealed Texas wines to be heavily influenced by their terroir, or flavors unique to the soil and area in which grapes are grown. As a former ocean bed, Texas soil has an exceptionally rich mineral content, particularly in calcium, and closely resembles the soil in parts of Europe. Gatlin refers to Texas soil as beinglike "calcium on steroids.""
This minerality, which affects different wine varietals in various ways, is the most important element in making wine in Texas," says Gatlin. "Cabernet,for instance, transfers this mineral content to the taste of the juice—diminishing the fruity characteristics of the varietal.Texas winemakers are always seeking to heighten the fruit characteristics of grapes grown here." Gatlin notes that Texas cabernets must be blended with other varietals, in the style of Bordeaux, to produce a well-rounded wine.
One of the bright spots in the early experimentation was the discovery of the palomino grape—one of the most widely planted in Spain, used primarily for producing sherry and simple white table wines rarely exported to the U.S. Gatlin's plantings of the grape revealed that the Texas terroir imparts a paradoxical combination of a crisp minerality and an uncommon intensity of flavor. Chardonnay has proven to blend well with palomino, as it adds complexity and reduces its intensity.Gatlin felt the blending would be an important consideration in a market unaccustomed to white wines that are big and expansive. "The resulting wine became an anomaly in the wine world, where it's believed that a great white wine can't be produced in a hot climate," he notes.
In the fall of 2009, the Gatlins established a second winery and tasting room at The Vineyard at Florence—a 600-acre luxury community 35 miles northwest of Austin that offers amenities like a café, wine bar, spa and Tuscan-style villas overlooking a 30-acre vineyard. But the move came with a new winemaking challenge: the owners of the vineyard wanted to plant hybrid native grape varietals like the blanc du bois, Lenoir (black Spanish) and Norton (Cynthiana) varieties. Gatlin had not previously worked with native varietals, but enjoyed theorizing and developing an entirely new style of wine making the process. The four resulting wines are stunning, even at their young age. Two varietals, a dark, shiraz-style red and a floral, creamy,chardonnay-style white, were officially released to the public at The Vineyard at Florence's "Nuovo Vino" Festival on December 6, 2009, with a limited bottling of 10 cases each.
Noteworthy Vintages
2008 Palomino-Chardonnay—Dan Gatlin says that the 2008 is the best vintage of this wine he has ever made. There is a predominance of the unique honey-nectar character of the palomino grape, and the wine (released in January 2010) is in this stage now. In six to eight months, the wine will have become much more mineral, which is its most prized characteristic. And at one year, the wine's finer tropical flavors of banana, coconut and papaya will interact with the minerality, giving the impression of a French Burgundy. However, in a direct comparison, the Burgundies tend to be more singly lemon citrus, whereas the Palomino-Chardonnay is more dimensional, conveying multiple tropical fruits. It is also unmistakably denser and more concentrated than the Burgundies. This is a white wine with the body of a red, and is most often purchased by dedicated red wine aficionados. Age this wine for three to five years—the longer it ages, the more the minerality dominates and the more people compare it to Burgundy. Only 84 cases were produced of the 2008 vintage, and there will be no 2009, due to a late spring frost. The wine will be sold only from the tasting rooms.
2005 Tempranillo-Cabernet—Thiswine is a full-bodied, inky blend of 65 percent tempranillo and 35 percent cabernet grapes from Newsom Vineyards. Aged 30 months in French oak, it exhibits the red fruit raspberry flavors of great tempranillo, juxtaposed with the dark flavors of blackberry, black currant and cassis and a lingering chocolate, nutty finish of cabernet. Gatlin conceived this wine from the very beginning as being an authentically Spanish-style wine—capturing the river-valley tradition of blended tempranillo wines from the Riojaor Duero valleys. The 2005 Inwood Estates Tempranillo-Cabernet was judged Best Dry Red Wine at the GO TEXAN DrinkLocal-Wine.com Texas Twitter Taste-Off held at Le Cordon Bleu Institute of Culinary Arts in Dallas in 2009. The 2007 Cornelious—100 percent tempranillo. After harvesting and field crushing the tempranillo for the Tempranillo-Cabernet blend at Newsom Vineyards, the remaining tempranillo fruit was left in the field and not harvested until October. The vintage benefited greatly from the grapes' long hang time in the cool High Plains temperatures. The wine is soft and velvety, almost pinot noir-style, but considerably inkier. It has a large, powerful nose and mouth feel resulting from the extended ripening period. The flavor reveals black cherry with a secondary layer of vanilla.
The Magellan Bordeaux Blend 2006 (First Release)—Dan Gatlin's first plunge into the world of cabernet, the Magellan is a highly blended wine in true Bordeaux style—about 68 percent cabernet sauvignon blended with merlot, malbec, petit verdot and cabernet franc. To put his signature on the wine, Gatlin added a small amount of tempranilloto the blend. The wine shows true Bordeaux character, with earthy aromas of forest floor and cedar producing a hint of an evergreen backdrop for the complex dark-fruit flavors. Gatlin envisions that the 2006 Magellan will be good for decades under perfect storage conditions due to its heavy tannins and rich antioxidant properties, and will change each year as it slowly unveils its many layers of complexity—a trait of wines produced from grapes grown in high-calcium soil.
Inwood Estates Vineyards
1350 Manufacturing St. #209Dallas, Texas 75207 – 214-902-9452 – www.inwoodwines.com 
Inwood Estates at The Vineyard at Florence – 254-793-3114
TERRY THOMPSON-ANDERSON is a professional chef, cookbook author, culinary instructor and restaurant consultant. She has written five cookbooks and numerous articles for various publications. She is a member of the International Association of Culinary Professionals, The Southern Foodways Alliance and Les Dames d'Escoffier, International.