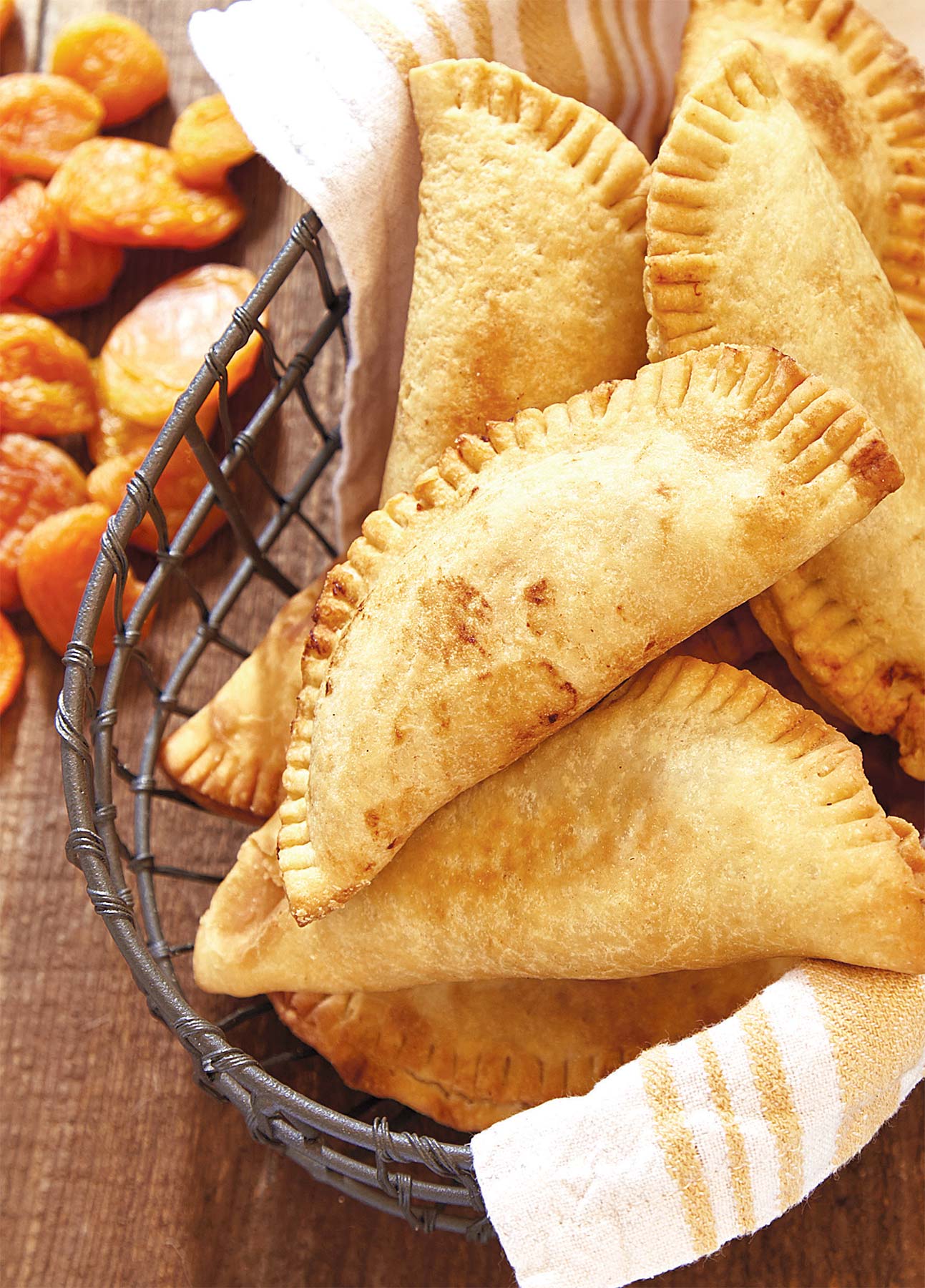 Fried pies, an East Texas calzone filled with fruit, are the taste memory that pulls many back to Decoration Day year after year. When it is time to fry, make sure your oil is hot enough so that pies float right away, but not so hot that the crust bubbles and darkens in spots. Using dried instead of fresh fruit harkens to the early days of Decoration Day and also makes it easier to achieve a filling that is thick, fruity and not too watery. You could substitute dried peaches or apples.
Makes 8 pies
1½ cups dried apricots or peaches, lightly packed
¾ cup sugar
Nawasa Hamilton's Pie Crust (recipe follows)
2 cups vegetable oil for frying
In a medium saucepan over low heat, combine dried apricots or peaches and sugar. Add enough water to cover fruit, about 1¼ cups. Cover pan with lid and simmer over low heat until fruit is very soft, about 30 minutes. Remove lid and continue to cook, stirring occasionally to mash fruit, until water is evaporated, about 20 minutes longer. Filling should be the consistency of a chunky jam. Allow to cool; set aside.
Prepare pie crust according to recipe. Trim a paper plate into a 6-inch round. Use as a pattern to cut dough with a sharp pointed knife into circles for fried pies. Or, use a 6-inch diameter pastry cutter. Lightly dust work surface with flour and roll dough about ⅛-inch thick. Reroll scraps and use to make additional circles. You should have 8 crusts for fried pies.
Spoon 2 tablespoons filling into center of each pastry circle. Fold in half so edges meet. Dip a fork into ice water. Use chilled fork to press edges of each filled pastry together and seal. Dip fork frequently to keep it cold. This helps prevent sticking. Place oil in a medium saucepan, small high-sided skillet or deep fryer. Oil should be deep enough so pies can float. Heat to 350°F.
Using a slotted spoon or fry basket, carefully lower 1 filled pie into hot oil. Cook approximately 3 minutes: browning one side, turning to brown the other side. Remove from oil and drain on paper towels. Repeat until all pies are fried.
NAWASA HAMILTON'S PIE CRUST
Notice the surprise ingredient, a beaten egg white, in the handwritten recipe for Nawasa Hamilton's legendary fried pies. The crust rolls beautifully and produces smooth, foolproof pastry.
Makes 2 pie crusts or enough for 8 fried pies
2 cups flour
1 teaspoon salt
½ cup shortening
½ cup cold buttermilk
1 egg white
In work bowl of food processor, combine flour and salt. Pulse a couple times to mix.
Add shortening by tablespoons, pulsing after each addition. When all shortening is in the bowl, pulse until the largest pieces are about the size of large peas.
Slowly add buttermilk, pulsing once or twice after each addition, just until the dough begins to hold together.
In a small bowl, beat egg white until stiff enough to hold a soft peak. Add to dough in food processor and pulse several times to combine.
Empty the dough mixture onto a clean surface. Gather the mixture into a mound. Use your hands to knead the dough just enough to form a mound without cracks. Do not knead too much or this will toughen the crust.
Wrap disk in plastic wrap and refrigerate for at least 1 hour, up to 1 day.
To shape pie crust, remove disk from refrigerator and allow to soften at room temperature for 5 to 10 minutes. Divide into 4 even pieces.
Lightly dust work surface with flour and roll 1 piece of dough about ⅛-inch thick. Using a 6-inch diameter pattern or pastry cutter, cut into a round for fried pies. Repeat with remaining dough to produce 8 rounds for fried pies.
For a pie, divide dough into 2 even pieces. Roll each about 12 inches in diameter. Use 1 to line pie pan and the other for top crust.
Dotty Griffith is the author of THE TEXAS HOLIDAY COOKBOOK - Second Edition ©2013, Taylor Trade Publishing.