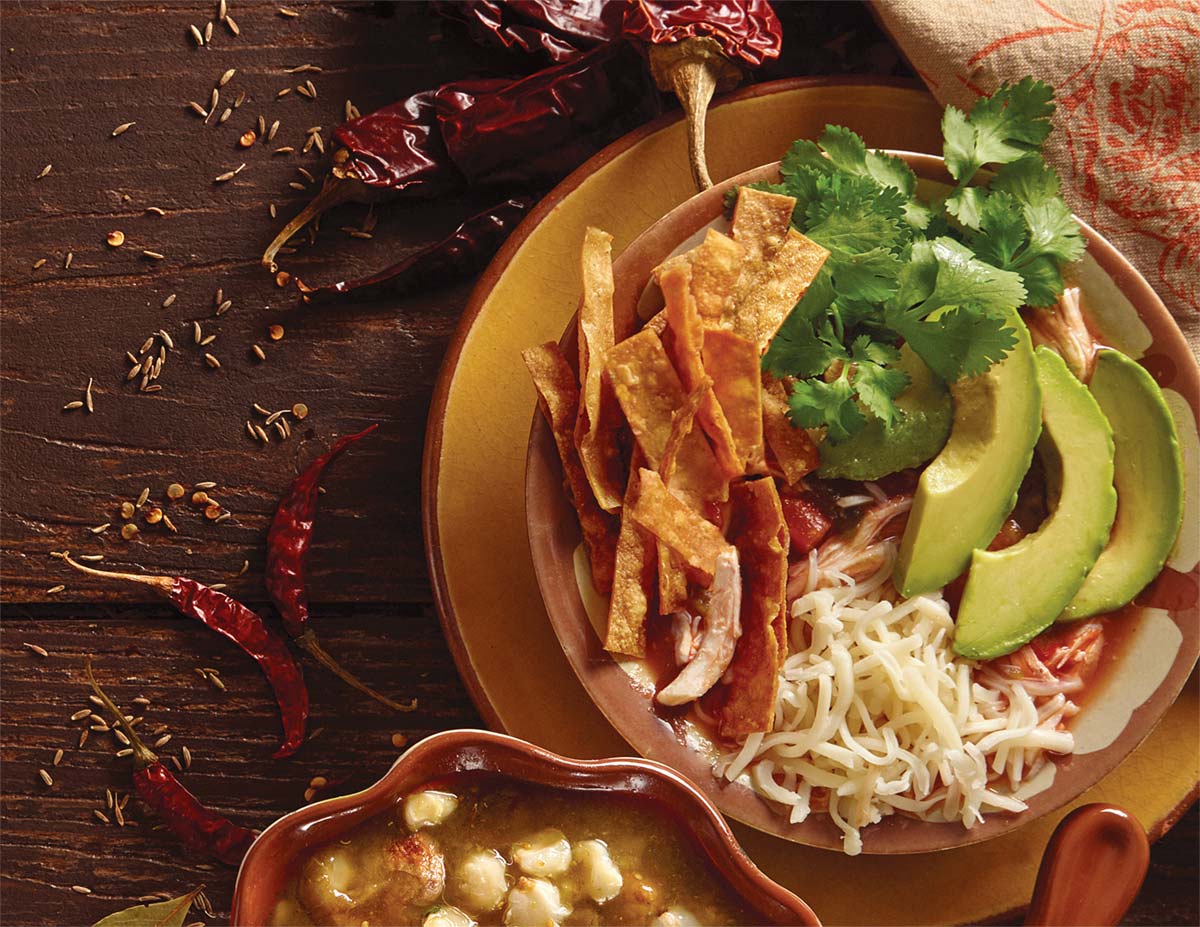 Chicken soup topped with fried tortilla strips is the best-known Mexican soup. This time of year use leftover turkey in the beautiful bowl of red broth. If you want a vegetarian version, use vegetable stock and substitute beans for the protein.
Makes 6 servings
1 tablespoon vegetable oil
1 cup chopped onion
2 cloves garlic, crushed
1 (8-ounce) can tomatoes with green chiles, i.e. Rotel (undrained)
4 cups rich chicken, turkey or vegetable stock
1 (8-ounce) can tomato sauce
1 tablespoon chili powder
1 teaspoon ground cumin
1 teaspoon salt or to taste
1 teaspoon ground black pepper or to taste
4 corn tortillas
Vegetable oil for frying
1 ½ cups shredded cooked chicken or turkey
Garnishes: grated Monterey jack cheese; sliced or chopped avocado; crema, sour cream or plain Greek yogurt; cilantro leaves, lime wedges
In a large saucepan or Dutch oven over medium heat, warm the vegetable oil until shimmery. Add onions and cook until soft, about 3 minutes. Add the garlic and stir to release the aroma. Stir in tomatoes with green chilies, chicken broth and tomato sauce. Stir in chili powder, ground cumin, salt and pepper. Bring the liquid to a boil, reduce the heat and simmer for 30 minutes, uncovered.
While the soup simmers, cut tortillas into thin 2-inch long strips. In a small skillet over medium high heat, warm 1 inch of vegetable oil to 350°. Fry the tortilla strips in small batches about 3 minutes or until crisp. Drain on paper towels.
Add chicken, turkey or beans to the soup and heat through.
Garnish individual servings with your choice of cheese, avocado, sour cream or Greek yogurt, cilantro leaves and tortilla strips. Serve with a lime wedge to squeeze into soup.
Vegetarian: Use vegetable broth and canned black or pinto beans.
Dotty Griffith is the author of THE TEXAS HOLIDAY COOKBOOK - Second Edition ©2013, Taylor Trade Publishing.