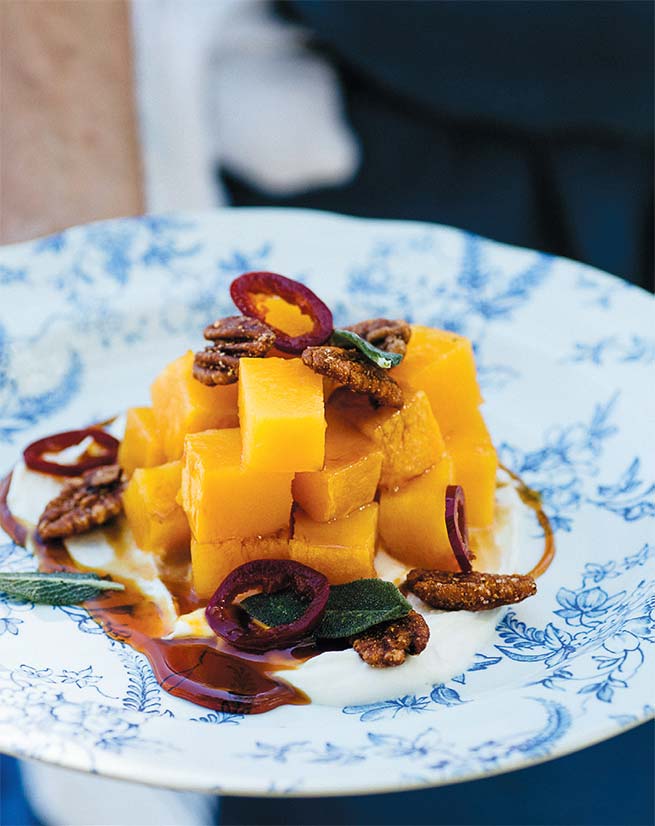 This recipe from George and Katie Brown calls for their Bandera Foods flavored pecans, but you can substitute simple roasted pecans to great effect. To roast pecans, mix 1 teaspoon salt with 1½ tablespoons melted unsalted butter. Toss with 2 cups pecan halves to coat. Spread on a baking sheet and roast in a preheated 350°F oven for 10 minutes, or until nuts turn brown and aroma fills the air.
Makes 6 servings
1 large butternut squash
2 tablespoons pecan oil
Salt and cracked black pepper to taste
½ cup crème fraiche
½ cup ribbon cane syrup
18 Fried Sage Leaves (recipe follows)
18 slices Pickled Fresno Chiles (recipe follows)
1 cup chopped Killer Pecans
Preheat oven to 375°F.
Split the butternut in half lengthwise and scoop out the seeds. Place cut-side-up on a baking sheet, and rub the flesh with pecan oil. Season with salt and cracked black pepper. Roast until soft and golden brown, about 45 minutes. Cool.
When the squash is cool, peel off the skin. Dice the flesh into cubes. Smear some crème fraiche on a plate or platter, top with roasted butternut cubes. Drizzle ribbon cane syrup over the squash, then garnish with Fried Sage Leaves, Pickled Fresno Chiles and chopped Killer Pecans.
Fried Sage Leaves: To fry sage leaves, heat about ¼ cup neutral oil, such as canola, in a small skillet over medium-high until hot. Fry 6 to 8 sage leaves at time until crisp, usually a few seconds. Transfer to a paper-towel-lined dish to drain.
Pickled Fresno Chiles: To pickle chiles, rinse and slice enough chiles (about a dozen, depending on size) on the diagonal to pack into a 1-pint jar. Set aside. Bring 1 cup white wine vinegar, 1/2 cup sugar and 1 tablespoon salt to a boil in a small sauce pan, stirring to dissolve. Pour over chiles in jar. Seal jar. May store in refrigerator at least a week.