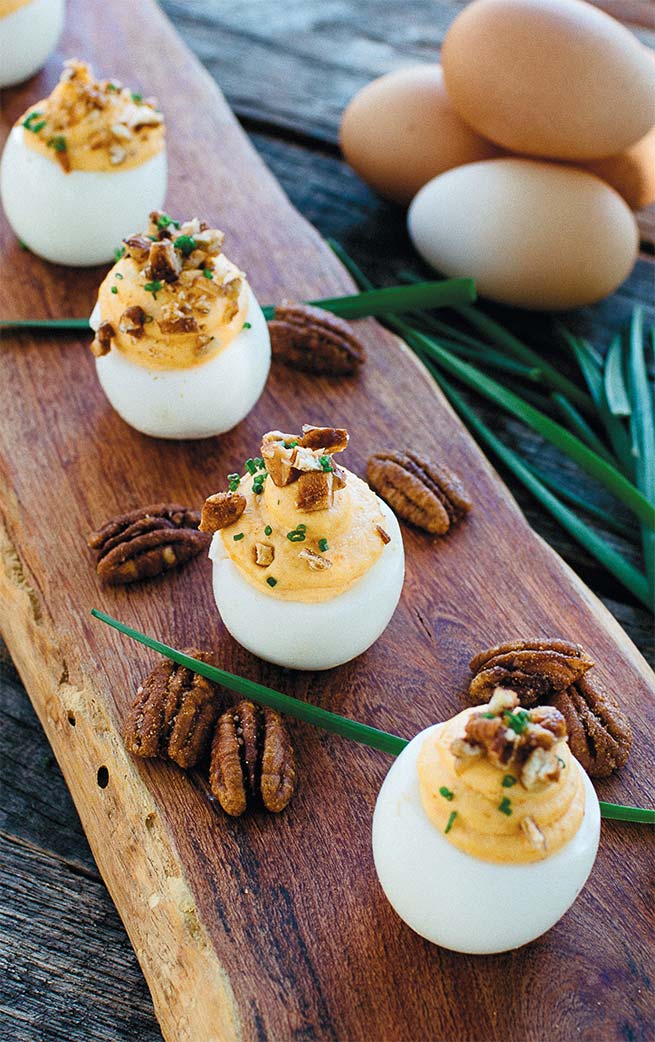 This recipe from George and Katie Brown calls for their Bandera Foods flavored pecans, but you can substitute simple roasted pecans to great effect. To roast pecans, mix 1 teaspoon salt with 1½ tablespoons melted unsalted butter. Toss with 2 cups pecan halves to coat. Spread on a baking sheet and roast in a preheated 350°F oven for 10 minutes, or until nuts turn brown and aroma fills the air.
Makes 12 servings
12 eggs
1 large sweet potato
½ cup mayonnaise (the Browns like Duke's)
1 teaspoon Dijon mustard
1 teaspoon Cholula hot sauce or your favorite
Salt and pepper to taste
¼ cup chopped Smokin' Pecans
1 tablespoon finely cut chives
Hard boil the eggs, cool and peel. Roast, cool and peel the sweet potato. Then cut sweet potato into chunks. Set aside.
Cut off the top 1/3 of each egg and a small slice off the bottom to make it flat. Remove the yolks and place in the bowl of a food processor. Save trimmings for another use.
Add the sweet potato chunks to the egg yolks in the food processor. Add in the mayonnaise, mustard and Cholula, and process until the mixture is smooth. Season with salt and pepper, then mix to incorporate.
Put the yolk-sweet potato mixture in a pastry bag fitted with a tip and pipe the filling into each hard-boiled egg half.
Garnish with chopped Smokin' Pecans and shaved chives.