This recipe from George and Katie Brown calls for their Bandera Foods flavored pecans, but you can substitute simple roasted pecans to great effect. To roast pecans, mix 1 teaspoon salt with 1½ tablespoons melted unsalted butter. Toss with 2 cups pecan halves to coat. Spread on a baking sheet and roast in a preheated 350°F oven for 10 minutes, or until nuts turn brown and aroma fills the air.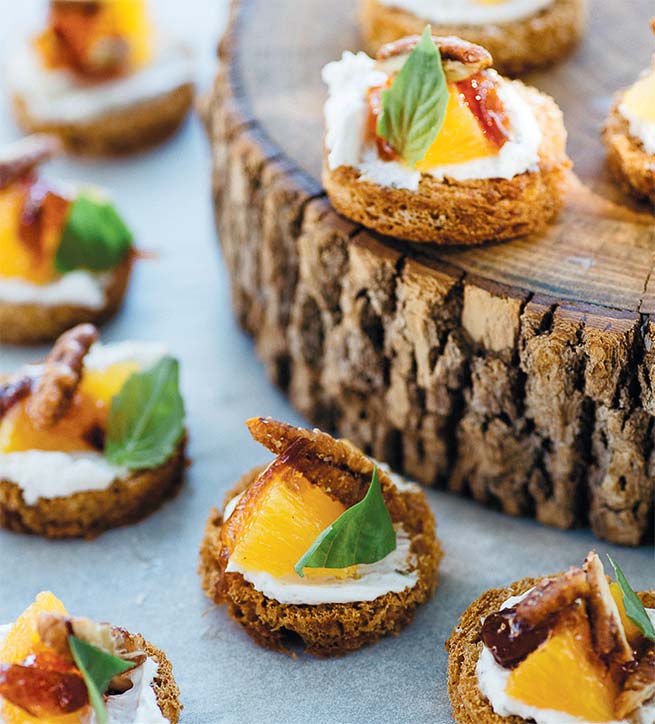 Makes 3 to 4 servings
2 slices seedy, grainy bread
2 tablespoons butter, melted
Salt and pepper to taste
¼ cup spreadable farmstead cheese, like Full Quiver Farms
Cream Cheese Spread
1 navel orange, sectioned
2 tablespoons marmalade
Basil leaves
4 to 6 Killer Pecans, chopped
Preheat oven to 350°F. Cut the bread into small circles (about Ritz cracker size) using a round cutter. You'll get about 6 per slice. Place on a baking sheet, then brush each circle with butter and season with salt and pepper. Toast in the oven until crisp and golden brown, about 10 minutes, turning over at the halfway point.
Let the toast circles cool, then smear with farmstead cheese, top with an orange section, a dab of marmalade and small or torn basil leaf. Then add chopped Killer Pecans. Arrange on a platter and serve.