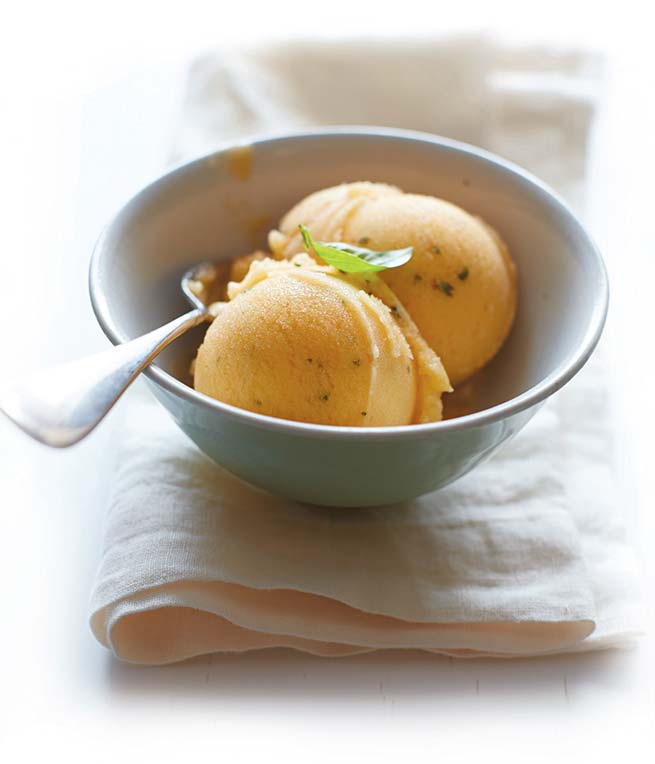 The perfect summer dessert: a sweet chill with a peppery spike of herbal excitement. The basil is subtle but important, and the peaches must be the ripe golden beauties. (Vegan)
6 to 8 servings (a little more than a quart)
1 cup sugar
¼ cup (½ ounce) packed, sliced or chopped fresh basil leaves, plus more to taste
Sea salt or kosher salt
2 ½ pounds ripe yellow peaches, peeled and cut up (4 cups)
3 tablespoons fresh lemon juice
Combine the sugar and 1 cup water in a small stainless steel pot and heat it gently, stirring, until the sugar is dissolved. Add the basil and a pinch of salt and simmer gently for 10 minutes. Turn off the heat and let the syrup cool completely. Strain the syrup and reserve the basil. You should have 1 ¼ cups syrup.
Put the peaches in a blender, add the cooled syrup and the lemon juice, and puree. Add about 1 teaspoon of the reserved basil and pulse a few times, just until the basil makes green flecks in the peach puree. For a more pronounced basil flavor, add a teaspoon or so of finely chopped raw basil.
Chill the mixture well, then freeze it in an ice cream maker, following the manufacturer's instructions. Transfer the sorbet to a chilled container, cover tightly, and put it in the freezer for 2 hours to firm up.
Recipe and images from Vegan Vegetarian Omnivore by Anna Thomas. Copyright ©2016 by Anna Thomas. With permission of the publisher, W. W. Norton & Company, Inc. All rights reserved.
Longtime Ojai, California resident ANNA THOMAS wrote the iconic cookbook The Vegetarian Epicure while still a student at UCLA, followed by its two sequels and Love Soup. Her newest book, Vegan Vegetarian Omnivore: Dinner for Everyone at the Table (W. W. Norton & Co., 2016), was released in April.