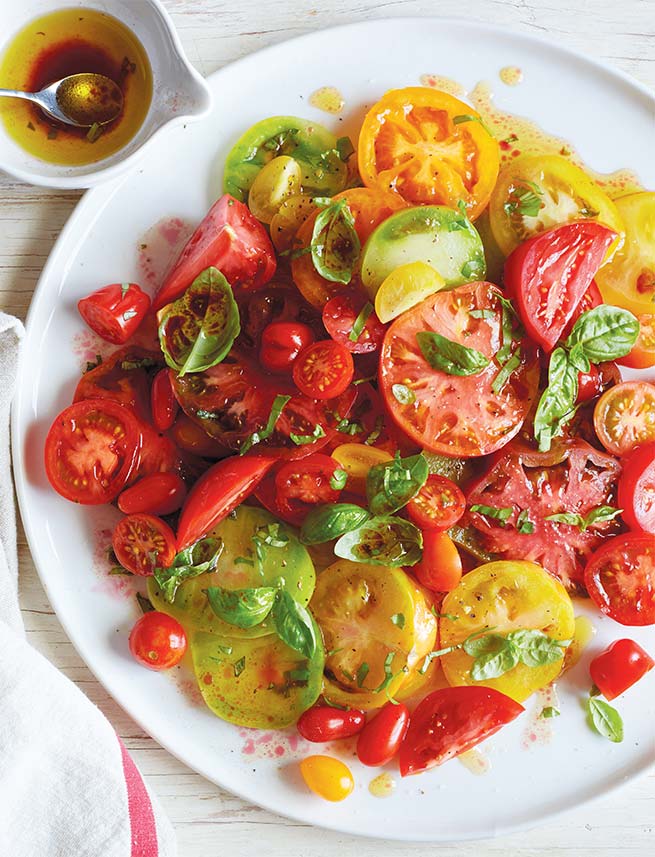 When gorgeous tomatoes flood the farmers' market all summer and fall, I choose Purple Cherokees and Brandywines, along with Early Girls, an abiding favorite. Find the tomatoes that do best in your area, the tomatoes you love, and then make this simple salad, a celebration of ripe summer flavor. Throw a few cherry or grape tomatoes on top for sheer visual fun. (Vegan)
Serves 4
1 ½ pounds mixed tomatoes, heirlooms and others, all colors
½ ounce fresh basil leaves
A few thin slices of red or sweet onion
3 tablespoons fruity extra-virgin olive oil
1 tablespoon red wine vinegar
½ teaspoon sea salt, plus more to taste
Freshly ground black pepper
Large shavings of Parmigiano-Reggiano or thin slices of ricotta
Cured black olives
Cut the tomatoes in wedges or fat slices. Small cherry tomatoes can be left whole. Tear the basil leaves into large pieces or slice them in a chiffonade. (To make a chiffonade, roll the large leaves into a tight cylinder and then cut in very thin strips.) You should have about ⅓ cup.
Combine half the basil with the tomatoes, onion slices, olive oil, vinegar, salt and black pepper to taste, and mix very gently. Use your hands so the tomatoes do not get bruised. Arrange the salad on a platter, scatter the remaining basil over the top, and garnish with shavings of cheese or a few olives if you like.
Recipe and images from Vegan Vegetarian Omnivore by Anna Thomas. Copyright ©2016 by Anna Thomas. With permission of the publisher, W. W. Norton & Company, Inc. All rights reserved.
Longtime Ojai, California resident ANNA THOMAS wrote the iconic cookbook The Vegetarian Epicure while still a student at UCLA, followed by its two sequels and Love Soup. Her newest book, Vegan Vegetarian Omnivore: Dinner for Everyone at the Table (W. W. Norton & Co., 2016), was released in April.