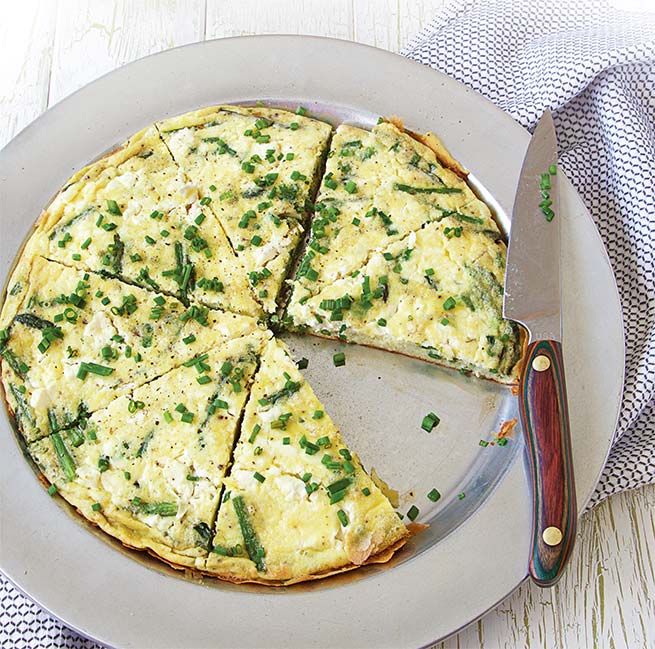 This spring frittata features farm eggs, tender asparagus, tangy feta and fresh green onions. The perfect brunch for large groups—or halve the ingredients and use a smaller skillet for an intimate breakfast in bed.
Makes 6 to 8 servings
12 large eggs
2 teaspoons Dijon mustard
½ teaspoon salt
¼ teaspoon fresh ground black pepper
3 tablespoons unsalted butter
2 cups thin asparagus, trimmed, cut into 1-inch pieces
2 green onions, trimmed and cut into ¼-inch pieces
4 ounces crumbled feta cheese
Preheat oven to 400°F.
In a large bowl, combine eggs, mustard, salt and pepper and whisk until eggs are slightly frothy, about 20 seconds.
In a 10-inch nonstick ovenproof skillet, melt butter over medium heat. Sauté asparagus and onions until asparagus is tender, about 3 minutes. Pour egg mixture into the skillet, add feta and stir to combine all ingredients.
Remove from heat, transfer to the oven and bake for 15 to 20 minutes until cooked through and a toothpick inserted into the middle comes out clean.
Separate the frittata from the skillet by running a knife or spatula around the edges of the frittata; then slide the frittata onto a serving plate. Slice into wedges and serve.
MEREDITH STEELE is a recipe developer, food writer, food photographer and author of InSockMonkeySlippers.com, an award winning family food blog celebrating creative and fresh foods. Her recipe development and photography company, MBS Recipe Development specializes in multimedia recipe development for commercial and small business who's clients include everyone from Ziploc® to small wineries. Meredith's work has been published online, in various print media, and has been nominated for the SAVEUR awards. She can also be found across the pond writing a monthly column for JamieOliver.com. When Meredith is not in the kitchen, she's roaming Dallas, Texas with her husband, curly-headed pixie of a daughter, and big floppy-eared dog.