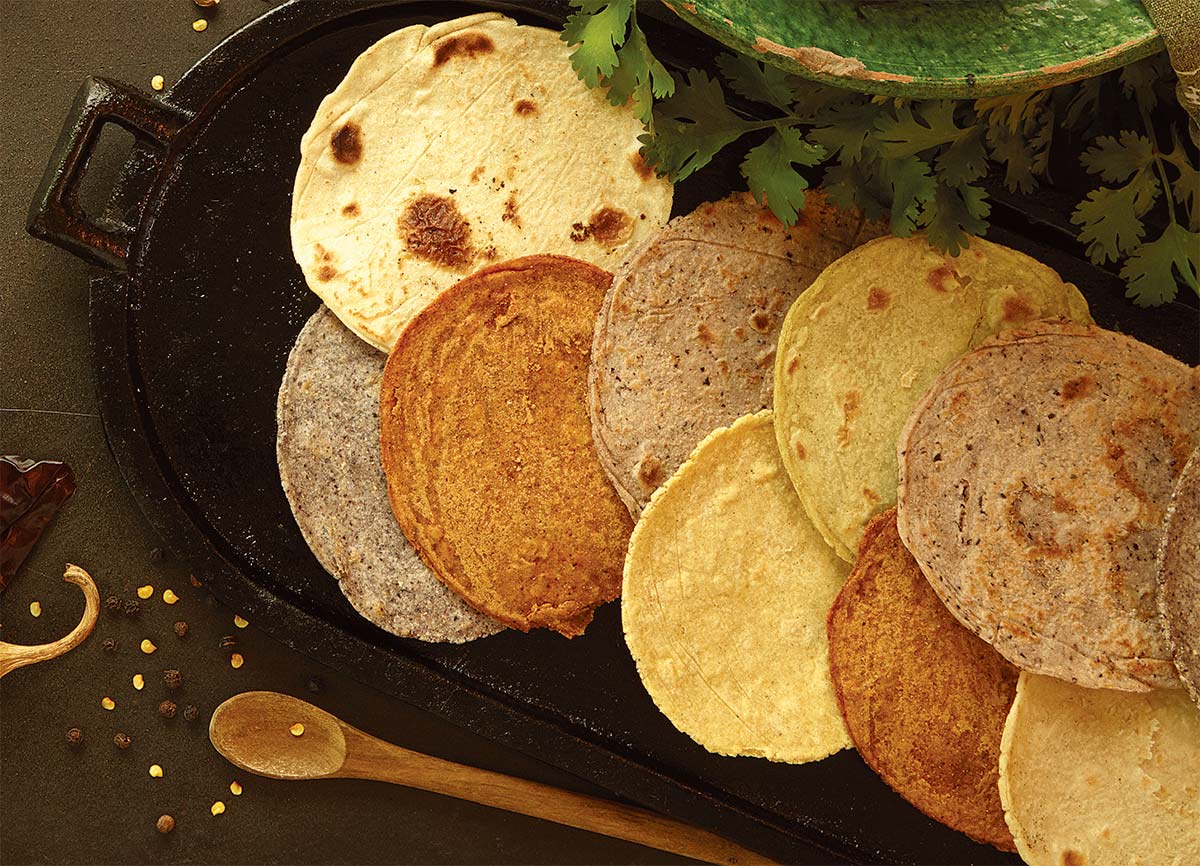 Recipes by Dotty Griffith
Photos by Andrew Vracin
A comal or cast-iron griddle is traditional for baking tortillas.
2 cups masa harina
2 to 3 tablespoons unbleached flour (optional )
½ teaspoon salt
1¼ to 1 cups warm water
In a medium bowl, whisk or stir together the masa, flour and salt.
Gradually add liquid and mix, using a wooden spoon or spatula and wet hands to prevent sticking, until the ingredients are well-blended. Knead for 20 to 30 seconds until dough is pliable. The dough should be moist enough to hold together. Add additional warm water, 1 tablespoon at a time, if needed. If dough is too moist, it will be difficult to peel tortillas from the liner. Knead in a bit more masa.
Divide the dough into 12 golf-ball-size orbs, shaping with your hands. Place into bowl and cover with damp towel to keep moist.
Heat a comal or griddle to 375°F. The surface is ready when a sprinkle of water "dances" on the hot surface. Use a wad of paper towel to spread a light layer of vegetable oil on the cooking surface.
To press a tortilla, line the bottom plate with parchment paper. Cut parchment paper into pieces that fit the press but overlap the sides.
Using fingers and palms, flatten a ball of masa into a thick disc, 2 to 3 inches in diameter. Place off center, a bit toward the hinge, of the lined bottom plate.
Center a second piece of parchment paper or plastic shopping bag over the masa.
Firmly press down the top plate. Wiggle the press handle slightly from side to side to evenly distribute the masa. Lift the top plate. Rotate the tortilla a half turn and firmly press again to make a 6-inch tortilla as thin as possible.
Lift off the top piece of parchment. Flip the tortilla into your other hand and peel off remaining layer. Use a spatula or fingers to flip the tortilla onto a heated comal or griddle.
Cook the tortilla for about 15 seconds. This step sets the dough. Flip the tortilla and cook for about 1 minute. Flip the tortilla again and cook for about 1 minute longer on the first side. The tortilla should puff a bit and have a few brown spots. Transfer to a tortilla warmer to keep the tortillas warm, soft and supple. Repeat with remaining masa balls.

The Ultimate Colored Tortillas
Using Dotty Griffith's basic recipe in the fall 2019 issue, you can create colored tortillas by following these instructions.
Yellow: use yellow corn masa
White: use white corn masa
Blue: use blue corn masa
Red: Add 1/8 to ¼ cup (depending on desired heat level and color intensity) of ground dried red chile or chili powder to 2 cups masa harina. Proceed according to recipe.
Green Cilantro Lime: In a blender jar, combine 1 cup loosely packed cilantro leaves, 1 tablespoon lime juice and 1 ¼ cups water. Use instead of water to moisten dough.
Black Bean: Drain 1 cup black beans then dry on paper towel. In work bowl of food processor, combine beans with 2 cups masa harina. Pulse to chop the beans, mixing evenly with masa. Proceed according to basic tortilla recipe.
Recipes adapted from The Ultimate Tortilla Press Cookbook by Dotty Griffith.
Drying Your Own Chiles
By Dotty Griffith
When working on these recipes, I was surprised that I couldn't find local producers who grow and sell a variety of fresh and dried chiles. Some growers at farmers markets offer a variety or two of fresh chiles in season, but I couldn't find anyone who sold an assortment of locally grown, seasonal fresh and, later, dried chiles. If you know of someone, please share, [email protected].
If you grow your own and want to know about drying, these essential steps are from www.chilipeppermadness.com. <https://www.chilipeppermadness.com/preserving-chili-peppers/drying-chili-peppers/>
Basics for Drying Chile Peppers
First, wash peppers thoroughly after picking to remove any dirt, then dry.
Place whole peppers on a plate or a wire rack in a warm, dry, well-ventilated room.
You can also string the chilies on sturdy thread and hang to dry. Hang the chile peppers in direct sunlight.
Within several weeks, you will have dried chile peppers.
Cut chiles in half, lengthwise. Place peppers in a single layer on baking sheet.
Bake at very low heat, about 100 to 135° F.
There is no set time to bake the chile peppers for drying. Keep an eye on them, turning frequently. You may leave the oven door cracked for some air flow. It will take several hours with this method.
Keep in the oven until the moisture has been baked out.
A dehydrator is probably the easiest and most effective method for drying chile peppers. A dehydrator encloses the chile peppers and dries them overnight in soft heat. Follow manufacturer's instructions.
What chiles are these?
In case you are curious, ancho chiles are the dried version of ripe poblanos. Guajillos are the dried version of mirasols. Arbols when green are still called chiles arbols.
Dotty Griffith is the author of THE TEXAS HOLIDAY COOKBOOK - Second Edition ©2013, Taylor Trade Publishing.