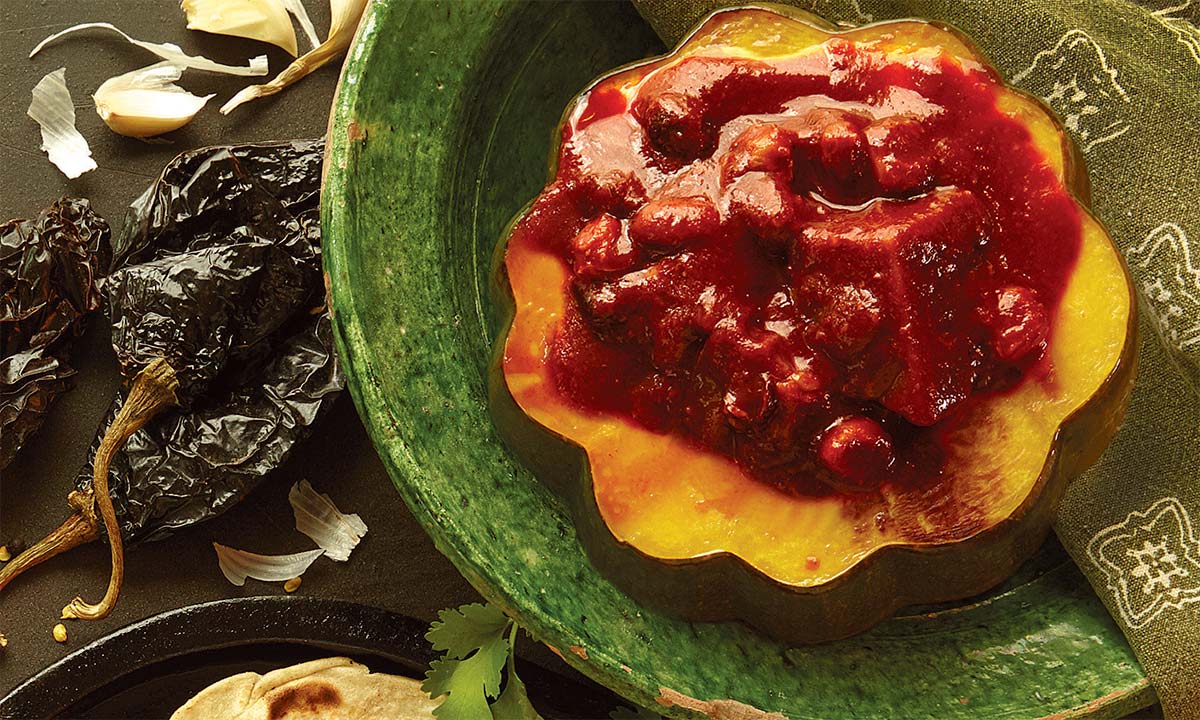 Serving vegetarian chili in roasted acorn squash "bowls" adds seasonal panache.
4½-5 cups Real Deal Chili Gravy without beef (see recipe here)
1 (15.5-ounce) can pinto beans
1 (15.5-ounce) can black beans
2 (15.5 ounce) cans posole (white hominy)
¼ cup vegetable oil
1 cup chopped onion
2 cups butternut squash, peeled and cut into
1-inch cubes
2 cups unpeeled calabasita (Mexican squash) or zucchini, cut into 1-inch cubes
1 cup vegetable stock, or as needed
Garnish: Sliced avocado, grated yellow cheese and sour cream (or Jersey Girls Milk yogurt), fresh cilantro leaves
In large colander, rinse and drain pinto and black beans as well as hominy.
To large pot or Dutch oven over medium heat, add vegetable oil and heat until shimmering. Stir in onion and cook until translucent, about 3 minutes. Stir in squashes. Cook 4 to 5 minutes or until vegetables begin to soften.
Add Real Deal Chili Gravy without meat, vegetable stock, drained pinto and black beans, also hominy. Bring to a boil, reduce heat to maintain low simmer. Cover and simmer for 20 minutes. Remove lid and simmer uncovered an additional 20 minutes, or until squash are tender.
Serve and garnish in Roasted Acorn Squash Chili Bowls (see recipe here), if desired.
Dotty Griffith is the author of THE TEXAS HOLIDAY COOKBOOK - Second Edition ©2013, Taylor Trade Publishing.