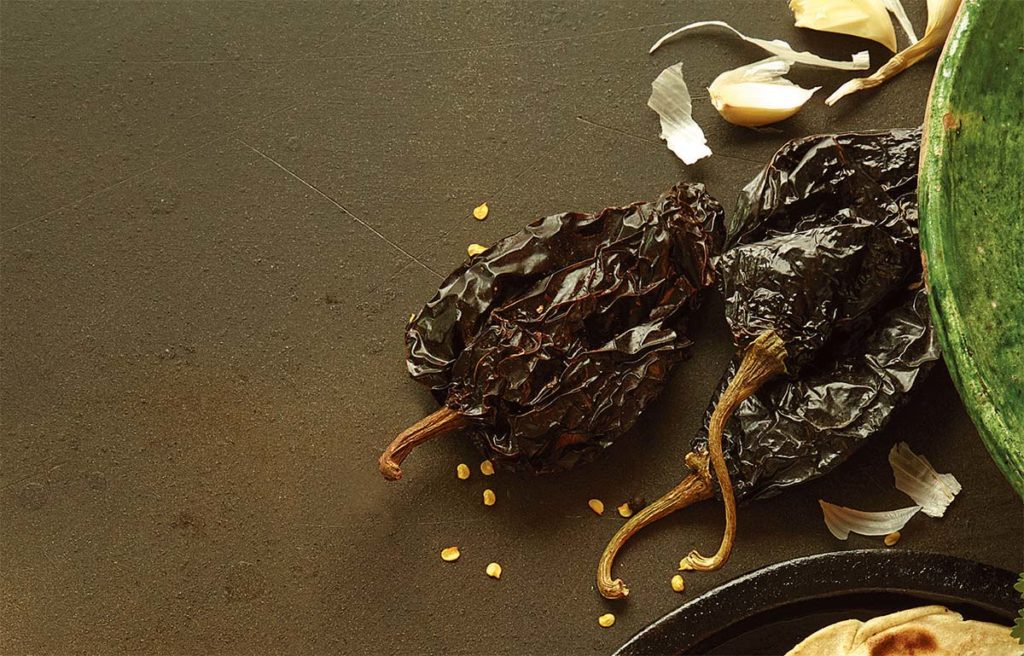 This chili isn't for the faint of palate. The chili gravy is spicy. Very spicy. If you are wary of too much spice, omit the arbol chiles on your first effort. That's where the serious heat comes from. Or, moderate the burn by adding some tomato puree.
3 ounces chiles anchos
3 ounces chiles guajillos
3 to 4 chiles arbols, (optional)
1 cup coarsely chopped onions
3 cloves garlic, peeled
3 teaspoons cumin seed
3 teaspoons salt
3 teaspoons black pepper
½ cup regular (70/30) ground beef, (optional)
2 cups beef or vegetable broth
½ to 1 cup tomato puree, (optional)
Use food handler gloves when working with dried chiles. Remove stems. With a sharp paring knife, slit each ancho and guajillo lengthwise. Use fingers to pull away or blade to scrape seeds and membranes. Snap each chile arbol in half and shake out seeds. Slit if necessary, to remove more seeds.
Place all chiles in a large bowl and fill with water. Stir several times and drain, pouring away as many seeds as possible. Repeat for a second rinse; then drain in colander.
In a medium saucepan, combine rinsed chiles with 2 cups water. Cover and bring to a boil over medium heat and simmer 15 minutes. Remove lid and cool for 10 minutes off heat.
To a blender jar with chopping blade attached, add chiles using tongs. Strain chile liquid through fine strainer into blender to remove seeds. Add onions, garlic, cumin, salt and pepper. Process on high speed for 1 minute, or until smooth. If necessary, process in 2 or 3 batches, depending on power of your blender.
Return the chile mixture to medium saucepan over low heat. (If using ground beef, crumble meat into the pan. Use the back of a metal spoon to break up clumps of meat.) Add 2 cups beef or vegetable broth. Simmer uncovered for 30 minutes. Cool for 10 minutes off heat.
Rinse blender jar and attach puree or smoothie blade. Process the cooled chile mixture in 2 or 3 batches. Process each batch for 1 minute or until sauce is smooth and the consistency of spaghetti sauce. If sauce is too spicy, add tomato puree to tone it down.
At this point, you have 4½ to 5 cups of Real Deal Chili Gravy, with or without meat. Use for enchiladas or Tex-Mex lasagna, as a drizzle sauce for scrambled eggs, or any other dish your imagination conjures. Or proceed to chili con carne or vegetarian chili.
Dotty Griffith is the author of THE TEXAS HOLIDAY COOKBOOK - Second Edition ©2013, Taylor Trade Publishing.