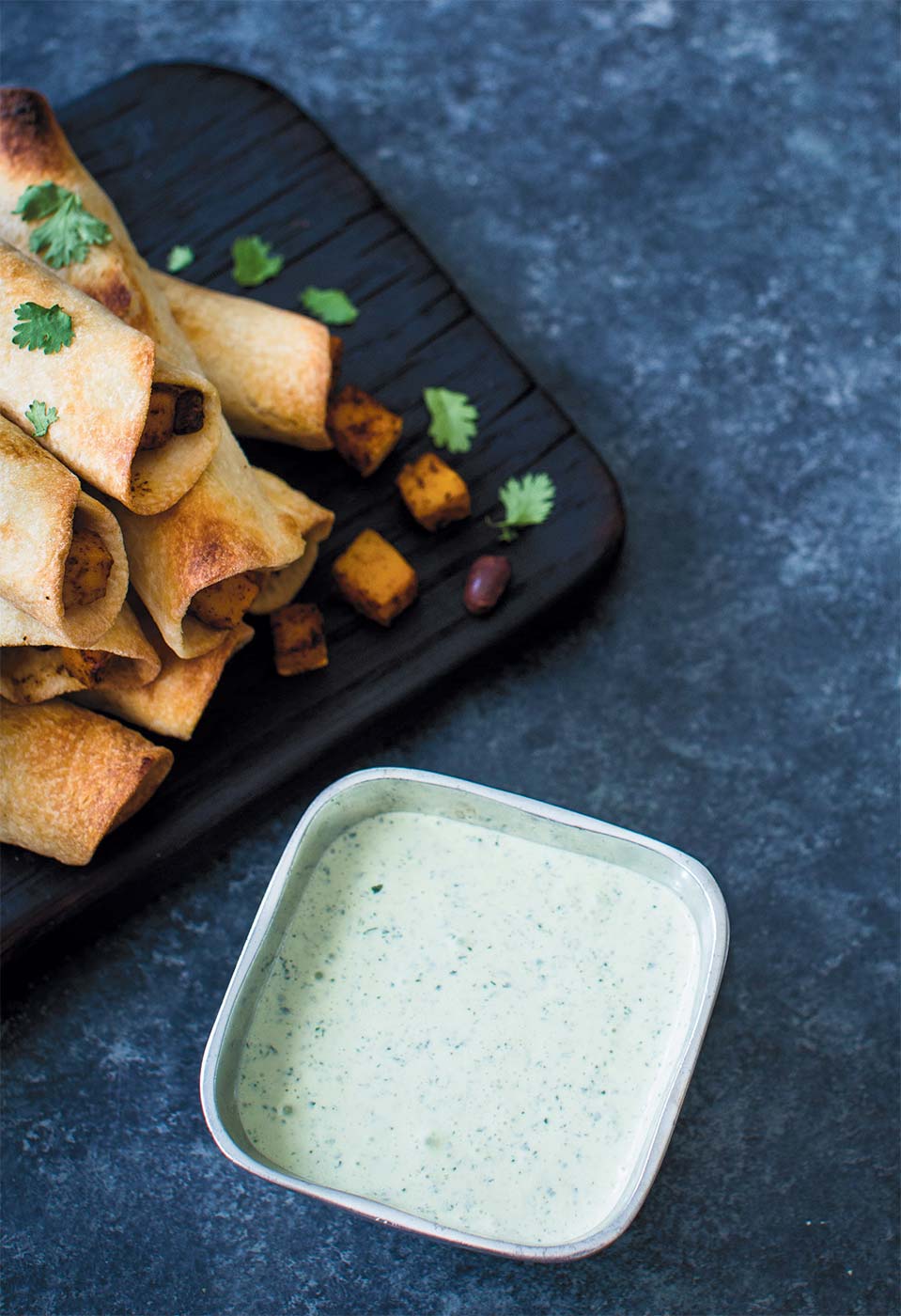 from Game Day Grub for Locavores
Sweet roasted butternut squash—fresh from the fall market—and black beans are rolled in flour tortillas and baked until crispy. Serve with creamy Cilantro- Lime Sauce for a tasty game-day snack.
Makes 10 taquitos
3 cups butternut squash, peeled and cut into small cubes
1 tablespoon canola oil
1 (15-ounce) can black beans, rinsed and drained
½ teaspoon chili powder
¼ salt
10 flour tortillas
Cooking oil spray
Cilantro-Lime Sauce (recipe follows)
Preheat oven to 425°F. Toss squash in oil, place on a baking sheet and roast for 30 minutes, or until tender. Transfer squash to a large bowl and add black beans, chili powder and salt and toss to combine.
Place a generous spoonful of squash mixture onto a tortilla and roll tightly. If your tortillas split or are difficult to roll, wrap them in a damp towel and microwave 30 seconds or until slightly warmed. Place rolled taquitos on a small baking sheet. Repeat with the remaining tortillas. Lightly spray taquitos with cooking spray (or lightly brush with canola oil) and bake for 25 to 30 minutes until golden and toasted.
While the taquitos are baking, make the Cilantro- Lime Sauce. Serve with warm taquitos.
Cilantro-Lime Sauce: In a food processor or blender, place 4 ounces softened cream cheese, ½ cup sour cream, 2 tablespoons chopped cilantro, 1 tablespoon lime juice, ½ teaspoon lime zest (grated rind), ¼ teaspoon sugar and 1/8 teaspoon salt. Puree until combined.
MEREDITH STEELE is a recipe developer, food writer, food photographer and author of InSockMonkeySlippers.com, an award winning family food blog celebrating creative and fresh foods. Her recipe development and photography company, MBS Recipe Development specializes in multimedia recipe development for commercial and small business who's clients include everyone from Ziploc® to small wineries. Meredith's work has been published online, in various print media, and has been nominated for the SAVEUR awards. She can also be found across the pond writing a monthly column for JamieOliver.com. When Meredith is not in the kitchen, she's roaming Dallas, Texas with her husband, curly-headed pixie of a daughter, and big floppy-eared dog.