Recipe and Photography by Meredith Steele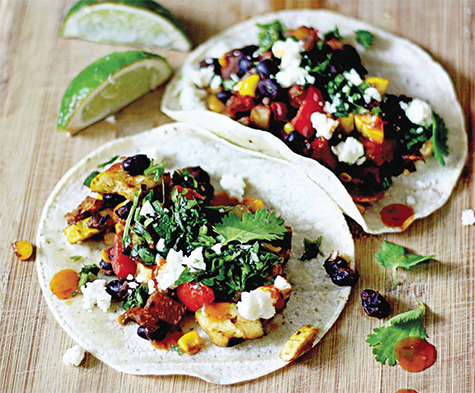 Deliciously healthy with a hint of spice, these Veggie Tacos with Queso Fresco are the ultimate go-to meal when fending off a hungry crowd. Just a quick sauté of some fresh, early fall produce, and you're on your way to a quick and easy meal.
Serves 4
Prep Time: 10 Minutes
Cook Time: 15 Minutes
1 tablespoon canola or grapeseed oil
1 russet potato, diced
1/2 yellow onion, diced
1 red bell pepper, diced
1 clove garlic, minced
1 yellow squash, diced
1 zucchini, diced
1/2 cup sweet corn kernels
1 cup black beans, drained (if using canned, rinse)
1 teaspoon chili powder
1/2 teaspoon cumin
1/2 teaspoon salt
1/4 teaspoon dried oregano
8 to 10 corn tortillas
4 ounces queso fresco, crumbled
Chopped cilantro for garnish
Lime wedges
Heat oil in a large skillet over medium heat. Place potato, onion, red bell pepper and garlic in the skillet and sauté until the potatoes are browned and al dente, about 8 to 10 minutes.
Once the potatoes are browned, add yellow squash, zucchini, corn, beans, chili powder, cumin, salt and oregano to the pan. Stir to combine and sauté for 5 minutes until the squash and zucchini are tender.
While the vegetables are cooking place the tortillas a few at a time on a griddle or skillet and warm until the tortillas are soft and ready to serve.
To serve, place two large spoonfuls of the sautéed vegetables on a corn tortilla. Top with a large pinch of queso fresco, a squeeze of lime, and cilantro. A few drops of a hot sauce like Cholula is always acceptable for those who like a little heat.
MEREDITH STEELE is a recipe developer, food writer, food photographer and author of InSockMonkeySlippers.com, an award winning family food blog celebrating creative and fresh foods. Her recipe development and photography company, MBS Recipe Development specializes in multimedia recipe development for commercial and small business who's clients include everyone from Ziploc® to small wineries. Meredith's work has been published online, in various print media, and has been nominated for the SAVEUR awards. She can also be found across the pond writing a monthly column for JamieOliver.com. When Meredith is not in the kitchen, she's roaming Dallas, Texas with her husband, curly-headed pixie of a daughter, and big floppy-eared dog.