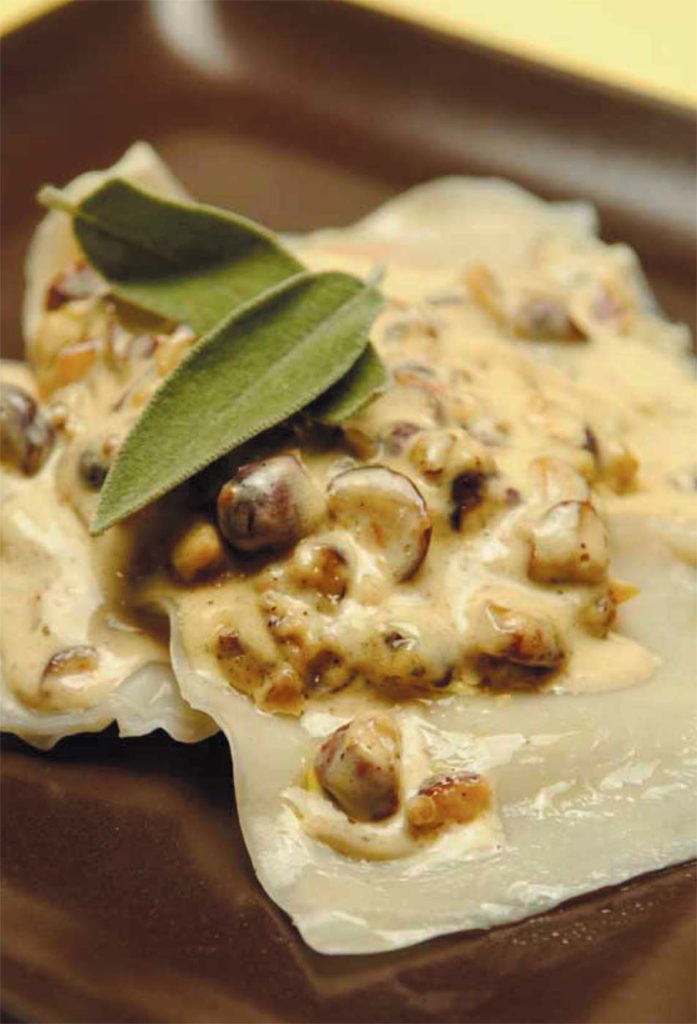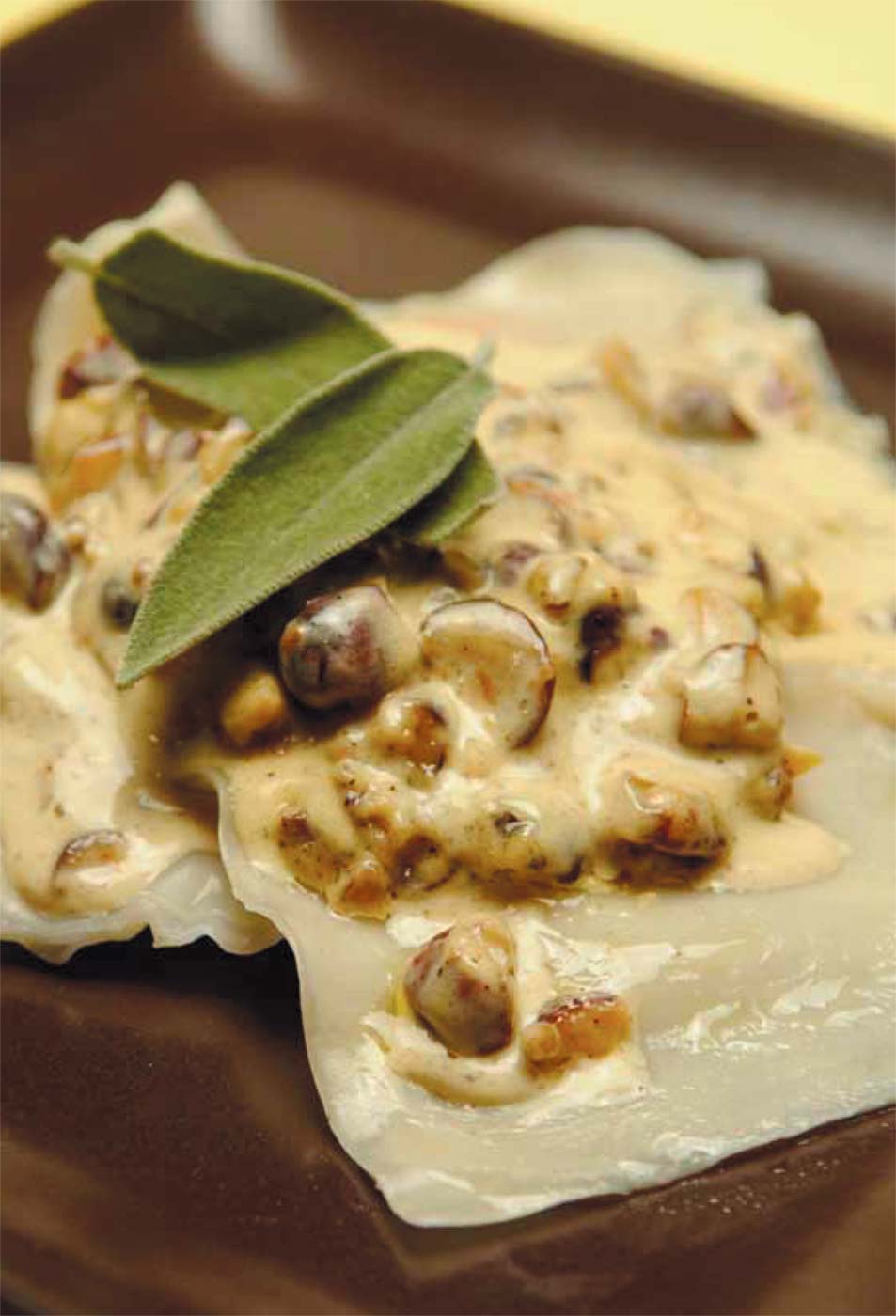 Serves 6
FOR THE RAVIOLI:
4 large sweet potatoes, peeled and cut into 1½ inch cubes
2 Tablespoons olive oil
2 teaspoon salt
3 Tablespoons firmly packed light brown sugar
½ teaspoon ground nutmeg
½ cup mascarpone cheese
1 teaspoon ground cinnamon
60 wonton wrappers
2 large egg whites, beaten
FOR THE SAUCE:
2 sticks (16 tbsp) butter
¼ cup coarsely ground hazelnuts
¼ cup heavy cream
2 Tablespoons chopped fresh sage
¼ teaspoon ground nutmeg
Salt
Freshly ground black pepper
MAKE THE RAVIOLI:
Preheat the oven to 425°F. Line a baking sheet with parchment paper. Toss the sweet potato cubes with the olive oil, salt, and 1 tablespoon of the brown sugar. Pour the cubes onto the prepared baking sheet, arrange in a single layer, and bake until tender, 35–40 minutes.
Let the sweet potatoes cool slightly: then transfer them to a food processor. Add the remaining 2 tablespoons brown sugar, the nutmeg, mascarpone, and cinnamon, and pulse until smooth.
Place 3 wonton wrappers on a lightly oured work surface. Use a pastry brush to brush the edges of each wrapper with the egg whites. Place 1 tablespoon sweet potato lling in the center of each wrapper. Top each one with a wrapper and press the edges together to seal. Transfer ravioli to a clean parchment paper–lined baking sheet and cover the sheet with plastic wrap. Make and cover remaining ravioli in the same manner. Chill for up to 3 hours.
MAKE THE SAUCE:
Melt the butter in a medium sauté pan over medium-high heat. Add the ground hazelnuts and sauté until golden brown, 3–4 minutes. Stir in the cream and cook for 1 minute. Add the sage and nutmeg. Season with salt and pepper to taste. Keep warm.
Meanwhile, bring a large pot of water to boil over high heat. Drop the ravioli in the pot and cook until just tender, about 2 minutes. Drain the ravioli and serve with the butter sauce drizzled over them.
KATY DAUME LOPEZ is a chef consultant for edible Dallas & Fort Worth. She earned her BBA in Marketing at Texas Christian University and shortly after graduating attended culinary school in Fort Worth to follow her true passion, food. She works in a variety of aspects of the culinary industry including recipe development, management, product development and catering. Katy loves bringing people together to eat great meals made from fresh, locally grown ingredients.