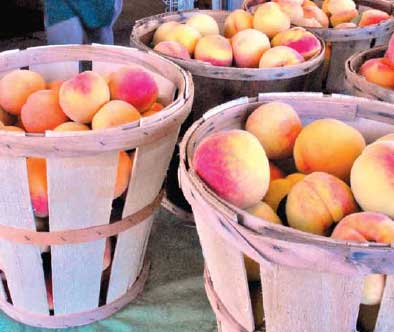 Yield: 4 servings
4 ripe peaches, halved and pitted
1/2 cup balsamic vinegar
1 tablespoon local honey
2 tablespoons brown sugar
1 teaspoon fresh ground black pepper
Pinch of salt
Mix together balsamic vinegar, honey, brown sugar, salt and pepper in sauce pan and bring to a simmer, 2-3 minutes. Place peach halves in a medium sized bowl and pour vinegar glaze over peaches. Let soak 15-20 minutes.
Place peaches cut side down on grill or grill pan at medium, to medium-high heat and cover for 5 minutes (making sure not to move them). Turn and grill back side 5 minutes.
Remove from grill and drizzle remaining vinegar glaze on top.
Serve alone or with pork tenderloin or grilled chicken breasts.
KATY DAUME LOPEZ is a chef consultant for edible Dallas & Fort Worth. She earned her BBA in Marketing at Texas Christian University and shortly after graduating attended culinary school in Fort Worth to follow her true passion, food. She works in a variety of aspects of the culinary industry including recipe development, management, product development and catering. Katy loves bringing people together to eat great meals made from fresh, locally grown ingredients.