Photography: Teresa Rafidi

A NEW TAKE ON URBAN FARM TO TABLE
Logan Johnson is already a busy chef. His boss and mentor, Mot Hai Ba chef-owner Peja Krstic, is urging him to put his influence on the plate, to refresh, innovate and eventually evolve the restaurant's current menu, much like Krstic himself set out to do six years ago.
This with an eye to eventually play a larger role in the kitchen. Against this auspicious backdrop, Johnson and partner Kehaulani Smith, a former pastry chef at Mot Hai Ba, have developed an urban farm like no other.
But it's about more than growing quality food. His underlying mission, both in the kitchen and on their urban farm, is to reduce waste, incorporating sustainability and long-term environmental stewardship in everything he does.
"Now, with our urban farm, in our little spare bedroom, we can grow a whole field's worth of produce with a lot less water," Johnson says. You read that right: He and Smith are farming in the extra bedroom of their 26th-floor apartment overlooking downtown Dallas.
Urban Oasis Farms currently produces about 30 trays of microgreens and 50 to 175 bags of leafy greens every week in addition to perpetual flower production.
The culinarians are growing microgreens such as red-veined sorrel, various basils, shiso, cilantro, wasabina, bronze fennel, golden and green pea shoots, corn shoots and sunflower sprouts that they sell to Mot Hai Ba and its sister restaurant Ichi Ni San in addition to a few other local dining establishments.
Edible flowers currently growing at Urban Oasis Farms include violas, marigolds, borage and nasturtiums, and the couple just added chive flowers as a special request from another chef.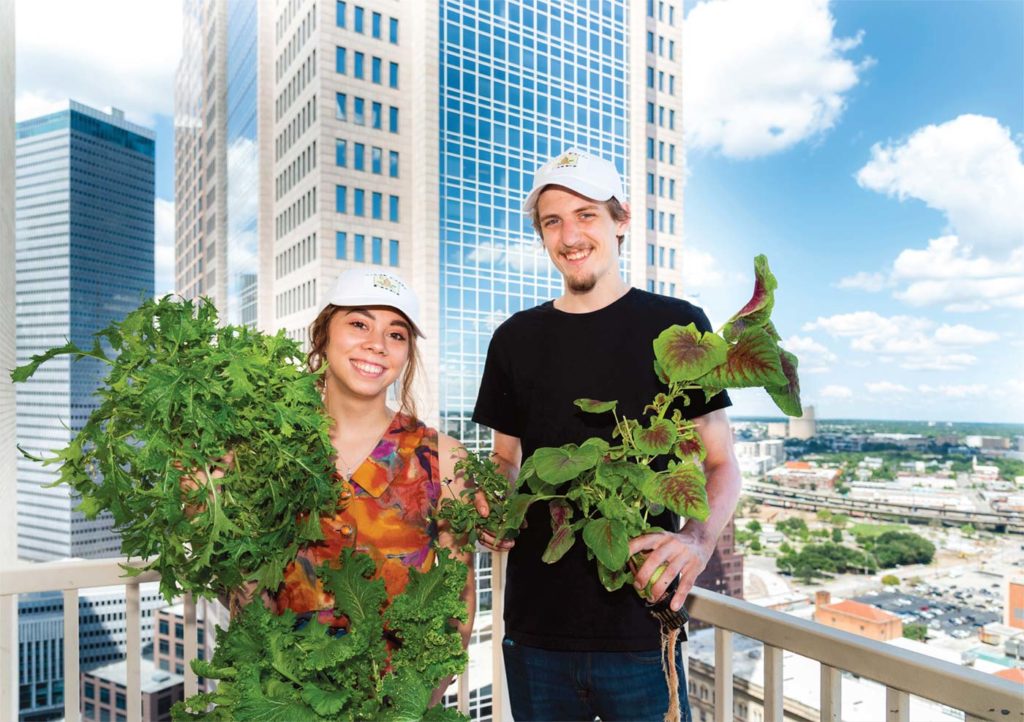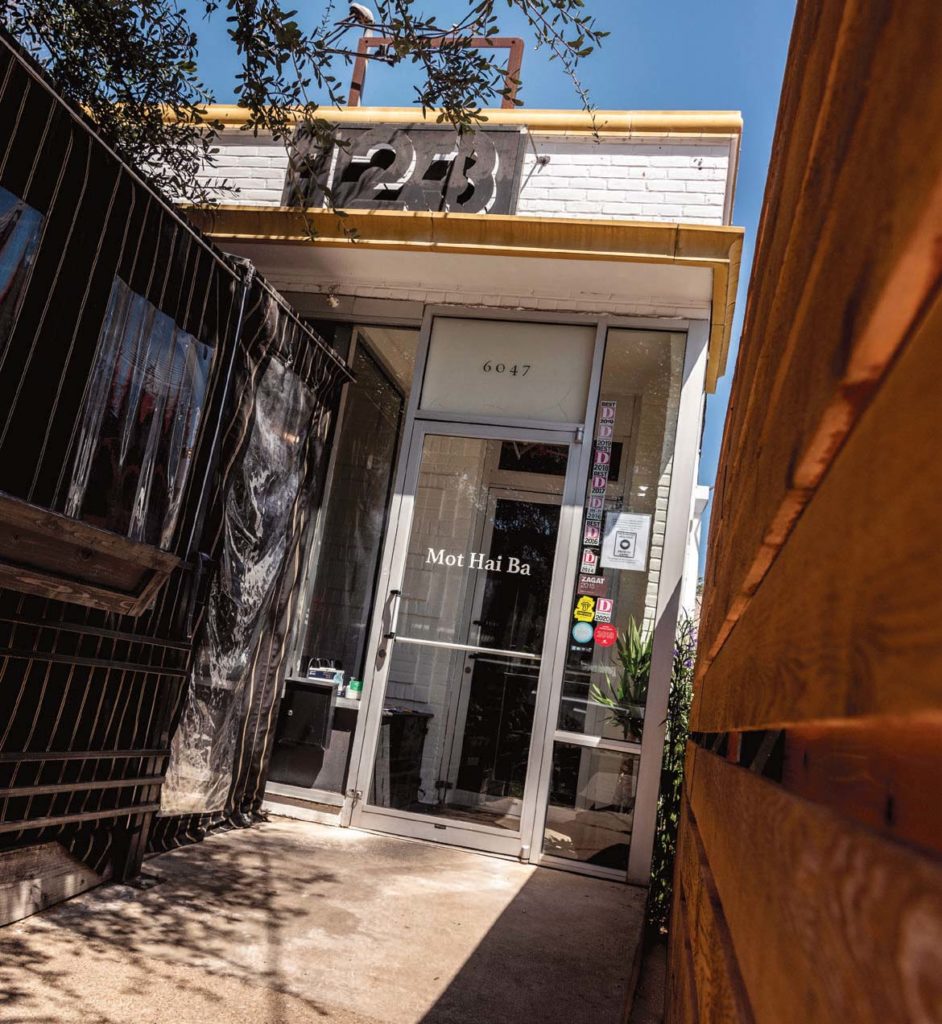 URBAN OASIS FARMS
Smith is the head grower, lead sales rep and CEO of the bedroom farm operation and, with a background in food science, is returning to an industry she's passionate about – inspired by urban farming's roots in sustainability as well as its potential to grow a product with superior flavor and nutrition.
"I'm most drawn to the edible flowers, personally," Smith says. "The idea that beauty can enhance a flavor or bring back a nostalgic moment with food is such an intrinsically beautiful interaction."
The couple is currently using LED-powered grow racks and hydroponic towers that they built and perfected themselves.
The system evolved over several years, first for personal use, when the couple experimented with hydroponic production of basil and peppers in their compact, 550-square-foot apartment in the Bishop Arts District.
"Let's move into a two-bedroom apartment and turn the guest bedroom into the farm, and let's make some money doing this!" Johnson recalls saying. In the process, which both Smith and Johnson describe as "trial and error," they've worked together to perfect the construction, plumbing and nutrient delivery of each of their individual hydroponic systems.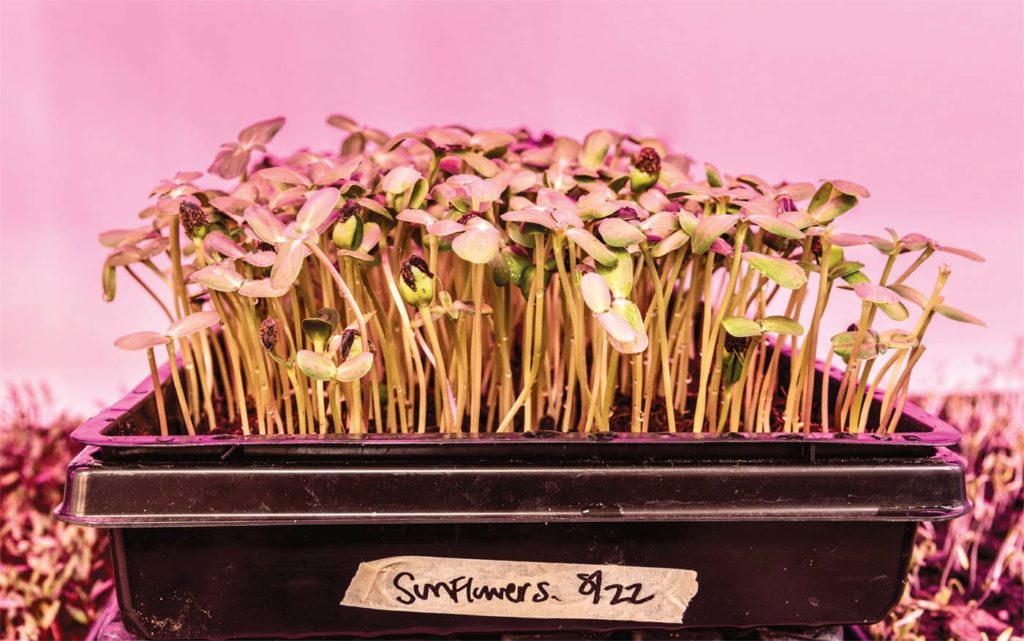 PLANTING THE SEED
Cheering them on is Mot Hai Ba's chef-owner Krstic, whose childhood in war-worn Belgrade, Serbia, instilled in him a need to use fresh local ingredients in the most efficient and inventive ways possible.
A self-proclaimed "culinary gypsy," Krstic refined his craft, cooking throughout Europe, first as a 15-year-old working a graveyard shift at a local bakery, then during his college years working in kitchens, and eventually in his decision to pursue his passions in the refined culinary world as a full-time career.
In 2015, after stints with Arcodoro & Pomodoro, Jasper's, Fuze and Dino's Steakhouse, Krstic was brought on by the original owners of the small, acclaimed Mot Hai Ba, with the goal of developing a more modern take on their traditional Vietnamese fare.
It would be his first experience with the Southeast Asian fare. But because he appreciates all cuisines and had sought out culinary experiences across the globe, he took up the offer, diving headfirst into another opportunity to expand his craft.
"That's why I got into cooking, because to me, it's a never-ending process. Anywhere I go in the world, I can work as a chef. Cooking is always different," Krstic says. Plus, he listens.
"There's people that live here, come here all the time, eat here all the time, and they're not afraid to offer advice…. But that's exactly what we want. It's a beautiful thing," he says.
Krstic is proud that the community has gone out of its way to support the restaurant in what has undeniably been an incredibly dire time for the entire restaurant industry.
Krstic says the next transition of Mot Hai Ma is still to come with what he describes as a final chapter of the restaurant in the works.
"It's going to be a little bit more global in influence. I want it to be more dependent on season, inspiration, and the experience of our staff members," Krstic says.
To manage this, he tapped Johnson. Only 23, Johnson has been cooking beside Krstic for two and a half years, including stints at both the Lakewood and (recently closed) Victory Park locations of Mot Hai Ba. He also helped open Ichi Ni San, Krstic's contemporary Japanese concept in downtown Dallas.
"How can a place grow if the same old guy is in there? The beauty of it is, sometimes, as you grow, you need to let go," Krstic says.
WHERE THEY GROW FROM HERE
Meanwhile, back at Urban Oasis Farms, Johnson and Smith not only want to serve their community by growing (and preparing and serving) the freshest produce but also hope to encourage others to do the same. And although they built and customized their systems from scratch, premade systems are available and becoming more affordable.
"If you're living in your apartment in any urban city, and you don't have a backyard or maybe your patio doesn't have enough sunlight, you can buy a simple tower-hydroponics system to get started," Johnson says.
With their current production model, the couple estimates their water and electric bills run only a little higher than before they started farming indoors in a 125-square-foot spare room. They attribute those minimal increases to the inclusion of high-efficacy LED grow lights and the design of a recirculating hydroponic system that only needs to be topped off twice a week. The costs of seeds and the nutrient solutions for each crop are also part of their overhead.
In the future, Smith and Johnson hope to increase the resiliency of their system by incorporating solar panels and rainwater harvesting.
"I can go sit out on our balcony on the 26th floor, and all I see is white rooftops. I don't understand why every rooftop in downtown Dallas doesn't have a farm on top of it," Johnson says.
"This is literally enough space to feed everyone living in this area, and there would be almost no transportation costs," Smith adds.
In addition to reducing CO2, rooftop gardens can help lower the ambient temperature in urban areas while helping regulate the indoor temperatures—while at the same time reducing energy needs and increasing biodiversity in the city.
"It's almost like having a baby or a puppy," Johnson says. "You really do have to take care of them, but it's worth it if you put in the effort."
Daniel Cunningham, Horticulturist with Texas A&M AgriLife's Water University program. His primary focus is a holistic approach to landscaping and food production systems. Cunningham specializes in Texas native plants and trees, vegetable gardening, edible landscaping, rainwater harvesting and is passionate about utilizing landscapes as habitat for benecial wildlife. For more gardening advice om Daniel, tune in to NBC DFW (Channel 5) on Sunday mornings or ask @TxPlantGuy on Facebook, Twitter or Instagram.