Photography: Teresa Rafidi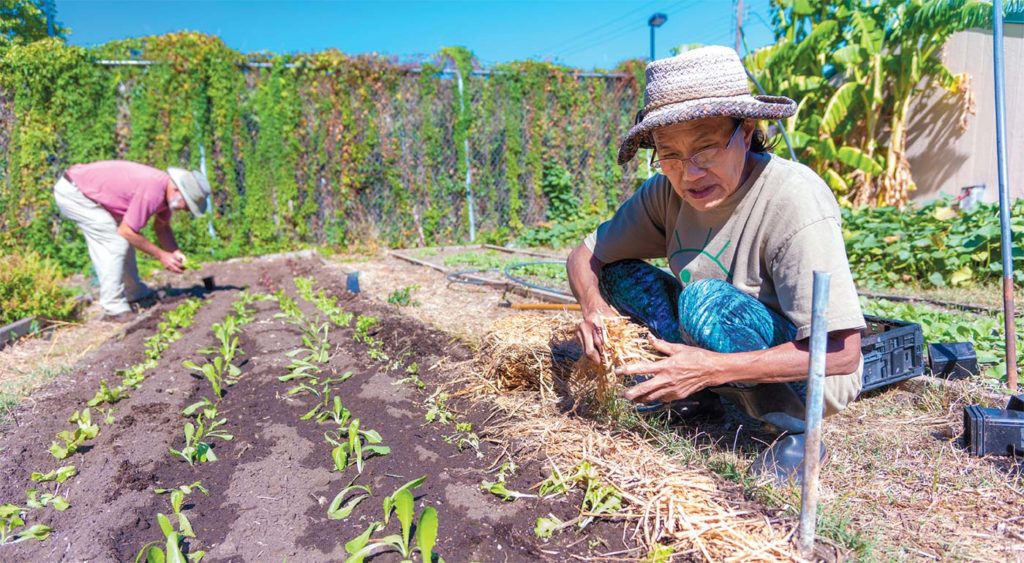 Every gardening season has its challenges—unpredictable weather, irregular rainfall patterns, pests and disease outbreaks. As summer's brutal heat lingered into fall this year, some gardeners were ready to throw in the trowel. Thankfully, a North Texas winter, particularly if it's mild, means a fourth growing season—an often-forgotten one that just might top them all.
When the weather cools down, gardening tasks get easier, says longtime community gardening activist Don Lambert. The founder of the non-profit Gardeners in Community Development jokes that during this fall's record-breaking hot weather, he considered only gardening in the winter.
"Cool-weather gardening has major benefits," says Lambert. "Harmful insects aren't as active, water demands are lessened, and most of the time, it's pleasant to work outdoors."
Harvesting when temperatures are lower also results in less wilting and crisper, sweeter, cool-season veggies. Less spoilage equals higher yields as well.
According to Lambert, a few well-timed frosts actually make some of his favorite vegetables—like mustards, kales, turnips, daikon radish and leaf lettuces—taste better. Cool-season crops, like brassicas and lettuces, are more tender and flavorful in cool weather, he says. Especially when exposed to mild frosts.
Thankfully, a North Texas winter, particularly if it's mild, means a fourth growing season—an often-forgotten one that just might top them all.
PREPARATION
As with every season, preparation is the key to success. For a winter garden, that means getting most of your plants established before the weather changes. Ideally, much of that work happens in early fall when the soil temperatures allow for higher germination percentages.
While different plants require various minimum soil temperatures for seeds to take root, cool-season crops will generally germinate and develop more quickly when soil temperatures are still around 65°F. By late November, when soil temperatures have dropped to around 55°F, these seedlings will grow at a slower pace than their siblings planted earlier in the fall.
The goal is to give plants as much time to mature as possible before air temperatures drop below 32°F. Nothing will survive the winter cold, says Lambert, if it's not well established and growing well before cold weather arrives.
If you've missed this planting window, chill out for a while and remember—cool-season crops like brassicas, spinach, beets and radishes can be planted again with success in February as soil temperatures begin to warm again.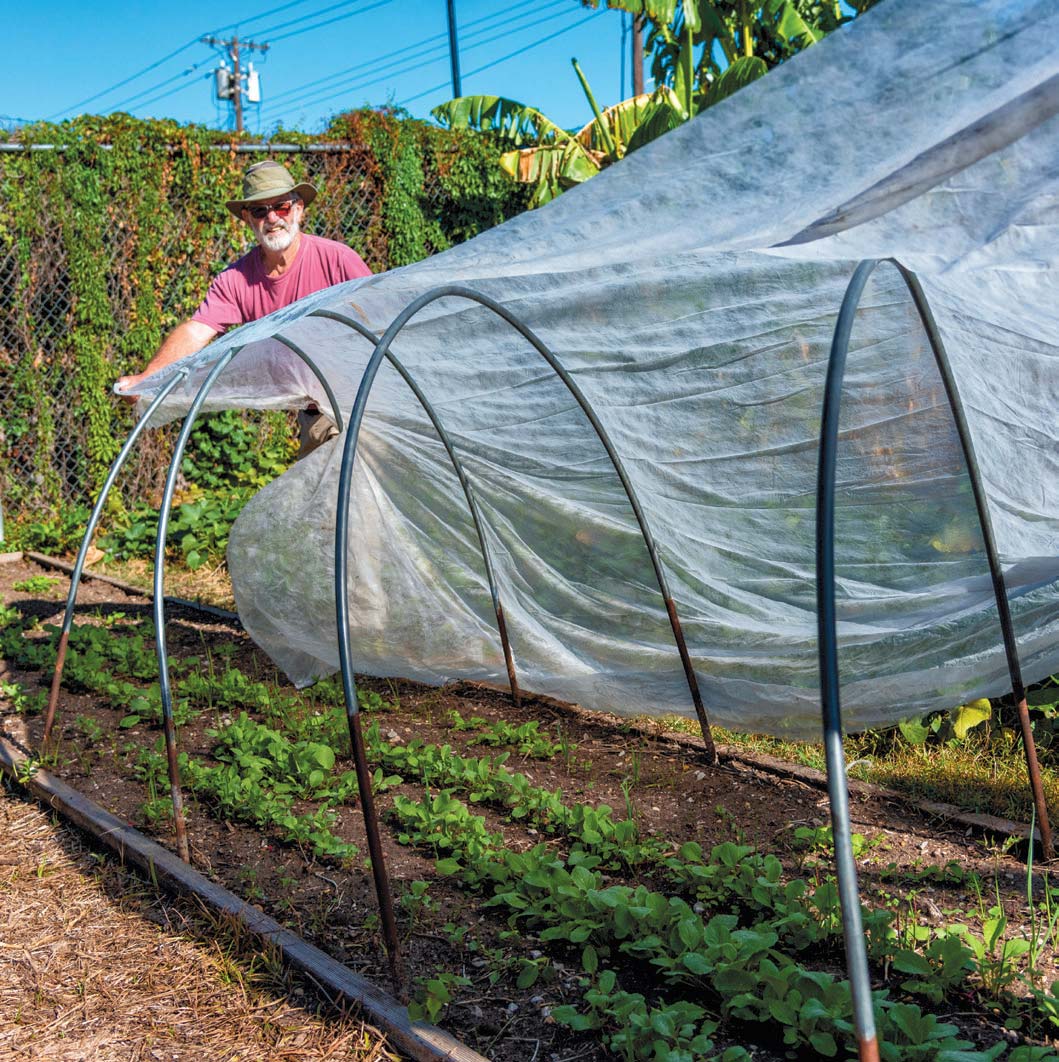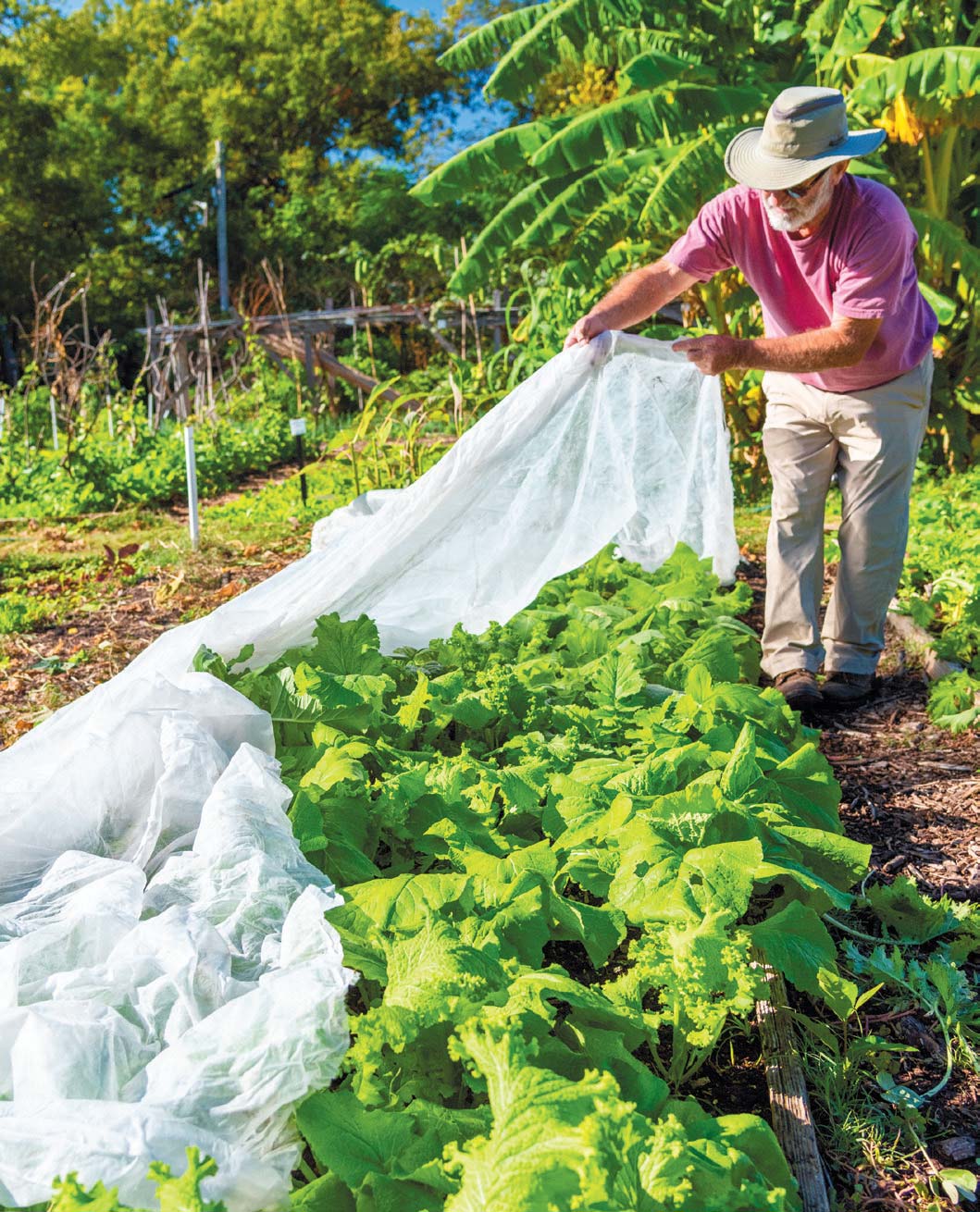 PROTECTION
The biggest challenge of gardening in the fourth season is freezing weather—about 33 days per season in the DFW area. To give a layer of protection, fruitful winter gardeners, like Lambert, utilize row covers to keep the soil warm and protect tender crops during long-lasting cold spells. There's not one set-up that's perfect for every situation, but here are some options to consider.
Structured or unstructured?
A hoop house or low tunnel: A row cover supported by a ribbed framework of metal or PVC hoops can be installed over individual garden rows, in-ground vegetable beds or raised beds. To keep it from touching fragile florets and leaves, the row cover— plastic sheeting or a frost cloth—is stretched over the frame and used for the duration of the winter season until the danger of the last frost has passed.
Floating row cover: A row cover can be "floated" directly over an entire area of leafy-topped root crops and flexible young leafy greens without any kind of support system. To avoid damaging the plants, lightweight frost fabric must be used. This can also aid in protecting against pests during the spring, but the thinner fabric doesn't offer as much frost protection as other methods. Plastic or cloth? The answer depends on the need and the crop that's being protected.
Cloth row covers: This typically white, polypropylene fabric helps extend the season by giving 5 to 8°F of added frost protection, depending on thickness. The open-weave allows the sun's rays to penetrate during the day, trapping in warmth for when the temperature falls at night. This breathable fabric also keeps excessive heat and moisture from building up on warm winter days, though venting may still be necessary to keep the undercover temps from getting too high.
Frost cloths come in a variety of thicknesses, ranging from light to heavy-weight. Each has its own merit, depending on the needs of the garden. Heavier fabric adds more protection from the cold and is more durable, but it lets in less light and moisture. Lighter, more breathable fabric lets in more sun and water but tends to tear more easily and doesn't add as much frost protection.
Clear plastic sheeting: Plastic row covers work like a mini greenhouse and are even more effective at trapping heat and protecting plants from cold temperatures. But with our region's propensity for sunny winter days, care must be taken to monitor and vent this covering daily. On a bright 65°F winter day, the greenhouse effect in an unvented plastic row cover could create temperatures above 95°F, an environment too hot and humid for mature winter vegetables. However, if you're trying to start seeds in November, late January, even February, or if we have extended, extremely cold weather, plastic row covers might be your best bet.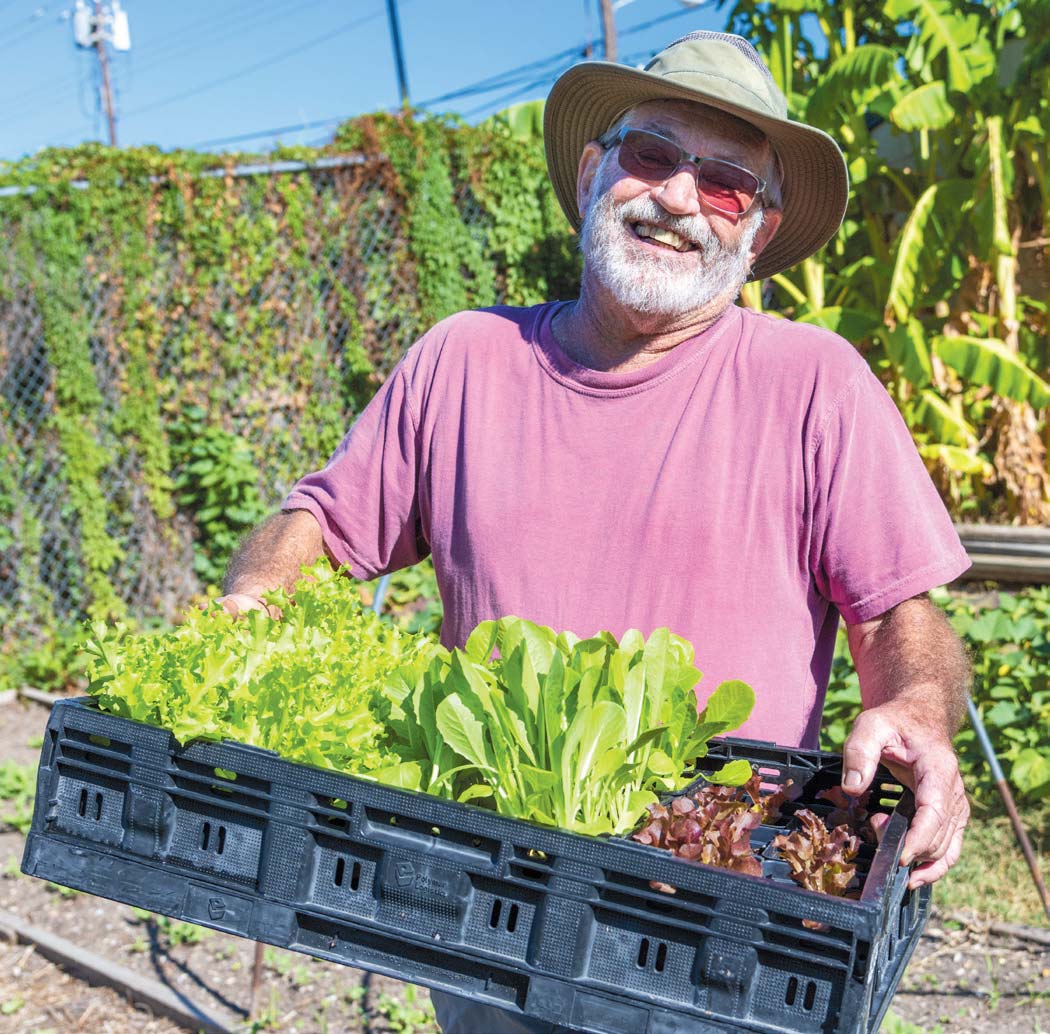 A PAUSE IN PLANTING
As we creep into the depths of winter and the days get shorter and temperatures colder, there are some limitations as to what the cool-season gardener can achieve. From mid-December through mid-January it's a bit too cold to start seeds outside and get good germination, even with added protection. Most transplants put out during this time would be too tender to survive a cold snap and restricted to slow growth because of winter's short daylight hours.
During this lull, in addition to harvesting crops already in the ground, it's a perfect time to tackle any garden tasks that are more difficult to perform in the heat. Lambert uses this time for making compost, deep mulching, building new beds and structures. It's also a perfect time for ordering and inventorying seeds for late winter and spring plantings.
TIPS FOR PROTECTING WINTER CROPS BEFORE A FREEZE
Here are a few extra measures to keep Jack Frost at bay.
Irrigate: Watering the day before a hard freeze allows enough time for moisture to be absorbed into the plant's cells, and it works to help insulate against frost damage. Though moist soil helps your plants retain heat, avoid overwatering or watering the leaves. Also, don't forget to shut off the water and protect faucets after you irrigate.
Mulch: Spread a 4-inch layer of straw or leaves around winter vegetables to help insulate the soil and protect roots. Be sure to leave a space between the base of the plant and the mulch. A mulch "volcano" can restrict airflow and help contribute to fungal issues.
Harvest: If extreme temperatures are predicted over an extended period of time (four or more days), consider harvesting leafy crops to ensure some yields and avoid losses due to frost damage. This can be a hard decision to make at times, but something is better than nothing in this case. Remain hopeful a er extreme weather events. Many cool-season crops are surprisingly resilient— and that's SNOW joke! My list of cold-hardy vegetables is included online at edibledfw.com.
Daniel Cunningham, Horticulturist with Texas A&M AgriLife's Water University program. His primary focus is a holistic approach to landscaping and food production systems. Cunningham specializes in Texas native plants and trees, vegetable gardening, edible landscaping, rainwater harvesting and is passionate about utilizing landscapes as habitat for benecial wildlife. For more gardening advice om Daniel, tune in to NBC DFW (Channel 5) on Sunday mornings or ask @TxPlantGuy on Facebook, Twitter or Instagram.