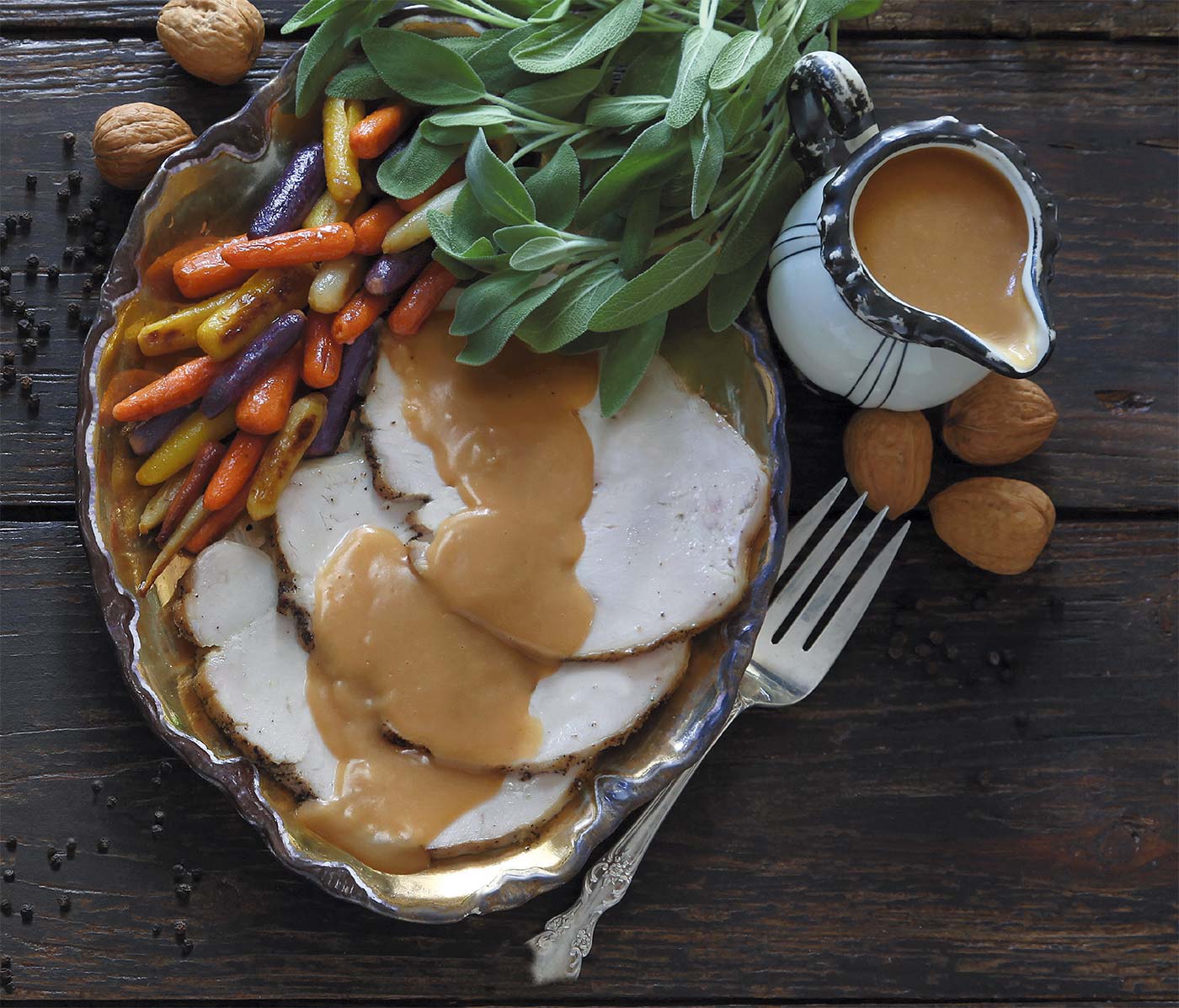 Cream (Pan) Gravy is a Texas tradition on mashed potatoes with chicken-fried steak and fried chicken. For breakfast, add some crisp sausage crumbles, and gravy slathered over split biscuits becomes breakfast. This recipe assumes you've fried something—such as chicken, sausage crumbles or bacon—and have pan drippings.
2 cups stock or water plus 1 cup whole milk or half-and-half OR
3 cups stock or water
3 tablespoons pan drippings (add cooking oil if needed to make
3 tablespoons) or cooking oil
3 tablespoons all-purpose or instant flour
1 teaspoon freshly ground black pepper
Salt to taste
In a small saucepan over medium heat, bring stock or water to a boil. Remove from heat. Place milk or half-and-half in microwave-safe measuring cup. Microwave on high for 30 seconds to 1 minute, or until hot. Set these aside.
Depending upon the amount of drippings in the skillet, remove excess to leave 3 tablespoons in the pan or add oil as needed to make 3 tablespoons. Place skillet over medium heat. When drippings/oil shimmer, gradually add flour, whisking constantly. Scrape up any brown bits that cling to the bottom of the skillet.
Continue to stir while the roux bubbles and turns a light blonde color for cream gravy. For brown gravy, cook longer, until the color of dark café au lait. Gradually whisk in the warm stock or water, bring to a boil, then lower the heat so the gravy is at a bare simmer. Whisk in warm milk or half-and- half for cream gravy. Cook just until thickened, 2 to 3 minutes. Add black pepper and salt to taste. Keep warm until ready to serve.
Dotty Griffith is the author of THE TEXAS HOLIDAY COOKBOOK - Second Edition ©2013, Taylor Trade Publishing.