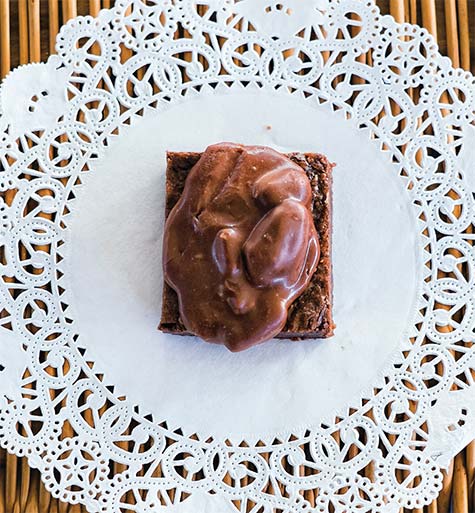 Photography by Hoyoung Lee
"You should sell this!" If you're the darling of the bake sale, the gift-giver who frequently hears this compliment, you may be hearing the siren song of selling your specialty. In the last several years, legislation enacted in Texas (i.e. the Texas Cottage Food Law) has made it easier for home cooks to sell baked goods and preserves, allowing preparation in home kitchens for items sold directly to consumers.
But it's not as easy as whipping up a batch of Grandma's fudge and setting up a card table. Still, whether under the Cottage Law or via traditional means, establishing a food business involves a gauntlet of research, inspection and permitting challenges, not to mention general business to-dos.
Local farmers markets and community business development agencies are reaching out to prospects to educate and support them through the process of artisan food business start-up. We gathered some insight from four local small batch producers who are up and running, each taking a different approach, willing to share their advice.
In the last couple of years, legislation enacted
in Texas has made it easier for home cooks
to sell baked goods and preserves.
LISA AND MARK BRETTMAN
OF THE BROWNIE COTTAGE
thebrowniecottage.com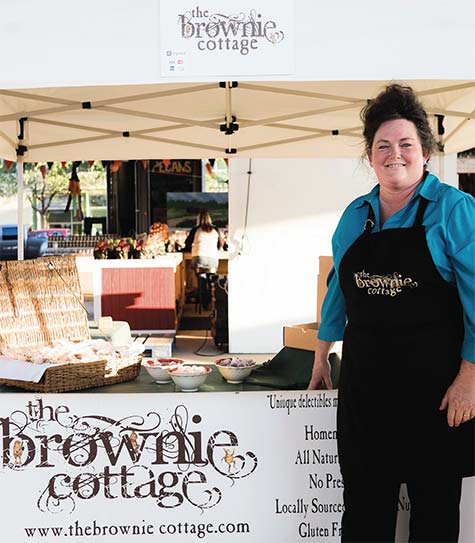 Products: Sweet brownies and savory brownies made with all natural, preservative-free, organic ingredients; some gluten-free items.
Superstars: Classic chocolate brownies with Texas pecans; "wellness" brownies made with folk medicine ingredients such as elderberry, hibiscus and chamomile; and Bella, a savory brownie made with portobello mushrooms, white truffle oil, coriander and vanilla.
Sold at: Dallas Farmers Market and Farmshop in Fairview.
Production Path: Home kitchen under the Cottage Food Law, in the process of transitioning to a commercial kitchen.
Background: An allergy to food preservatives prompted Lisa Brettman to adopt an organic Paleo diet a few years ago. An avid cook who is originally from Louisiana, she began experimenting with making foods without dyes or preservatives, including brownies sweet and savory, made with pecans and honey from Texas and extracts and colorings from fresh fruits and vegetables.
When she retired from working for a non-profit organization in 2013, she decided to go commercial selling her brownies with the help of her husband, Mark. An accountant by training, she researched the business aspects. Due to the nature of her product, renting a commercial kitchen at the going rate of $25 per hour was prohibitively expensive.
"Brownies are temperamental. They need to rest for several hours before packaging," she explains. The Brettmans added shelving and workspace to their home kitchen to go the Cottage Law route, put together a package of samples and landed a spot in the Dallas Farmers Market. Rapid success there has led them to seek their own commercial kitchen. Lisa found a closed down restaurant near the market willing to allow her to fix it up to lease for production. "The Cottage Law enabled me to test the brownie business ahead. Now I'm willing to take the financial risk of investing in my own kitchen," she notes.
Advice to others: Bite the bullet, don't be scared, bake it, get out there and see if the public likes it.
VICKIE AND STEVE SMOLEK
OF GRAPEVINE GRAINS
grapevinegrains.com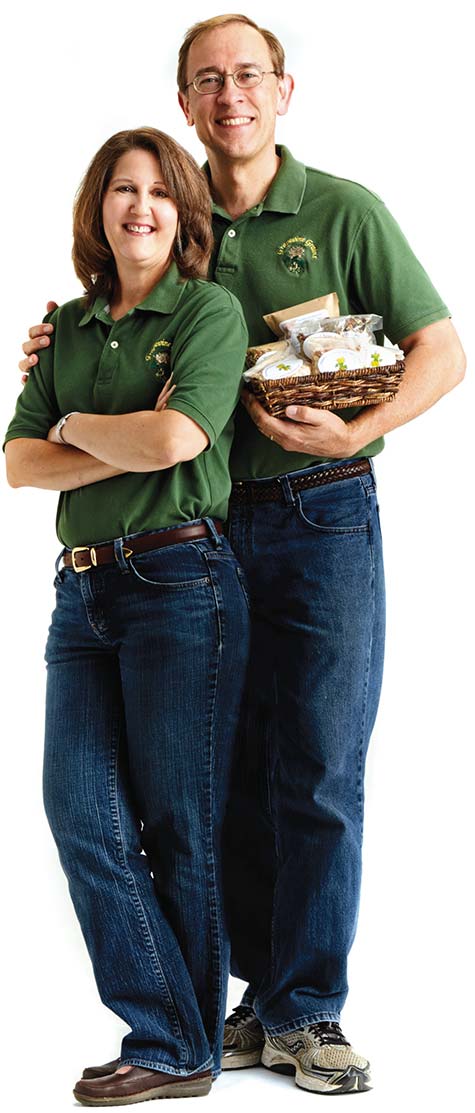 photo by Andrew Vracin, courtesy of Artizone.com
Products: Granolas, muesli, oatmeal and soup mixes made with beans, lentils and organic sprouted grains. Superstars: Hulless Barley, Ezekiel Soup Mix and Southwestern Soup Mix.
Production path: Hourly rental of catering kitchen to church kitchen to building their own commercial kitchen.
Available at: Grapevinegrains.com, Coppell Farmers Market, White Rock Local Market, Local Yocal, Green Grocers, Urban Acres, Homestead Farms, Bolsa, Buon Giorno Coffee in Fort Worth and Artizone.com.
Background: A stint in England where Vickie was exposed to freshly milled grains and rolled oats inspired the proprietress of Grapevine Grains. When she moved to North Texas and met her husband-to-be, Steve, the seeds of a business featuring such high quality grains had already sprouted. In 2008, Vickie and Steve began production in rented commercial kitchen space in Grapevine, selling first at farmers markets, then specialty shops, and then picking up coffee shops with bulk granola and a line of single-serving oatmeal bowls.
The time and effort spent traveling and hauling to a leased kitchen was problematic enough that early on they began looking for equipment at auction with an eye toward eventually investing the $30,000-40,000 it would take to open their own space. When a flood in their rented church kitchen left them scrambling, they made the jump, moving to a home site in East Texas where costs were lower. They opened their own kitchen this past June. "It is a huge leap for our capacity and has given us so much more time." What's the next step for this producer? "Pitching larger stores such as Central Market."
Vickie's advice to others: Before you plunge in, look at what it's going to mean to be in business. Fifty percent is having a great product, but you also need to source, package, advertise, insure and fund that business. First, decide what your priority is and stick with that. Ours is fresh and high quality products. Second, do your research and network. A great place to start is people in your farmers markets and other small business owners. We also have clients that are our test group for new products. Third, as they say on TV's Shark Tank, "a business doesn't really grow unless it's a full-time deal."
KELLY AND JIM TERRELL
OF THE HAPPY CUCUMBER
thehappycucumber.com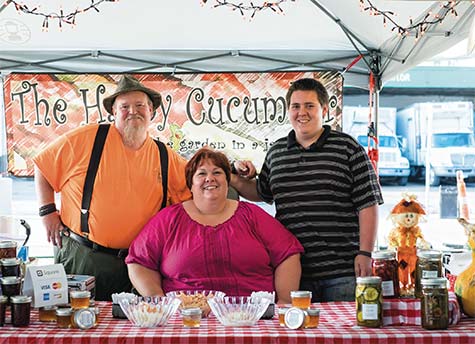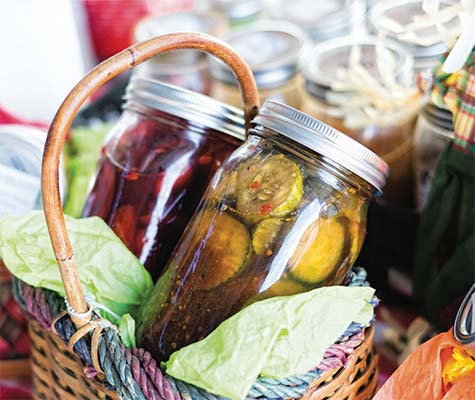 Products: Jellies, jams, preserves, pickles and relishes and dehydrated snacks, including sugar free.
Superstars: Texas Barbecue Pickles, Pineapple Habañero Jam, Peach Cobbler jam.
Production path: Home kitchen under the Texas Cottage Food Law in process of transitioning to a commercial kitchen co-op.
Sold at: Dallas Farmers Market and Farmshop Center, Fairview.
Background: A 2009 home schooling lesson in food preservation launched Kelly and Jim Terrell's love of canning, she in jams, he in pickles. They had filled two closets with their home-cooked wares when Jim's mother suggested they host a booth at her church bake sale. Quickly selling out, the couple was hooked.
After much Internet research and guidance from the City of Garland, they began operating under the Texas Cottage Food Law and vending at the Marketplace in Mesquite farmers market. In June 2014, they moved to the Dallas Farmers Market where they now sell their ever-changing array of preserves and pickles with the help of their children Robby and Katherine.
"We source as much as we can from local farmers and use only ingredients I can pronounce, " said Kelly. Warmly received, they will soon be bumping the income restrictions of the Cottage Law and are in the process of moving production to a co-op kitchen near the Market to expand their capacity. The ongoing support from Dallas Farmers Market staff with items such as social media has been invaluable to their success. Looking at retail outlets will be the next step for The Happy Cucumber.
Advice to others: Do your research, price check competitors and don't be afraid to charge what your product is worth. Share your stories of where the recipes came from with your customers—people love to hear if it's a family recipe or something you created yourself. Enjoy the process and have fun.
TAMIE HOFFMAN OF TEXAS BRITTLES
texasbrittles.com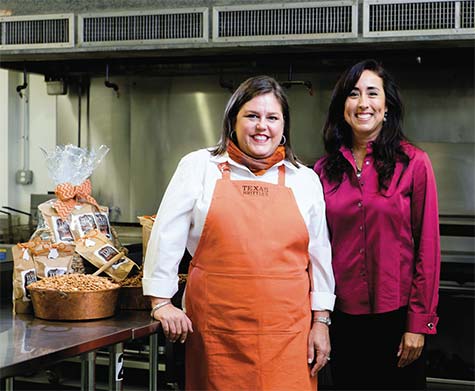 Texas Brittles' Tamie Hoffman with Raquel Mireles,
owner of Culinary Kitchen and Beyond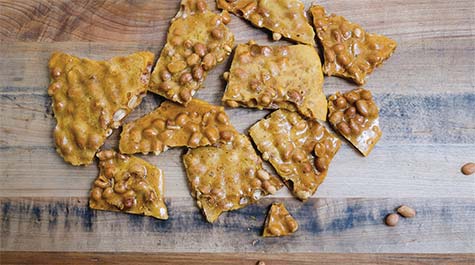 Peanut Brittle made with Spanish peanuts from Oklahoma.
Product: Preservative-free brittle candies made with West Texas pecans, Spanish peanuts from Oklahoma, and organic butter and sugar.
Superstars: Pecan Pie Brittle, Jalapeño Peanut Brittle.
Production Path: Commercial kitchen rental.
Sold at: texasbrittles.com, Local Yocal, Artizone.com Background: SMU Business School grad Tamie Hoff man's background in retail management, including eight years with Williams- Sonoma, gave her confi dence she could make a competitive artisan food product. Th e self-professed "nut snob" grew up in Wichita Falls eating food straight from her grandparents' farm, including pecan and peanut brittle made with fresh local nuts. When she began researching ways to market her nostalgic candies, she found resources in Collin County.
"Th is was the smartest thing I did," said the Frisco resident. "Kelly DeWitt, an advisor with the Collin Small Business Development Center in Plano, walked me through everything I needed to know: how to form an LLC or DBA, how to fi le tax info, how to get a sales tax certifi cate, a budget, etc." Even before production, she estimates it took $3000-4000 to fund fees, licensing, setting up accounting and a modest website, insurance (required by farmers markets), and graphic design for packaging.
She wanted the opportunity to sell to retail shops, not permitted under Cottage Law production, so she sought rental space in a commercial kitchen, signing up with Culinary Kitchen and Beyond.
"I can't say enough good things about the owner Raquel Mireles," she said. "Her kitchen is immaculate and well run, and she organizes events to get the producers together to share information and sources."
Tamie began selling her candies at the Frisco Farmers Market and via her website. Later, she got retail space at Local Yocal in McKinney and began making local appearances at Williams-Sonoma stores. Recently, she signed up with Artizone.com, a homedelivery service.
Advice to others: Ask for help from small business advisory services in your area. And, coming from a retailing background, she says that packaging is important. Don't skimp on hiring a reputable graphic designer to create a logo, labels and signage.
WHAT IS THE TEXAS COTTAGE FOOD LAW?
Briefly stated, the Texas Cottage Food Law, enacted September 1, 2013, allows foods considered "non-hazardous" to be made in a home kitchen and sold from a home, at farmers markets and at not-for-profi t events. Permissible foods include breads, muffi ns, cakes, cookies, candies, canned jams and jellies, popcorn, granola, vinegar, pickles and dried herbs. Sales are subject to labeling requirements. Internet and sales to wholesale outlets are prohibited. There is a sales cap of $50, 000 per year. Run it by a qualified attorney to make sure you're clear on the restrictions. Details on the Texas Department of Health Services website: dshs.state.tx.us/foodestablishments/cottagefood.
RESOURCES
Area Farmers Markets: See Resources at edibledfw.com
Small Business Development Help: North Texas Small Business Development Centers, a network of entities set up to assist individuals in starting up small businesses. ntsbdc.org/what_is.shtml
Commercial Culinary Kitchens: Renting space in a health-permitted facility that meets health and safety standards for food production. Catering kitchens, church kitchens and restaurants that do not use their kitchens full time oft en off er rental of their facilities during off hours. There are also several facilities in town solely dedicated to rental use, some of which off er incubator consulting and networking support for startups:
Culinary Kitchen and Beyond, 2156 W. Northwest Hwy, Suite #312, Dallas, (972) 365-1027, culinarykitchenandbeyond.com
Elixir Kitchen Space, 3789 N. Beach St., Ste. 209, Fort Worth, (817) 658-9119, elixirkitchenspace.com
Hour Kitchen, 209 Main Street, Garland, (214) 227-4687, hourkitchendallas.com
Perfect Temper Kitchen, 6900 Alma Dr. #140, Plano, (214) 699- 1114, perfecttemper.com
VALERIE JARVIE is a Dallas-based freelance food writer. She holds a BBA in Finance from the University of Texas at Austin and became a stay-at-home mom in 1989. Having grown up in a family in which the nightly dinner together was considered sacred, her creative outlet became developing culinary expertise to share with her own growing family and friends. As an extension of this, Valerie began writing articles profiling home cooks and chefs for area publications when her children were small, working mostly while waiting in the carpool line at school. Now that her kids are almost grown, she especially appreciates the value of sharing with little ones this very important enhancement to life.