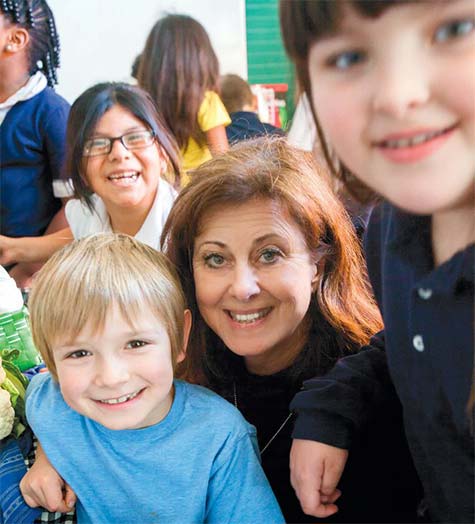 Ms. Dry and students
Photography by Melinda Ortley
Do you think the phrase "kid's meal" automatically translates to chicken nuggets and fries?
Think again. There's a classroom of second-graders at Alex Sanger Elementary School in East Dallas who want fresh vegetables and fruit on their plates—preferably in a rainbow of colors!
"I like broccoli, cucumbers, strawberries, carrots and cauliflower," said Brandon, one of an energetic group of seven and eight-year olds who have been learning about organic vegetables and fruits this year as part of their curriculum. About twice a month, their teacher, Elizabeth Dry, weaves the message of the importance of healthy eating and appreciation for local farmers into their lessons.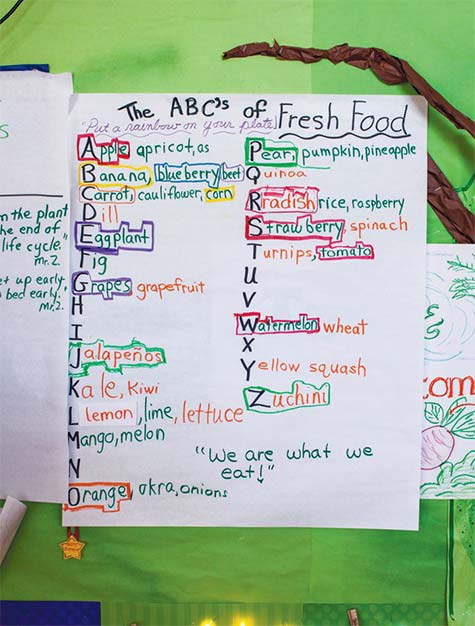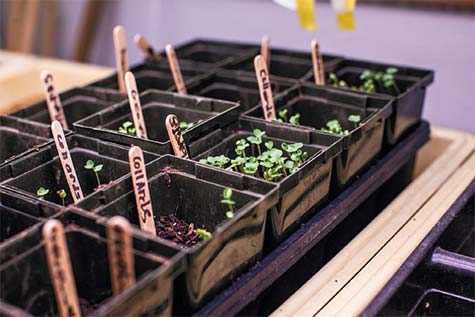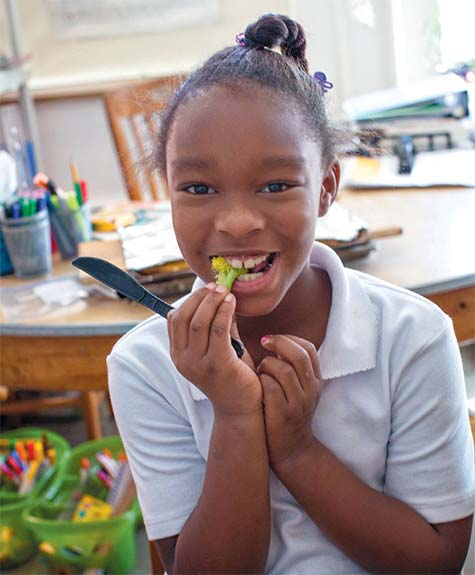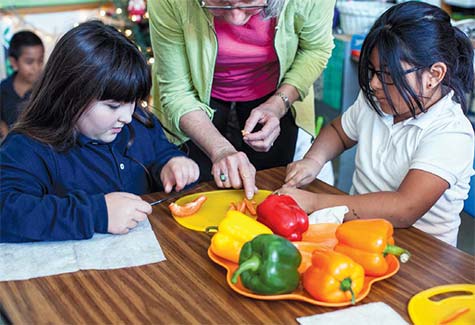 In Ms. Dry's Wizard of Oz-themed classroom, there's a rainbow of colorful produce represented in posters and displays celebrating fresh food and farming. The students read themed stories, write poetry, create art, see presentations from visiting farmers, study plants and, yes (!) eat fresh produce, some of which they've grown themselves in classroom planters and the school's on-site garden.
On a recent afternoon, many of the children divided into teams of two to cut fresh red, orange, yellow and green bell peppers to top their afternoon snack—pizza made with a healthy cauliflower crust. Other students cut pictures of fruits and vegetables from magazines to make photo collages on paper plates, illustrating the rainbow of colors to be found in fresh produce. With the help of a volunteer who brought in pre-baked crust and set up a festive serving table, the class enjoyed a petite feast of veggie pizza, blueberries, pineapple and sparkling water flavored with organic lemonade while talking about what they learned and like about food.
"Farmers love what they plant," said Angel.
"I like the farmers," added Sasha. "They grow food they don't put chemicals in."
"This food is healthy and nutritious," said her classmate Zacoria.
"You can savor the flavor, and it is yummy."
"It gives you more energy," notes Asha, another student.
"Sometimes when you cut a vegetable, you find a surprise inside," said Oliver, beaming as he unveiled a tiny baby pepper growing inside the pepper he halved.
Veteran teacher Dry, who's been working in education in varied roles for 39 years, introduced the healthy eating emphasis into her classroom at Alex Sanger five years ago. "I noticed a correlation between struggling learners and the diet I observed them eating— soda, chips and packaged foods," says Dry. "Usually, the children I identified were having attention issues, behavioral problems, a lack of stamina and were also below grade level in their academics. As I began introducing healthy foods, I observed a difference in the children's demeanor—even as we were preparing and enjoying the fresh food, the room would take on a more peaceful and respectful vibe. I believe it's truly important to show kids how growing and preparing fresh food with their families can bring a family together and result in healthier, happier lives and enhance their overall success."
Aside from teaching, Dry is also Executive Director of Promise of Peace Garden in East Dallas, a community garden which hosts frequent children's events. Many of her students take part in activities there, expanding on their experience in the classroom.
Advice she offers to parents and teachers who want to promote an interest in healthy eating in little ones is to involve them in gardening. "I am constantly inspired by the hope I see in the eyes of children in the garden," she said. "The wonderment that transpires as we look at a simple little seed grown into something we can eat and share with one another. It is the most powerful transformation in the world and I believe that is transforming to the human spirit."
Following their pizza feast at the school, the children help to clean up. A few vegetable scraps go to Marshmallow, the class guinea pig, who cavorts in her cage when they're added, much to the delight of the kids. Left over vegetable scraps go into a compost bin, "because not composting is wasteful," explains Zacoria. The children take turns with a microphone sharing with the class tankas, short Japanese- style poems they've written. Student Logan recites his: "Lead a healthy life. Put a rainbow on your plate. Savor our fresh food." How do the kids feel about their afternoon? "I love the vegetables," said Antonio. "This is a fun day for us. The best part is we get to eat and chop stuff ."
"It makes me feel excited and healthy," said Marley. "I love fresh foods and salads."
And what do they think about Ms. Dry?
"Ms. Dry inspires us to eat healthy food," Marley said.\
Antonio sums it up. "She's the best teacher ever."
CHILDREN'S BOOKS THAT PROMOTE HEALTHY EATING
City Green by DyAnne DiSalvo-Ryan
Brother Eagle, Sister Sky by Susan Jeffers
Inch by Inch by Leo Lionni
Plantzilla by Jerdine Nolen, Brian Keliher and David Catrow
The Gardener by Sarah Stewart and David Small
Tops and Bottoms by Janet Stevens
RECIPE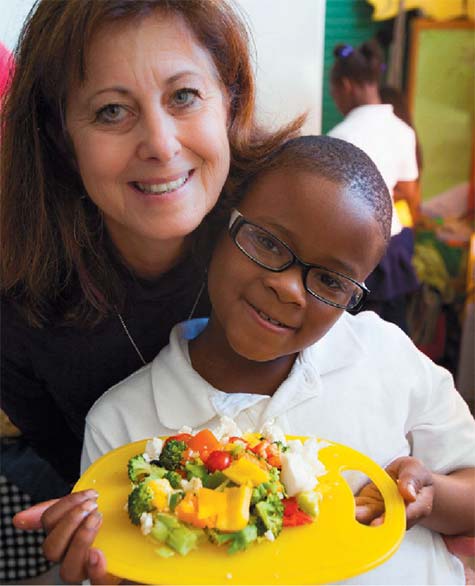 VALERIE JARVIE is a Dallas-based freelance food writer. She holds a BBA in Finance from the University of Texas at Austin and became a stay-at-home mom in 1989. Having grown up in a family in which the nightly dinner together was considered sacred, her creative outlet became developing culinary expertise to share with her own growing family and friends. As an extension of this, Valerie began writing articles profiling home cooks and chefs for area publications when her children were small, working mostly while waiting in the carpool line at school. Now that her kids are almost grown, she especially appreciates the value of sharing with little ones this very important enhancement to life.