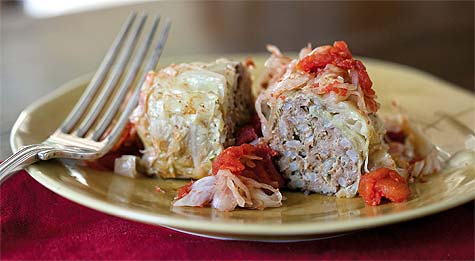 Serves 5-6
1 large head cabbage (green, red or Savoy)
1 teaspoon olive oil
1 pound ground beef
½ pound ground pork
½ cup uncooked rice
⅓ cup plain bread crumbs
2 large eggs
1 small onion, fi nely chopped
3 cloves garlic, minced
2 tablespoons chopped fl at leaf parsley
½ teaspoon paprika
⅛ teaspoon allspice
1 teaspoon kosher salt
½ teaspoon black pepper
1 ¾ cups (or one 14.5 ounce can) crushed tomatoes
3 cups sauerkraut (drained)
Sauce
1 can (14.5 ounce) tomato sauce
1 ¾ cups (or one 14.5 ounce can) chopped tomatoes
1 cup reserved cabbage water or 1 cup chicken broth
2 tablespoons brown sugar
1 teaspoon kosher salt
½ teaspoon pepper
Optional garnish: ½ cup sour cream or crème fraiché
Preheat oven to 350 °F.
Remove the core from the stem end of cabbage head. Fill an extra large Dutch oven with water and bring water to boil on the stovetop. Place the head of cabbage into the water and cook for 5 minutes (or until outer leaves are pliable). Carefully take cabbage from water and remove layers of soft ened leaves. Set them aside to drain and cool on paper towels. Return remainder of cabbage to boiling water and repeat process until all leaves are removed. A large head should yield about 15 leaves. You will use 10-12 of the best for rolling. When leaves have cooled, trim the hard ribs on the base of each. (Don't cut—just shave with knife so the end will be soft enough to roll.)
Reserve 1 cup of cabbage water from pot. Discard remaining water and then grease the empty pot with olive oil. To prevent sticking, line the pot with a few of the extra outer leaves. Next, create a layer in the bottom with ⅓ of the sauerkraut and 1 can of crushed tomatoes.
In a large mixing bowl, combine (with your hands) the beef, pork, rice, bread crumbs, eggs, onion, garlic, parsley, paprika, allspice, salt and pepper. Combine thoroughly. On a work surface, shape the meat mixture into 10-12 oblong-shaped rolls (⅓-½ cup each, depending on size of leaf). Place shaped mixture on leaf and roll from thicker end, tucking in the sides as you wrap. Place wrapped leaves into the pot, seam side down on top of the sauerkraut/tomato layer. Fit them in snuggly then begin a second layer. Repeat until you run out of ingredients. Shred the remaining cabbage and sprinkle it on top of cabbage rolls. Put the remaining sauerkraut on top of the shredded cabbage.
In a mixing bowl, combine sauce ingredients. Pour sauce over sauerkraut, covering completely. Place a lid on the pot and bake in oven for 2-2½ hours. If desired, serve with a dollop of sour cream (or crème fraiché) and mashed potatoes.
Note: Remember last season's abundance of fresh tomatoes? If you canned some of those beauties, grab a jar from your cupboard. If not, go with store-bought— and vow to take a canning class next summer.
LISA ORWIG is a native Pennsylvanian who moved to Dallas 16 years ago. She writes about her life, traveling and food. When she's stuck in her writing, she often heads to the kitchen for inspiration. She loves to create homemade feasts for family and friends, and her cooking is influenced by her Eastern European grandmother's old country recipes, her Italian heritage and her world travels. She lives between Dallas, New Orleans and Taos, New Mexico with her partner, their 3 dogs and 5 cats.