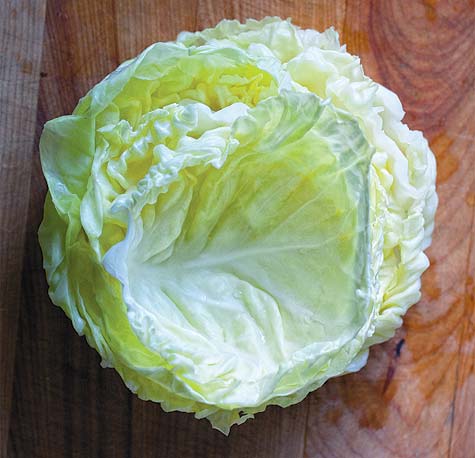 PHOTOGRAPHY BY KELLY YANDELL
"The time has come," The Walrus said, "To talk of many things: Of shoes—and ships— and sealing-wax— of cabbages—and kings—" – Lewis Carroll, Through the Looking-Glass
The matriarchs of my family were fierce advocates of cabbage. My Slovenian grandmother and her sisters were first generation Americans and could turn a head of cabbage into a scrumptious feast with little effort and no recipe.
Gram spent the summers with my family in the rural mountains of Pennsylvania, not far from the farm where she grew up. Many days, I stood beside her in the galley kitchen of our ranch house watching her gnarled arthritic hands wrap a concoction of ground beef, pork, onions and rice into thin leaves of cabbage. She called these savory gems halupki, otherwise known as stuffed cabbage or pigs in the blanket.
She mixed and rolled her own dough for perogies—dough pockets stuffed with a myriad of ingredients, always a dozen full of cabbage. My dad's favorite was her halushki, a divine mix of cabbage, onions and handmade dumplings.
Curious about cooking from an early age, I'd help her in the kitchen and ask, "Gram, how much fl our do you use for the dough?"
"This much," she'd say in her broken English, as she held out her cupped hand to show me the heaped mound of white powder.
Thankfully, at a later age, I wrote down her recipes using approximations based on the hands full of ingredients she'd shown me.
No matter what she cooked, I loved the way Gram made our house smell with her old-world recipes.
Cabbage is a member of the cruciferous family of vegetables known as brassica oleracea. Other members of this group of vegetables include cauliflower, Brussels sprouts, kale, broccoli and collards. In the wild, cabbage is native to the Mediterranean areas of Europe, and early plants had loose leaves similar to kale. Through hundreds of years of propagation, the tightly packed cabbage head was born. It was brought to the Americas in the early 1500s by the French explorer Jacques Cartier.
There are many varieties of cabbage including the pale green and purple kind, Savoy, which has curly crimped leaves, Napa cabbage and bok choy. Cabbage can be found in a diverse assortment of recipes from Ukrainian Borscht soup, coleslaw, stir fries, and as an ingredient in several Irish favorites like colcannon, a potato and cabbage dish, and corned beef and cabbage. Sauerkraut and pork was another favorite in my family. There is also the popular Korean kimchi, a pickled, somewhat sweet and spicy cabbage side dish. Cabbage is rich in vitamin C, iron, calcium, potassium, fiber and is low in calories. It contains phytochemicals called indoles, which may help fight cancer. Its strong odor comes from the vegetable's natural sulphur, a nutrient that helps fight off infections. The ancient Romans bound their wounds in cabbage leaves to promote healing.
Growing cabbage is an easy and rewarding adventure for winter gardeners in North Texas. It can be planted in the fall and harvested in the winter months. My early efforts at growing winter crops proved fruitful with my first cabbage head being ready on New Year's Day. Like my grandmother, I harvested that cabbage and rolled up some halupki because New Year's wouldn't be complete without it.
RECIPES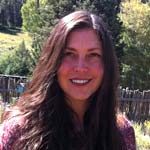 LISA ORWIG is a native Pennsylvanian who moved to Dallas 16 years ago. She writes about her life, traveling and food. When she's stuck in her writing, she often heads to the kitchen for inspiration. She loves to create homemade feasts for family and friends, and her cooking is influenced by her Eastern European grandmother's old country recipes, her Italian heritage and her world travels. She lives between Dallas, New Orleans and Taos, New Mexico with her partner, their 3 dogs and 5 cats.