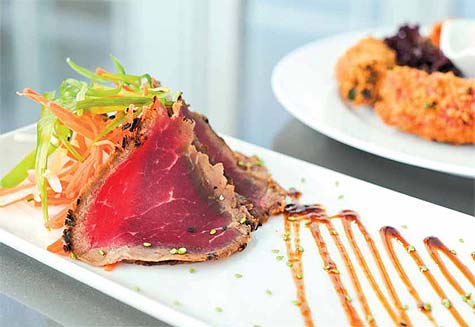 Photography by Matthew Rainwater
What does a bushel basket of North Texas tomatoes have in common with a whimsical painting of olives? The answer can be found at Café Modern, the sleek urban eatery at the Modern Art Museum of Fort Worth. Sharing soaring glass walls with Rothko and Pollock, Warhol and Picasso, Café Modern features a menu inspired by farmers, artists and the changing of the seasons.
After a month-long retooling of its space and menu offerings, Café Modern is now more than ever a sought-after reservation. Its serene elliptical dining room is a beautiful oasis that gives patrons the illusion of being adrift on its vast reflecting pool. And Executive Chef Dena Peterson's cuisine only adds to the blissful mood.
Her kitchen utilizes fresh herbs and vegetables from a small onsite garden, fresh produce from the Cowtown Farmers Market, cheeses from farmers in Flower Mound and Waco, and then there's the beef from Pittsburg—Texas. Sourcing locally is a mandate Peterson has set forth in her restaurant, and the challenge of finding qualified vendors and maintaining a seasonal menu keeps the Modern's chef of seven years busy.
"I'm constantly on the lookout for new sources," says Chef Peterson.
She is not alone. Many seasoned Fort Worth chefs are on the hunt for ultra-fresh ingredients. But it's Peterson's quiet tenacity, coupled with her culinary talent, that is setting the chef and her venue apart.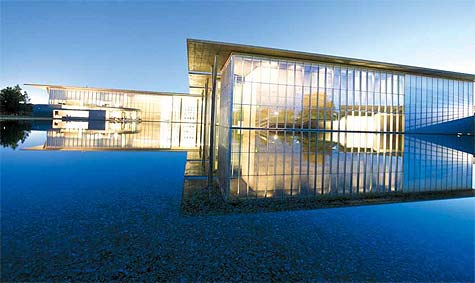 A recent lunch at Café Modern proves this point. A starter of Tomato Croquettes— crisp packets of breadcrumbs, tomatoes and sweet peppers with a tzatziki dipping sauce—are wonderfully simple in execution, but complex in layers of flavor. The tomatoes, a seductive match for the light batter, are offset by the coolness of the tzatziki. (Peterson has a standing order at the Cowtown Farmers Market for Farmer Payton Scott's tomatoes.)
The Kobe-style Wagyu beef in the Miso Beef Carpaccio, courtesy of Strube Ranch in Pittsburg, is revelatory. If melty were a real word, it would be the quintessential textural descriptor here. Buttery, too, is this protein, which Peterson skillfully pairs with sharp scallions and sweet teriyaki notes.
Other regional highlights include the Brazos Valley Montasio cheese in the pastrami and turkey sandwiches and the goat cheese from Latte Da Dairy in the Seafood Cheesecake.
A Fort Worth native, Chef Peterson's first job after graduating from the Culinary Institute of America in Hyde Park, New York, was in the test kitchen at Cooking Light magazine. She eventually found her way to New Orleans, where she worked at Bayona Restaurant with James Beard Award-winning chef Susan Spicer. She returned to her hometown in January of 2004 just in time to take the reins at Café Modern, then in its second year. Technically, she is employed by the restaurant's operator, Bon Appétit Management Company, a food services concern that also manages venues at The Art Institute of Chicago, The Getty Center and Villa in Los Angeles and the Seattle Art Museum. It's a good pairing. Both Peterson and Café Modern's corporate parent are firmly committed to promoting local food vendors.
Chef Peterson relishes feedback from customers and employees alike. With nine cooks on the line, that's a lot of input. As for customers, early reaction to her new menu has been positive, and she's always intrigued as to what makes a dish popular.
"Right now, the Bánh Mì sandwich is selling like hotcakes," she says.
Her take on the classic Vietnamese sandwich features garlic pork, pork paté, pickled carrot and daikon, cucumbers, cilantro and a spicy Sriracha mayonnaise. It's not a "safe" choice, Peterson says, referring to some customers' tendencies toward more everyday fare, like the burger or the pastrami sandwich, so its popularity has surprised her.
Peterson acknowledges that her role in guiding a restaurant in a museum is a bit different from being a chef somewhere else. Café Modern serves tourists, of course, who might be there to see Warhol but end up staying for the Italian Wedding Soup. But it also does a brisk lunch business with both the corporate crowd and the ladies-who-lunch. Peterson knows this, so she aims to provide diners with a diverse selection of food.
A new addition to the restaurant is a snazzy little bar with an artful cocktail menu. It replaces a previous walk-up coffee counter, and the change puts the venue more squarely on the radar in the area's busy bar scene. Now, on Friday nights, the museum can compete, offering dinner from 5-8 p.m., with the bar staying open until 10 p.m.
Chef Peterson found her inspiration for the bar menu in the museum's permanent collection. You might say it's a case of cocktail imitating art. Edward Ruscha's 1969 painting of a "Jar of Olives Falling," is the namesake of a signature martini that mixes gin and vodka with a touch of Lillet, a French apéritif. For brunch, there's Gilbert and George's "Mental" featuring vodka, triple sec, pineapple and passion fruit juices and champagne. Chef Peterson's favorite, the "Vortex," is named in honor of Richard Serra's twisted steel sculpture just outside the museum's entrance.
The drink includes vodka, brandy and maple syrup, all poured over a twist of candied bacon, an indulgent, but welcome touch. Bacon just might be Peterson's favorite ingredient. You'll find it atop the cheeseburger, in the sinfully amazing Maple Bacon Donuts and in her ridiculous (in a good way) Bacon-Wrapped Cinnamon Rolls on the weekend brunch menu. She gets her applewood-smoked bacon from Nueske's, the famed Wisconsin pork provider, but, wouldn't you know it, she's looking for a local source. She's even considering producing it herself.
And if homemade bacon isn't satisfying enough, the museum has an artistic alternative on canvas: Francis Bacon's provocative selfportrait. Like Farmer Scott's ripe tomatoes, Ruscha's flying olives and most everything else at the Modern, it's a feast for the senses. Café Modern at the Modern Art Museum of Fort Worth 817.840.2157 www.thecafemodern.com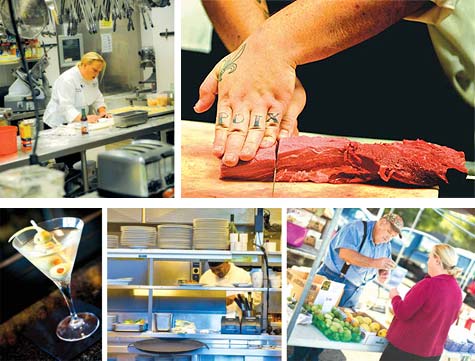 ANNA CAPLAN lives in Fort Worth with her husband Jeff, a sportswriter, and her son Gabe and daughter Maya. She is a part-time PR professional at the Amon Carter Museum and also covers the Fort Worth art scene for A + C (Arts and Culture magazine).