Locavore Leanings & Southern-Style Hospitality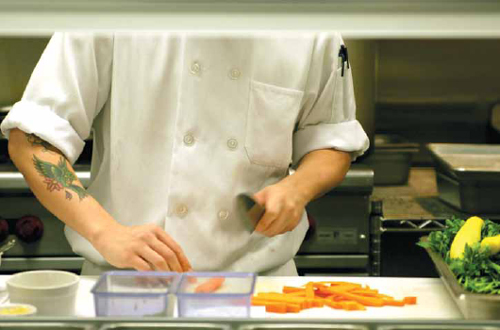 By Anna Caplan • Photographs by Richard Adams & Karen McCullough
Richard King held court recently at his Fort Worth Magnolia Avenue restaurant, Ellerbe Fine Foods, a four-month-old enterprise in a renovated 1920s gas station.
"I have to taste some wine now – it's a hard job," he says to a visitor, and quickly gets to the business at hand with a couple of vendors.
Soon after, a man in scrubs walks in and makes a hefty purchase for a new restaurant; two $100 gift cards. Shortly after that, a blue-collar worker wanders in for a couple of bottled waters.
An eclectic chain of events, no doubt, but tellingly emblematic of the instant success Ellerbe Fine Foods has managed to attain. In just a matter of months, King's and chef Molly McCook's venture has garnered near-universal appeal for its locavore leanings and Southern style hospitality.
"We looked for over a year [for this property]," says King, who recently took a few minutes to sit down on his restaurant's patio on a humid fall afternoon. "We saw three or four concepts, but we always came back to this spot."
King and McCook, natives of Shreveport, La., arrived in Fort Worth at different junctures. King has been here since 1994 and Chef Mc-Cook for a little over two years now. However both agreed instantly on a new restaurant idea. Feeling that the area was in need of a farmto-table concept, McCook, especially, called upon past experiences.
She served as sous chef under Suzanne Goin at Lucque in Los Angeles and worked with Gary Danko of Stars in San Francisco, both chefs whose culinary viewpoints are aligned with legendary chef/restaurateur Alice Waters. Their influence on McCook is apparent.
"People call me a Chez Panisse grandbaby," McCook says, referring to Waters' Berkeley, California landmark restaurant.
To that end, she makes twice-weekly trips to the Cowtown Farmers Market, supplemented by more trips to farmers markets in Haltom City and Dallas.
"I really design the menu based around what vegetables are coming in and then I pick the proteins," she explains.
The lunch and dinner menus change frequently to reflect both the season and McCook's artistic whims. A late-fall menu featured such items as roasted cauliflower soup with Brie crostini and Bella Vista truffle oil, Sugar Queen and Magnolia figs, with Mozzarella Company Burrata, shaved prosciutto and a balsamic reduction, and sautéed wild Alaskan halibut with faro, broccoli rabe, crème fraiche and a preserved lemon relish.
"I try to get as much as possible from the markets," McCook says of the produce she buys. "We have a story behind every vegetable on the plate … and you feel the love of the farmer."
Patrons feel the love flowing at Ellerbe as well. McCook and King take pride in their establishment and special touches abound, from the fresh-cut flowers on each table to the imported olive oil in the restaurant's market.
The latter is McCook and King's latest tangential project. Near the entrance to Ellerbe, an ever-expanding enclave houses unique regional foods. While it is no Central Market, the breadth of items is unusual. Country Living's Classic Pumpkin Pie in a Jar and Best-Ever Brownie Mix (both Heritage Family Specialty Foods Inc. out of Grand Prairie) share space with New Canaan Farms' (Dripping Springs, Texas) Raspberry Chipotle Sauce and Texas Traditions' (Georgetown, Texas) Jalapeno Pepper Jelly and Mesquite Smoke Mustard.
McCook and King aim to expand upon their grocery concept, too, offering daily to-go meals as well as prepared dishes and gift baskets. At Thanksgiving and Christmas, they will sell side dishes, "everything but the bird," as they say.
Clearly, the duo has bridged a culinary gap of sorts. By using butcher paper atop white tablecloths and restaurant-grade dishtowels instead of napkins, they've created a high-end restaurant that they hope families will enjoy. Witness the stack of high chairs in the corner.
"We don't want to be that white-table clothed restaurant," King says. "We want to be a place where a kid can have a good meal but also where people celebrate special moments, date nights or family meals." When they're not busy running their restaurant or selling to-go meals, bottled waters and gift cards, King and McCook are counting their culinary blessings.
"We've been very fortunate," King says, as he gives a tour of the dining room, where in a few hours' time, dinner will be in full swing. "Fort Worth has really embraced us. There's a sophisticated palate here and people really support their local restaurants."
ANNA CAPLAN lives in Fort Worth with her husband Jeff, a sportswriter, and her son Gabe and daughter Maya. She is a part-time PR professional at the Amon Carter Museum and also covers the Fort Worth art scene for A + C (Arts and Culture magazine).